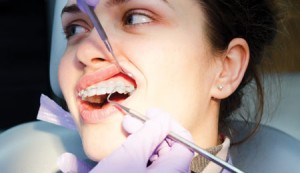 By Kelly Martin
It's 3 pm, school is out, and the afternoon rush begins. The phone is ringing, and the scheduling coordinator is telling the caller on the other end of the line, "Sure, we can get you right in to clip that poking wire. Yes, 3:30 would be fine. No problem."
Now, the practice has twice the number of patients scheduled; regularly scheduled patients will be kept waiting, and the staff will be working late again. Time for the "3 pm shuffle." Does this sound like your typical day in the orthodontic fairy tale? Have you ever considered how much a repair or special extra visit costs the practice?
Some orthodontic practices estimate about $200 or more for staff time, equipment, etc. That probably doesn't sound like too much for one case, but what if you have several every day? Those costs can quickly add up and dig into your profits. But it's not just the cost that is eating away at your practice's profitability; those extra visits take up productive chairtime, too. When you consider both factors, your profit ratio really starts to take a dive.
The question is: What can be done to alleviate the cost of these unscheduled visits that some doctors think is just part of being in an orthodontic practice?
Keep Track
The first step to minimizing the unexpected appointments is to track them. There are great reports on most practice-management software systems that allow for the creation of custom codes and special tracking reports. Assign each type of unexpected visit a code—from loose brackets to broken wires.
In addition, be sure to keep track of those regularly scheduled appointments that turn into repair appointments upon arrival. Track all these visits for at least 6 to 8 weeks. Then analyze the report, using that information to uncover the causes of emergency visits. The office manager should share this information with the staff, ensuring that everyone is aware of types of appointments to look out for to help curb the strain on the practice's staff and bottom line.
Train Staff
Next, conduct staff training regularly, especially when there is a switch in materials or techniques. Cover a different procedure each month, assigning a more experienced clinical staff member to conduct the training. This builds the clinical staff's confidence and creates an opportunity for cross training. And by including the front office staff, they can learn how to better plan an emergency appointment for that patient that calls needing a rebond.
Also, train the orthodontic assistants to see what you see, so they can catch potential causes for unexpected visits, such as archwires that were left long or ligature ties that are left untucked or unplaced. All clinical staff—from seasoned to green—do things differently and according to how they were taught. In this case, the Orthodontic Assistants Permit training can help staff be more consistent with technique.
And when it comes to better managing emergency visits, instill in staff the thinking of, "How could I have done this differently to prevent that unexpected visit?" when a repair is discovered at the chair. Improve awareness of clinical staff to newly bonded brackets that are interfering with the occlusion; or new wires that are lighter and more flexible and thus tend to shift more easily, requiring a crimpable stop to prevent shifting. Moreover, establish and maintain protocols for all procedures in the practice to ensure continuity and consistency.
Educate Patients
The last step for preventing unexpected visits: patient education. Practices can create videos and post them on their website instructing patients on how to take care of poking wires and loose brackets, and any other minor orthodontic issues that the patient can handle on their own. The other piece to the patient education puzzle is chairside instructions. After any new procedures, new appliances, or new elastic wear, the assistant should be educating the patient and the parent on the care and feeding of braces, elastics, appliances, or headgear. Video and traditional handouts can be used.
The most important thing is that all staff members tell the patient the same thing. This promotes consistency throughout the whole office, and avoids the finger-pointing when patients say, "That assistant told me I could have hard candy if I just sucked on it."
With tracking to better understand a practice's unexpected visits and costs, excellent staff training, and thorough and consistent patient education, your practice should be able to avoid the 3 pm shuffle and live happily ever after. OP
Kelly Martin was an orthodontic assistant for 20 years prior to becoming a dental assisting instructor at American Career College in Long Beach, Calif.