Every orthodontist strives to have the design of his/her office reflect the personality of the practice. And it's a designer's job to make that happen. Orthodontic Products asked Rick Vaughn, of Vaughn Design Studio; Trent Tacker, of Tacker Brothers; and Chuck Bergeron, of TOOC Inc, to tell and, more importantly, to show us how they did just that.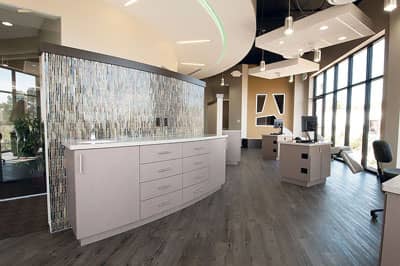 Practice Name: James B. Hanigan Orthodontics (James B. Hanigan,
DDS, MS, PA)
Practice Location: Magnolia, Tex
Square Footage: 2,800, plus 200 square feet shared imaging area
Designed by: Rick Vaughn of Vaughn Design Studios, Houston; Built by Trent Tacker of Tacker Brothers, Magnolia, Tex; Orthodontic Build-out by Chuck Bergeron of TOOC Inc, Sparta, NJ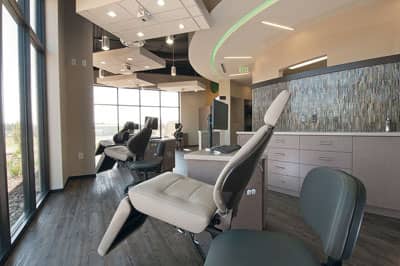 What the Doctor Wanted: Given that Magnolia is a small rural community, Hanigan wanted to bring an upbeat contemporary flare to his new satellite office.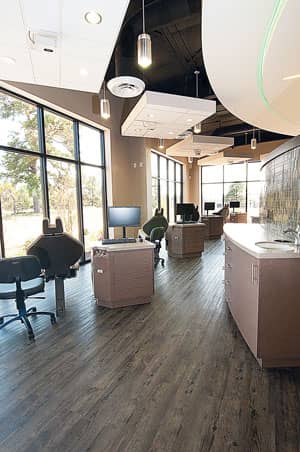 Interesting Design Aspects: Vaughn Design Studios designed the office with a semicircular traffic flow, while incorporating many radiuses and soft finishes throughout the plan. Tacker Brothers supplied and managed the contractors that were needed for precision in building to these radiuses and specs. The custom cabinetry and orthodontic delivery systems were designed and installed by TOOC Inc. The teamwork between the doctor and these three professionals has led to this final result, with communication between the four parties being a key element.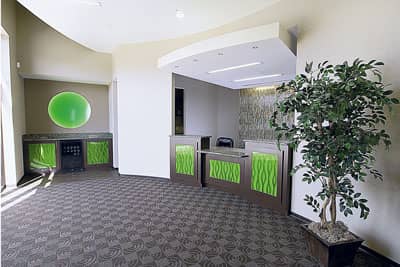 Favorite Feature: The reception desk, which used multiple textures, including a stone recycled glass ledge and the holographic MOZ Design inlays. (Photos by Kathleen O. Ryan Fine Art Photography)