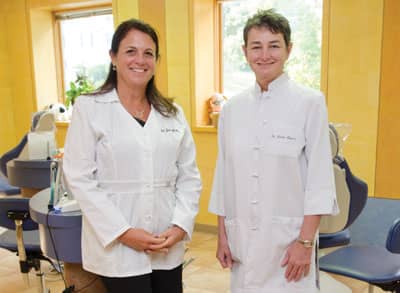 By Lori Sichtermann | Photography by Keith Toffling
When considering the collaboration that is Rigali & Walder Orthodontics, co-owner Linda E. Rigali, DMD, sums it up best: "We're two orthodontists­–one business."
For almost 2 decades, Rigali has worked alongside Joan F. Walder, DDS, who joined the practice in 1996. Since coming on board, the two orthodontists have worked together to build the business into what it is today: a three-office practice that serves children and adults throughout Northampton, Easthampton, and Amherst, Mass.
The women share a sense of pride for their practice, a sense of commitment to their community, and a sense of dedication to their families. As wives and mothers, both doctors have worked diligently to grow their careers and their joint business, while at the same time performing the age-old balancing act of managing family and work.
At times, the journey was difficult, but the doctors credit each other for providing unbridled support, advice, and undeniable friendship throughout their partnership. The result of such mutual understanding is a successful practice that operates on the terms of respect and commitment.
"It's been a wonderful partnership," Walder adds. "It was fortuitous to have met Linda. To this day, I consider myself lucky to have found this opportunity."
The partnership between Rigali and Walder is nothing less than serendipitous. Each found her way to orthodontics in a distinct way, yet found each other in a similar fashion.
Practice Profile: Rigali & Walder Orthodontics
Locations: Main location in Northampton, Mass; satellite offices in Easthampton and Amherst, Mass
Office square footage: Main office (Northampton): 2,200; Amherst: 1,600; Easthampton: 1,000

Number of chairs: Northampton: 6 chairs and 1 records' chair; Amherst: 5 chairs and 1 records' chair; Easthampton: 3 chairs
Years in practice: Originally opened in 1986; renamed as Rigali & Walder Orthodontics in 1996
Average patients per day: 55 to 60
Days worked per week: 4 per doctor
Starts per year: 600
Education: Linda E. Rigali, DMD: Dental degree from the University of Pennsylvania; 1-year residency at Western Massachusetts Hospital; 2-year orthodontic specialty program at Boston University; certified as Diplomate of the American Board of Orthodontics in 2008
Education: Joan F. Walder, DDS: Northwestern University Dental School; orthodontic residency at Albert Einstein College of Medicine/Montefiore Medical Center in New York; certified as Diplomate of the American Board of Orthodontics in 2013
Top five products: Itero Scanner, Invisalign, American Orthodontics, Boyd Industries treatment chairs and units, Ortho 2 practice-management software
Website: rigaliwalderorthodontics.com
As Rigali explains, she grew up in the realm of practice management. "My father is a general dentist. As a kid, I always worked in the office—from cleaning the fish tank to filing patient records, to assisting my dad with patients," she notes. "After dental school, I realized that orthodontics suited me more. I wanted a family, and the emergency issues and on-call aspects of being a dentist didn't quite fit that ideal."
Rigali received her dental degree from the University of Pennsylvania. She then went on to a 1-year residency at Western Massachusetts Hospital and then completed a 2-year orthodontic specialty program at Boston University.
When Rigali came to Northampton after graduating from dental school, there were two established orthodontic practices—both were single practices, both were run by men. "I initially approached those two gentlemen and asked if they would be interested in entering into a partnership," Rigali explains. "Both of those orthodontists politely said no, they liked working alone. So, I set up my own practice."
As the only woman orthodontist in the Northampton area, Rigali carved a niche for herself within the community. Five years into her business, she had realized enough success to open another office in Easthampton.
"It was 1991, about 5 years before Joani came on board," Rigali notes. "Easthampton is a small community not far from the main office in Northampton. Back then it was a growing community, and it continues to be today, especially for young families. I knew of a general dentist in the area, and I bought half of his building."
Five years later, history somewhat repeated itself. Walder hoped to move to Northampton from New York—fresh out of her own orthodontic residency—and approached the same established orthodontists that Rigali had contacted a decade before. "She met with them and got the same answers as I did," Rigali notes. "In somewhat of a last-ditch effort, she gave me a call."
As a business owner, Rigali didn't fit the profile of someone who was interested in bringing in a partner. However, she was 10 years into her practice, operating two offices and raising three small children.
"I was glad she knocked on the door," Rigali recalls.
"When Dr Walder came in for the first time, I had just finished working. It was a Saturday, and I said, 'I have to go across the street to the high school because my son is playing in a basketball game. If you want, you can come and sit on the bleachers with me and we can discuss this possibility.'?"
Walder was game, and the two discussed the idea of teaming up in order to develop a new type of practice. "We met several other times and discussed the specifics of working together," Walder remembers. "We clearly shared a mutual respect, understanding, and dedication to our work, and this looked like a perfect combination."
A New Beginning
From the beginning, it was never "your" patients or "my" patients for Rigali and Walder. Their relationship has always been based on equity and collaboration. For Walder, the path to her eventual arrival at Rigali's front door wasn't as clear-cut as it may seem. "I actually went to school for journalism. After graduation, I spent 5 years writing for several different magazines in New York, including one with a medical focus," she explains. "I enjoyed the creativity that came with writing, but I missed the interaction with people—I wanted something that was a bit more hands-on."
Much like Rigali, Walder hailed from a medical background. "My dad was a pediatrician," she notes. "I really admired how much he cared for each of his patients, and how dedicated he was to them."
And again like Rigali, Walder sought a career where she could be creative, work with people, and make a difference in the lives of others. She also wanted a career that offered a certain amount of flexibility.
"After considering my options, I realized that orthodontics was the ideal path to take," Walder recalls. Thus, she left journalism and enrolled in dental school at Northwestern University. Shortly thereafter, she completed her orthodontic training at Albert Einstein College of Medicine/Montefiore Medical Center in New York.
"When Joani finished her orthodontic residency, she could have entered into a much bigger practice than what I had to offer, but she was looking at the long-term," Rigali notes. "She wanted to be part of a community and grow a practice. The easy route would have been to join a larger, more established practice, but there are trade-offs when you go that route. There isn't the flexibility with your schedule, or the flexibility in how you care for patients."
The basketball bleacher discussion between Rigali and Walder revealed that the two women were compatible in their personalities, and gave insight to where they each wanted to take their careers as orthodontists. From there, they outlined a plan for Walder to join the practice.
The process of integrating Walder is a demonstration in communication, patience, and respect between the two doctors, their staff, and their clientele. "I truly believe the success of Joani coming on board is due to a number of factors, including a well-devised plan that we each developed on how the business would operate with both of us seeing patients," Rigali explains.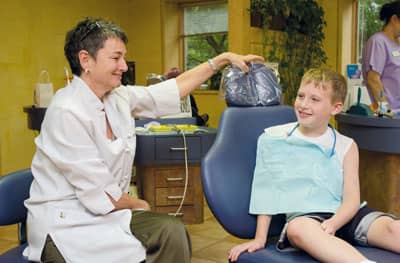 When Rigali opened her practice in Northampton, Mass, she was the only female orthodontist in the area. According to the plan, Walder served as an associate for 2 years after her arrival. The two women decided on a figure for a buy-in for Walder, and then established a sweat equity system that provided a number of financial checks and balances for the new partnership.
In terms of the production side of the business—seeing patients and managing their care—the objectives of the new partnership were clearly outlined from the beginning, and they're nothing short of genius.
Both doctors agree that a large part of their success as a partnership can be traced back to their agreement, which was collaborated with fairness and equity as the central themes. Neither doctor wished to create a competitive environment, financially or clinically.
"It was never 'your' patients and 'my' patients," Rigali explains. "When new patients come into the office, we offer them the first available of the two of us. This eliminates any sense of competition between us. It's worked well for us from the beginning, and I think it's a huge part of what makes our working relationship so great."
Growth in Numbers
The timing of Walder's arrival to Northampton, and her subsequent arrival in Rigali's orthodontic practice, couldn't have been better. "The practice was growing. I had two locations, and I didn't see any sign of things slowing down," Rigali explains. "I knew eventually I'd want to bring a partner in, but not 10 years into my own practice. But, there she was, and it was ideal."
Once Walder was on board, and the details of their working relationship were established, both women strived to continue growing their practice and their careers.
A few years later, they were ready to open a third location.
"Amherst, Mass, is located across the river from Northampton, and the most direct route between the two communities is a bridge that routinely sees a lot of traffic," Rigali explains. "It was reported that a 3-year construction project was about to take place on that bridge—tying up traffic even more. So, we made the decision to open a satellite office on the Amherst side to serve the community there. After that, we moved our main office to a larger facility in Northampton."
Shortly after the third location was up and running, Rigali & Walder Orthodontics really hit its stride. The women realized an operational efficiency that allowed them to serve a larger population of patients, while at the same time remain dedicated to each of their growing families. At times it was tricky, but the fact that each had the other for support made the experience possible. "As a wife and mother, sometimes life happens, and having a partner in the business has allowed us to help each other through the tough times." Walder explains.
Ahead of the Curve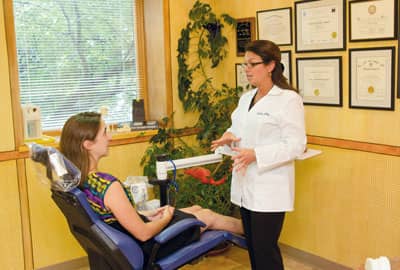 Walder approaches each patient with the thought, "What would I be doing if this were my child or my sister, [or my] husband?"Businesses owners—regardless of their trade—are perpetually trying to stay one step ahead of the competition and the consumer. Rigali and Walder know this to be true as well. Although they have each other to help manage the growing patient base, and they have a staff of dedicated and apt assistants to help with the day-to-day business aspects, staying ahead of the curve for Rigali & Walder Orthodontics means providing an experience that's truly unique.
"We both work diligently with a focus on patient-centered care, and we have carefully selected an amazing team of clinical and administrative staff who have the same focus." Walder explains. "This team approach has helped us to further our mission to deliver the highest level of care possible. It makes everyone proud to work together and definitely results in a great way to spend your day."
Together, Rigali and Walder operate their three practices in three relatively close-knit communities. As members of the community, the women have a unique edge when it comes to their relationship with patients.
"Both of us live in the area, our kids have been through the schools, and we're both active in the community," Rigali notes. "Being involved in the community is important to us, not just to get our name out there, but to support the people and activities in the place where we and our families live."
Rigali & Walder Orthodontics makes it a literal practice to donate to local food banks, arts programs, and sports teams. And, as state and local education budgets continue to slim down, the women continue to prioritize their support for area schools and educational endeavors.
Another unique attribute to the practice is its focus on technology. "As a business, you'll get left in the dust if you don't prioritize technology in this field," Walder explains. "In orthodontics, the changes are so fast-paced—from digital scanning to computer technologies to social media—that you have to stay on top of what's out there. But, there can be overkill. We stay on top of the research and continue to stay educated so that when it comes to upgrading to a new technology, we make decisions based on what's going to enhance the service to our patients in the most efficient and practical way."
Making patients a priority is at the root of the success for Rigali & Walder Orthodontics. The doctors and the staff are on the same page regarding one particular mission when it comes to patients: communication. "It's the key to any successful business," Walder notes. "If things do break down, that means communication has broken down."
As women and mothers, Rigali and Walder have a unique perspective on how they communicate with the children and adults who come through their doors. "When it comes to my treatment plans, I approach each patient with the thought of, 'What would I be doing if this were my child or my sister, my husband, etc?'?" Walder adds. "I take into account how a patient is feeling—if he or she is really nervous and we have to wait to start, I'm going to suggest waiting to start. Linda and I are both conscious of the emotional side of the patients and parents we see. This is a benefit to all of our patients, not just the kids."
With similar personalities and approaches to patient care, the partnership between Rigali and Walder has been a successful one from the start. The women came to the practice and the profession from completely different avenues, but have arrived in a place of common ground that's beneficial for their business, their careers, and their lifestyles.
Individually, they are talented and compassionate orthodontists. Together, they are a dynamic team that has found success by supporting each other as co-workers and friends. "We are both orthodontic professionals and mothers who are able to see the bigger picture," Walder adds. "That's a pretty powerful place to come from." OP
Lori Sichtermann is the associate editor for Orthodontic Products.
A Continual Pursuit
In addition to the focus it takes to operate a thriving orthodontic practice consisting of three offices, both Rigali and Walder are adamant about staying focused on continuing their education in orthodontics. This concept is demonstrated in the mission statement for the practice, which states: "We feel it is vital that the professional remain an inquisitive, perpetual student, always devising new ways to better treat our patients."
To make good on this mission, both women have taken on the exercise in commitment and dedication to become certified as Diplomates of the American Board of Orthodontics.
"It was one of the best things I've ever done," Rigali notes. "Becoming a Diplomate was hugely important to me—a lot of that had to do with being a woman in this profession. Acquiring the Diplomate status helped me prove to myself that I was serious about what I was doing, and it helped to prove to my colleagues as well."
Rigali earned her Diplomate status 10 years ago, only to be followed by Walder a half-decade later. "[Linda] was a great influence on me in achieving the Diplomate status, but I also wanted to prove to myself that I could do it," Walder adds. "It's not something that's required in our profession, but it is an achievement that is worth pursuing. It's a tremendous amount of work, and you have to be extremely committed to the process while continuing to care for your patients, run your business, and raise your children."
As both Rigali and Walder explain, the process to become board-certified has changed recently, yet each are part of the set of individuals who obtained their certification through the former, more elaborate process of acquiring the Diplomate status.
For their certification, each doctor had to gather 10 cases that showed retention and stability 2 years out. "It was a lot of work gathering those cases; they had to be perfect," Rigali recalls. "I had to go through my records and make sure every x-ray was taken perfectly, make sure the results were perfect, and also make sure all of the information was documented in precisely the correct way. It was very intense. My dining room table was covered in plaster casts for months!"
Whether or not an orthodontist is board-certified is not something most patients are even aware of. Thus, the process is a labor of love for an orthodontist who chooses to undergo the certifying process. "It was very important for me to distinguish myself as a serious professional who was passionate about her work," Walder says. OP