by Greg Thompson
Three orthodontists have been meeting 1 day a week for 18 years to treat patients with craniofacial anomalies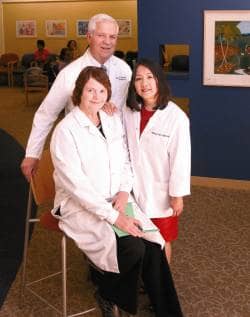 From left: Samuels, Morrill, and Law gather in the waiting room of the Craniofacial Anomalies Clinic at The Lucile Salter Packard Children's Hospital at Stanford University Medical Center.
Choosing to spend countless Wednesdays away from the revenue-generating confines of your orthodontic office is no small commitment. Cherished statistics such as "starts per year" and "patients per day" inevitably suffer.
Despite the financial hit, three California-based orthodontists unfailingly make the bimonthly trip to the Craniofacial Anomalies (CFA) Clinic at the Lucile Salter Packard Children's Hospital, Stanford University Medical Center, Palo Alto, Calif. Within the spacious facility, Stacey Law, DDS, Larry Morrill, DDS, and Lesley Samuels, DDS, discuss the treatment courses of young patients that many people would describe as "malformed" or "disfigured."
After 18 years of working together at the CFA Clinic, Law, Morrill, and Samuels are able to look beyond the facial conditions. Instead, they see vulnerable children who need help.
It takes time, patience, and expertise, but 71-year-old Morrill can attest that the results are worth the wait. "I remember a young boy less than a month old who had a total cleft lip and palate," says Morrill, who owns a private practice in Palo Alto, Calif. "We started with early devices to align the ridges so that lip surgery would be more successful. I saw him over the next 18 years for primary, secondary, and follow-up orthodontics interspersed with surgery on his nose—and orthognathic surgery on his jaws. Here in Palo Alto, he ended up looking good, a star pitcher on the baseball team, and quarterback on the football team. He ultimately received a baseball scholarship to the University of Southern California."
When Samuels began treating a young lady with a hemifacial microsomia—a small jaw on the right side and cleft lip and palate on the right side—she could not have imagined that the shy girl would some day make her living on a stage. "As we went through the orthodontic treatment and surgeries, she turned into a confident performer and she is now in England at the Liverpool Institute of Performing Arts, singing professionally," says Samuels, who received her orthodontic training in England before moving to the Bay Area in the early 1980s. "That is a fantastic outcome indeed."
Yet another patient had Aperts syndrome, a condition characterized by a severely retrognathic maxilla and eyes that stick out. "When I first met her, she looked scary, with horrendously crowded teeth," Samuels laments. "She turned into a beautiful young woman, who no one would suspect as being unusual."
PRACTICE PROFILE
---
STACEY J. LAW, DDS, MS
Location: Sunnyvale, Calif
Years in practice: 18
Education: DDS from UCLA; MS from University of Alabama, Birmingham
staceylawortho.com
LARRY MORRILL, DDS
Location: Palo Alto, Calif
Years in practice: 40
Patients per day: 55
Starts per year: 140
Days worked per week: 4.5
Education: DDS from USC, Orthodontics residency at UCSF
LESLEY SAMUELS, DDS
Location: Palo Alto, Calif
Years in practice: 32
Patients per day: 45 to 50
Starts per year: 130
Days worked per week: 5
samuelsortho.com
Under One Roof
Morrill, Samuels, and Law began their bimonthly Wednesday odyssey in three different decades—Morrill in 1973, Samuels in 1982, and Law in 1993. The trio has been working together for nearly 2 decades now, and Law reports that part of that continuity is due to the excellence of the clinic's primary coordinator, Elena Hopkins, RN, MS, PNP, who has been with the group since the beginning.
The Lucile Packard Children's Hospital is also celebrating its 20th anniversary this June, and the institution's legacy makes it easy for outside referral sources to work with the clinic's many subspecialties. Stephen Schendel, MD, DDS, a pioneer in the development of intraoral distraction devices, helped put together the impressive array of specialists that includes plastic surgeons, ENTs, oral surgeons, dentists, speech therapists, and social workers. The current director of the CFA Clinic, H. Peter Lorenz, MD, and the team oral and cranio-maxillofacial surgeon, Sabine Girod, MD, DDS, PhD, are equally dedicated to providing comprehensive medical treatment while expanding community outreach.
"Having medical and dental together under one roof helps these patients, particularly the cleft patients," Law says. "Otherwise, each specialty just looks at their own treatment goals. Being in this clinic every Wednesday, face to face, helps us to effectively coordinate treatment together."
Avoiding the pitfalls of poor communication is one of the reasons that Law, Morrill, and Samuels have resisted the urge to rely solely on teleconference technologies, instead opting for in-person interaction. For the patients, the "one roof" model has countless practical benefits. "Many of our patients, who might have their ear tubes placed, will also have their dental treatment done at the same time," Law says. "This is one of the many advantages of coordinating treatment."
At the CFA Clinic, the orthodontists usually deal with one of six craniofacial anomalies:
cleft lip and/or cleft palate: a separation that occurs in the lip, the palate, or both;
craniosynostosis: a condition in which the sutures in the skull of an infant close too early, causing problems with normal brain and skull growth;
hemifacial microsomia: a condition in which the tissues on one side of the face are underdeveloped, affecting primarily the ear, mouth, and jaw areas;
vascular malformation: a birthmark or a growth, present at birth, which is composed of blood vessels;
hemangioma: a type of birthmark, most commonly a benign tumor of the skin; and
deformational (or positional) plagiocephaly: a condition in which patients have a misshapen head.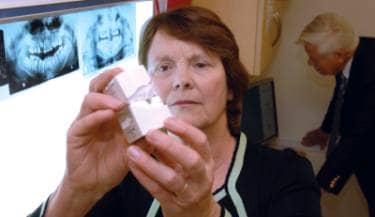 Samuels and Morrill review x-rays and models in the examining room.
Patients receive treatment in two adjoining clinic areas that are within convenient walking distance. Morrill, Samuels, and Law conference together at the end of each morning to discuss the nuances of each patient's case. "We are not all in the same room when we examine the patient, but we all discuss the patient together as a group," Samuels explains. "We have a lot of to and fro with the plastic surgeons, oral surgeons, and the dentists. We are one unit, while the ear and speech specialists tend to be the other unit."
The clinic model for craniofacial anomalies is used in many areas throughout the country, and orthodontics has long held a valued place in this arena. "Bone development has been done for a long time in orthodontics with rapid palatal expansion," Morrill explains. "That is a type of distraction osteogenesis in the roof of the mouth. For a while, we just did not make the connection that this could be done moving the other bones, and indeed moving the whole maxilla forward."
Orthodontics is a key link in the treatment chain, particularly for early treatment in repairing a cleft lip or cleft palate—even before patients have teeth. "Once patients have teeth, they need surgery to realign their jaws," Morrill says. "They need their teeth straightened so the teeth will fit when the jaws are realigned."
Morrill is a firm believer that most of these techniques and concepts are well within the scope of most orthodontists.
"One big misconception is that orthodontic treatment of these patients is much harder than the average orthodontic treatment, but it is not," contends Morrill, who has been in practice for 40 years. "The patients may look bizarre and the malocclusions may seem extreme, but any orthodontist can treat them, and they should treat them. They have the training, and we try to convey this to all orthodontists who are thinking about getting involved in treating these kids. The more orthodontists who are involved, the better it is for everybody."
Coaxing Smiles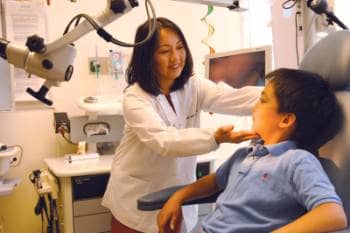 Law examines patient Andy Tran at the clinic following his cleft palate surgery
When Law finished her residency in Alabama in 1993, she headed back to her native California and opened a private practice—but she soon felt drawn to craniofacial patients. When the opportunity to work at the clinic came up, she did not hesitate to participate. "Essentially, all of the treating doctors' time is donated, and that includes the space that Stanford University provides for treating these cases—whether in the clinic or operating room," Law says. "One of the reasons I treat cleft patients has to do with my family background. My father, who is also a dentist, gave back to the community by providing dental care for those who needed it, but could not necessarily afford it. His service was inspirational and guided me in my career."
All three orthodontists acknowledge that life is difficult for people with craniofacial anomalies, but the additional burden of poverty makes for a double whammy. As it stands now, no patient is turned away due to an inability to pay. "These people have a lot to overcome in life," Samuels adds. "For them to become confident members of society is very satisfying to us, and it's the reason we do it. We help them live full lives."
Ultimately, the payoff comes in the liberated smiles that finally shine at the end of an often long treatment road. "There is no doubt that this has probably not been financially helpful for our practices," Samuels offers. "However, the joy of seeing these kids being helped is its own reward."
---
Greg Thompson is a contributing writer for Orthodontic Products. For more information, contact
Past and Future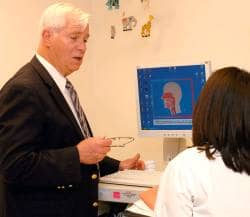 Morrill and Law discuss a case.
The team from Stanford's CFA clinic have been tackling the toughest cases for almost 20 years. Treatment technology has improved, but will the next 20 years see as much progress as the last 20? Law, Morrill, and Samuels agreed to hazard a guess as to what may come.
Samuels: It's hard to predict the future, but right now we are exploring ways to advance the upper jaw using temporary anchorage devices (TADs). These little plates or TADs use bony anchorage rather than the teeth to advance the maxilla. Whether or not we will be successful within the realm of craniofacial anomalies and clefts we don't know yet, but that would save some of the more invasive distraction procedures that we do. However, due to the lack of sutures and normal structures in these patients, it may not be possible to advance the maxilla of these patients.
TADs are certainly being used within the normal population, and we are going to see if we can make progress in the cleft and craniosynostosis patients. We are much better at doing distraction osteogenesis with both extraoral and intraoral special plates these days, and plastic surgery is already good.
We have been treating clefts forever, but what has also changed dramatically in the last 2 decades is the ability of surgeons to perform distraction osteogenesis on really severe hemifacial microsomias, and use distraction to advance the maxillae surgically. That has helped us to treat the extremely complex anomalies that we were not able to treat anywhere near as effectively before.
Surgeons do a lot of microvascular surgery these days, and are getting better at the small flaps that involve ears and other reconstructions. So much of what happens to our patients is actually done by the surgeons. We benefit from the extraordinary expertise of our surgical team, and they are real heroes.
Law: It's hard to imagine what our profession will look like 2 decades in the future. Perhaps most treatments will be in utero [laughs]. I know that in our clinic, geneticists are doing a lot of studies.
Morrill: As far as prenatal diagnosis, I suspect that will probably advance as a result of knowledge gained from the human genome project. When it comes to prevention, that is a different story. It is unlikely we are going to have major advances in prevention, because most causes are genetic or environmental. The addition of folic acid to flour that was done a number of years ago may slightly reduce the instance of clefting.
Samuels: In the last 20 years, we have also benefited extraordinarily from the whole 3D imaging phenomenon. It has helped us and the plastic surgeons with diagnosis and planning. All in all, we have been through tremendous growth. Genetics and diagnostic advances may change outcomes, but it's hard to imagine that we will have the same amazing growth in dental technology as we have had—but maybe we will. Everything has changed so quickly in the last few years.
—GT