By Alison Werner | Photography Cary Norton
Retainers. A word that for most orthodontic patients calls to mind the image of a Hawley retainer—because at some point in their life, they've seen someone pop that piece of pink plastic and curved wire in or out of their mouth between meals. It's not an appliance that calls to mind the words innovation or customization.
But that's what orthodontic consumers want when they walk into your practice to discuss treatment. They want to know that their treatment will involve the latest product innovations, and they want to know that it is customized—that it is unique to them.
While orthodontists have been able to tout the latest and greatest in the aligner and bracket space and the treatment phase, the same opportunity has been lacking in the retention phase—especially when it comes to fixed retainers.
That's until now.
With Memotain, a permanent bonded lingual retainer from Allesee Orthodontic Appliances (AOA), the fixed retainer space is finally seeing the innovation and customization that patients and practices expect—practices like Designer Smiles by Benton.
When John B. Benton, Jr, DDS, first opened his practice in Anniston, Ala, in 1985, he had only had two patients some days—which he would then make sure were scheduled at the same time so the office appeared busier than it was. Over the ensuing 30 years, John made a point of embracing innovation to spur the practice's growth—often in the form of incorporating the latest technology to hit the orthodontic space. But the biggest innovation to date for the practice may just be the 2016 addition of his son, J. Barry Benton, DMD.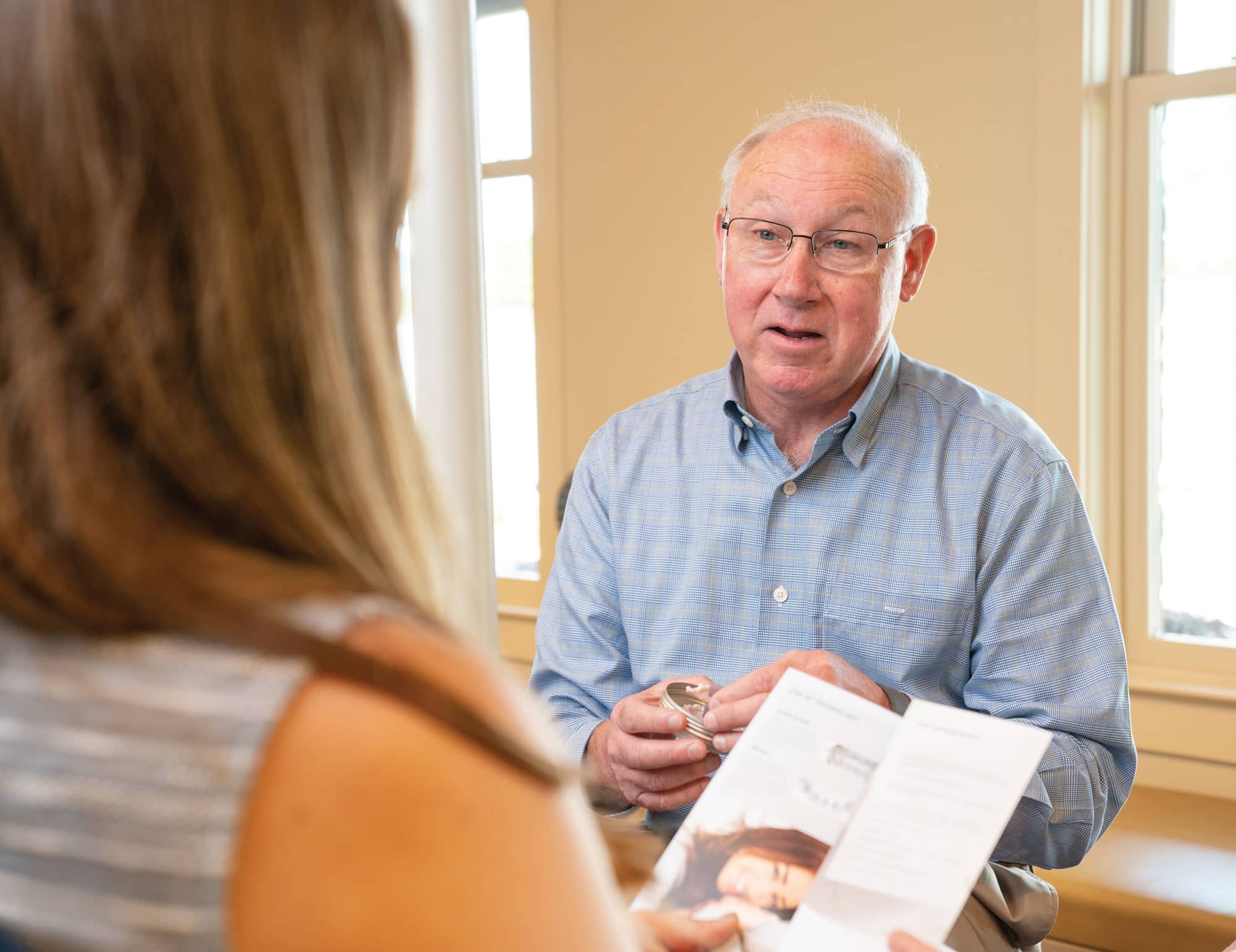 As John puts it, Barry's arrival was a welcome relief and fortuitous timing. John was 60 at the time. He'd never had a partner or associate in his practice, but he was starting to think about what would come next for the practice. Still, he was wary of the process of bringing in an associate or partner he didn't know. Barry's decision to return to his hometown after completing his residency and to join his father's practice spared the elder Benton some of the hard decisions that come for the solo practitioner who might one day want to retire but who also wants to continue to grow the practice in the meantime.
When Barry arrived, the practice, which was located in a relatively modest 2,500-square-foot space, was busy with its five chairs. It had seen continued growth for years, but recently growth hadn't declined but rather leveled out. And there was quite literally no room for growth. And now with two doctors, something had to change or the practice might stagnate. After all, according to John, a chair-to-doctor ratio of 5:2 was not going to be a good business model by any measure.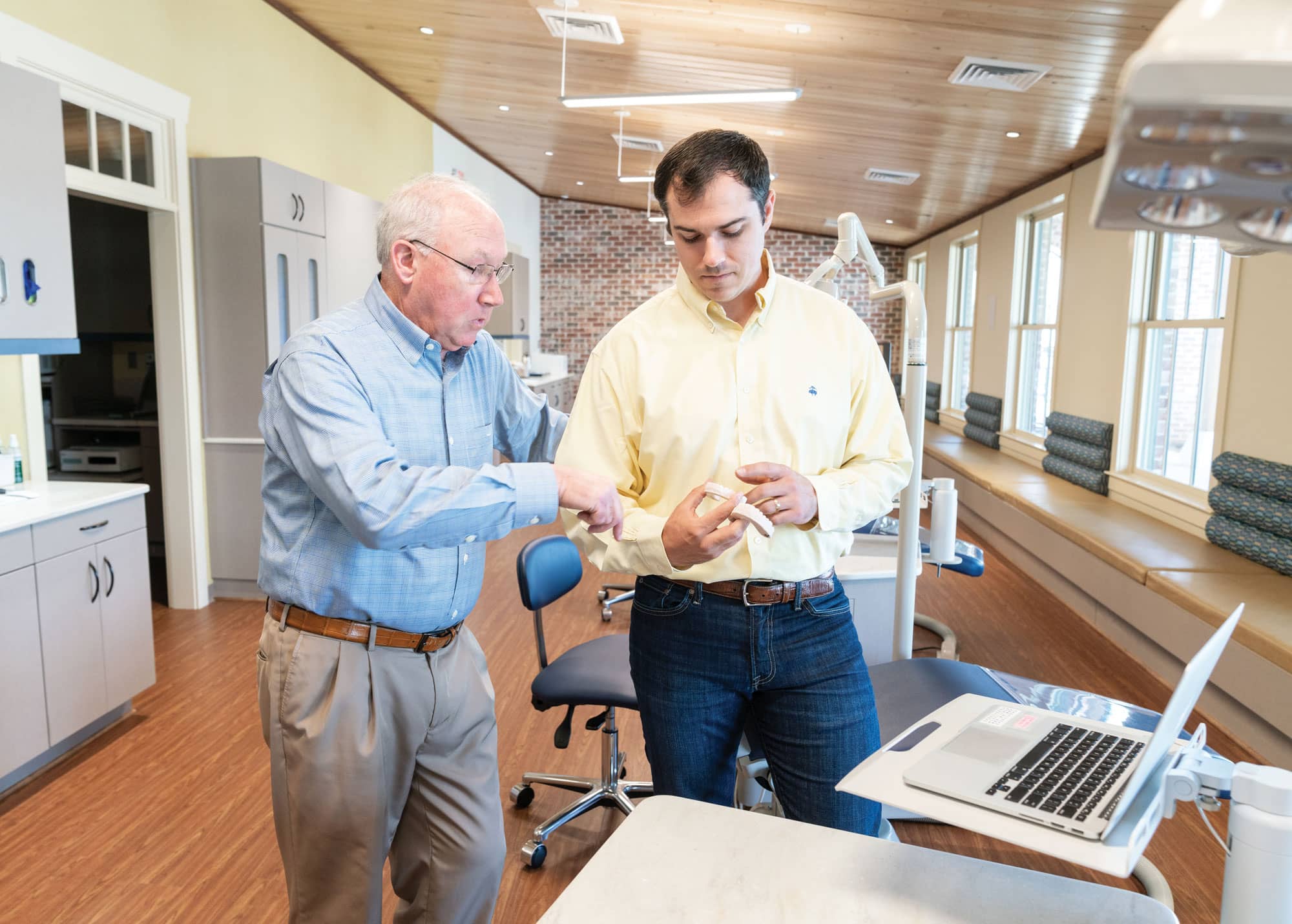 The two made the decision to invest in a new office—or what Barry calls his "last office." In this case, the transition wasn't necessarily about moving an analog practice to digital. John had kept the practice at the forefront of digital technology, with digital charting and an intraoral scanner in place before Barry arrived. But that's not to say they weren't thinking about future technology innovation and implementation with this new office. "We over-engineered the wiring and the systems, and we made sure that if we needed to run new wires or cables, everything was accessible even after the building was finished. So, if things needed to be updated or changed, it wouldn't be cost prohibitive," Barry says.
The focus instead was on creating a space that provided a "spectacular experience" in both the clinic and the reception room. As John says, "Back [when I set up my old space], our emphasis was on the patient; and now, what we see is not only do you have to provide a spectacular experience for the patient, but you also have to provide a spectacular experience for the mom and dad and the siblings that are there." That translated into a design that included more creature comforts in the reception area, including a game room, coffee bar, and iPads.
"Now, whether you're the patient or a family member, you're going to have a great experience in this new office," John adds.
The exterior and interior decor take their inspiration from New Orleans's French Quarter—a city with which both father and son have a long association, as John is originally from New Orleans and both he and Barry completed their residencies at Louisiana State University School of Dentistry. The design includes a brick courtyard in the rear of the property, onto which the clinic space looks, that captures this aesthetic. "There are patio tables, umbrellas, and a fountain. There are games outside for the kids and they go out there and play," John shares. "We make it as fun as we can for the whole family."
Over the course of his career, John has seen the percentage of adults seeking orthodontic treatment in his practice increase—from 5% to 20%. He attributes the changes as much to the availability of clear aligners as to changing economics of the town of Anniston. "This isn't Beverly Hills or affluent Manhattan," says John. "The story I hear from a lot of parents is 'I didn't have the opportunity to have orthodontic treatment when I was young. My parents couldn't afford it.' Now, when putting their own kids through orthodontic treatment, once they see the result and how nice it is, they're saying, 'Now it's my turn.'"
And more often than not, they are asking for clear aligners. "The adults have heard and listened and absorbed all the marketing on clear aligners. They are well-versed on clear aligners. That has had an effect," says John. Still, both doctors find that these patients are willing to entertain brackets and wires if it would better serve their treatment outcomes. In this way, the marketing behind clear aligners isn't so much about a specific treatment protocol as it is about starting a conversation about orthodontic treatment itself.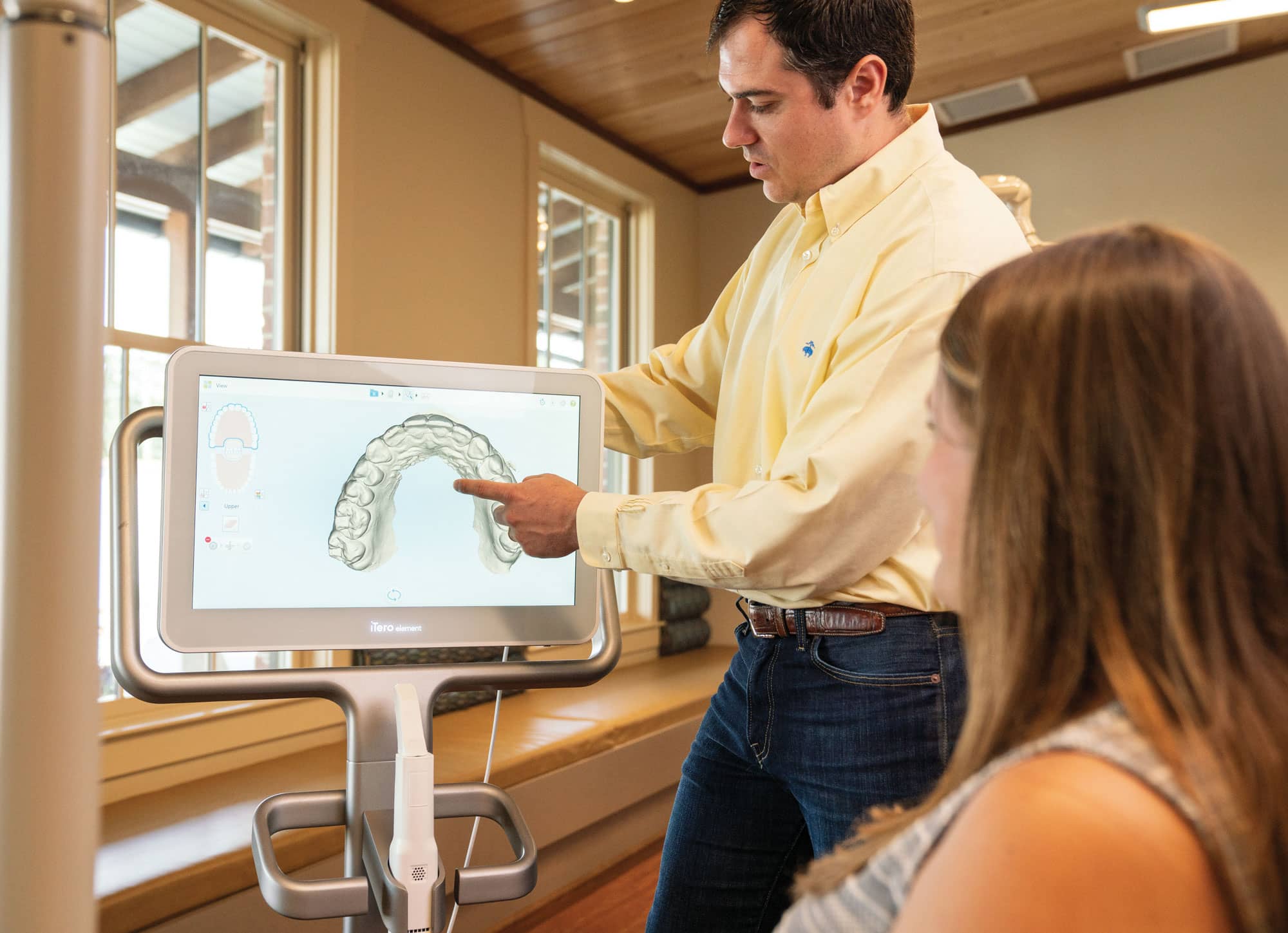 "We've noticed that adults are a lot more open to having that initial conversation than they were before," says Barry. "My dad and I take the time to really have that conversation and explain not only which [treatment modality] would be better, but why. I think patients really appreciate and respond to that because we're not just walking in and saying, 'Hey, I'm the doctor. This is what I think is best, and you need to say yes because I'm the doctor.' We explain things and kind of coach them through where we are coming from and what our experiences are."
With a significant adult population and the knowledge that there is further growth potential within this demographic, the Bentons made sure the new office design took account of the needs of these patients. While there are those adults who don't mind mixing it up with the teenagers in the open clinic bay, there are those who do. To be considerate to the needs of those patients, the design incorporated a space that provides more privacy to a couple of the chairs.
Another addition to this office was a larger sterilization space. The Bentons place a priority on upholding the highest standards for sterilization in their practice to ensure a safe experience for their patients. Thus, the two decided to follow the state sterilization standards set by California with this new space. As John puts it, California has some of the strictest sterilization regulations in the country and more likely than not, states like Alabama will move closer to California's example in the next 10 to 15 years. So, when that comes, the practice will be well ahead of the curve.
It's only natural that a practice that strives to be ahead of the curve and seeks out innovation on all fronts would also be keyed into opportunities in the retention phase.
The Bentons' retention protocol has long called for a permanent retainer wire, in addition to nighttime retainer use to stabilize the correction. The permanent wire gives patients a fail-safe of sorts for those times when they inadvertently forget their retainers. Barry gives the example of a patient who goes on a week-long vacation and forgets their retainers, but then immediately picks right back up with their nighttime retainer routine upon return. The teeth will typically hold in if a permanent retainer wire is in place—no slippage or relapse. But if a permanent wire isn't in place? "If the patient went 5 or 6 days without wearing their nighttime retainer, a lot of times, on a micro level, the teeth start shifting," says Barry. "So naturally, when they try putting their retainer in, it hurts, it's painful, and they can't wear it because of that discomfort; and then the teeth continue to shift and it just gets worse and worse.
"We like having the permanent wires to provide that extra level of insurance for the patient."
For years, John had been hand bending and shaping stock wire to the patient's teeth while in the chair—a routine Barry took up when he joined the practice. These appointments were long, averaging 20 to 30 minutes to make sure all the little bends were right and then cementing the wire in place. While a time drain, the appointments were necessary to ensure the stability the Bentons wanted to promise their patients.
But in early 2018, the Bentons learned about a new modality at the Ormco Damon Forum.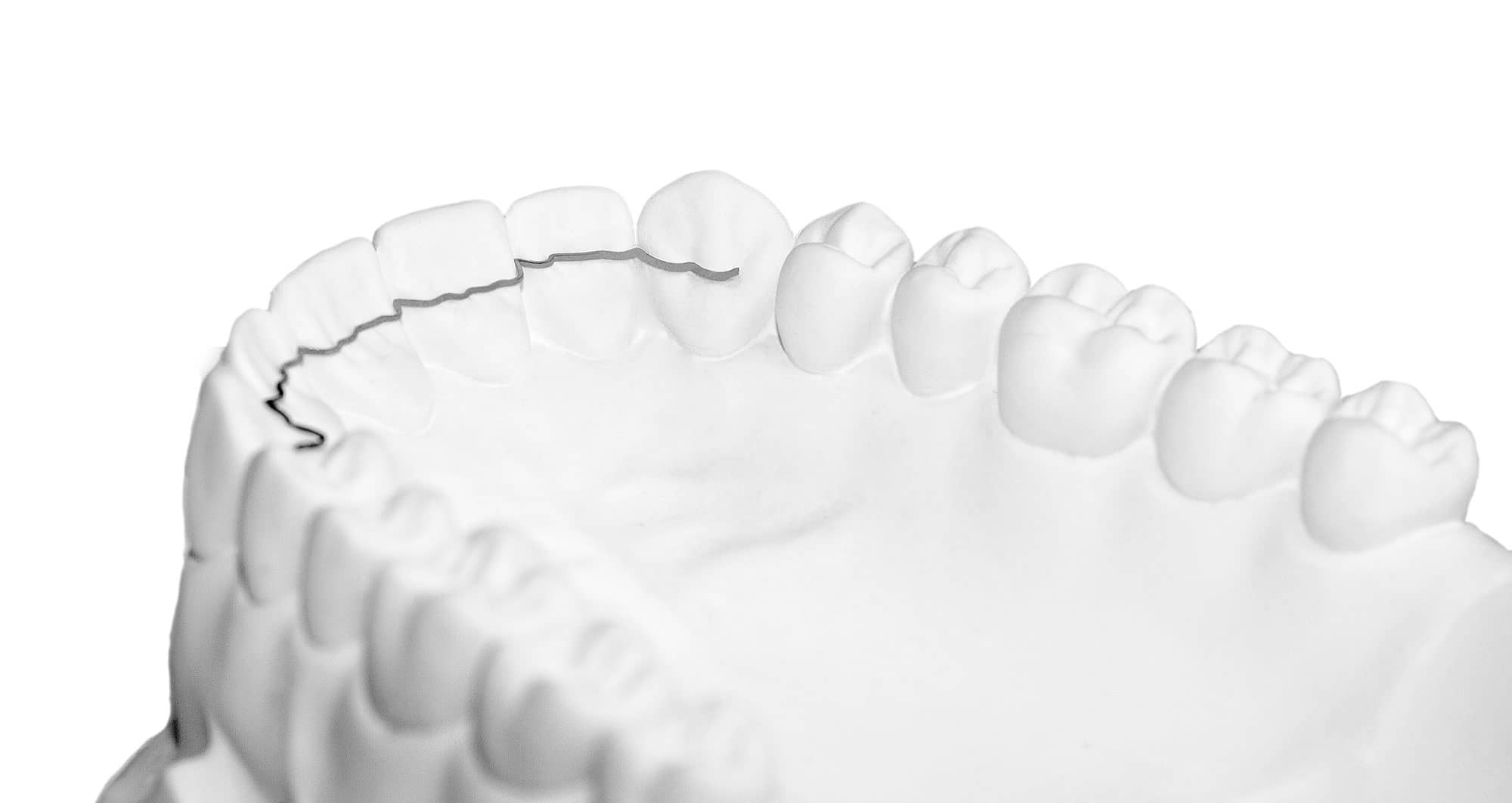 Memotain, a permanent bonded lingual retainer from AOA, was an alternative that could bring efficiency to the retention stage, while also offering patients an innovative and customized retainer. Moreover, it allowed the practice to capitalize on a technology it already had in-house: an intraoral scanner.
The introduction of intraoral scanners to the orthodontic workflow was "a game changer," says John. Not only does this technology capture more detailed data than traditional alginate impressions, it is also more comfortable for the patient.
From a practice efficiency standpoint, incorporating an intraoral scanner into the workflow has significantly impacted patient scheduling and turn-around time—especially when it comes to clear aligner treatment. Gone are the days of back and forth with the lab over an incomplete mold that would require the patient to come back in for a second impression. Currently, clear aligner patients in the practice undergo a 5- to 10-minute scan which is sent off to the lab. Aligners are delivered typically within 3 weeks.
Now that same intraoral scanner makes the practice's new retention protocol with Memotain possible and efficient.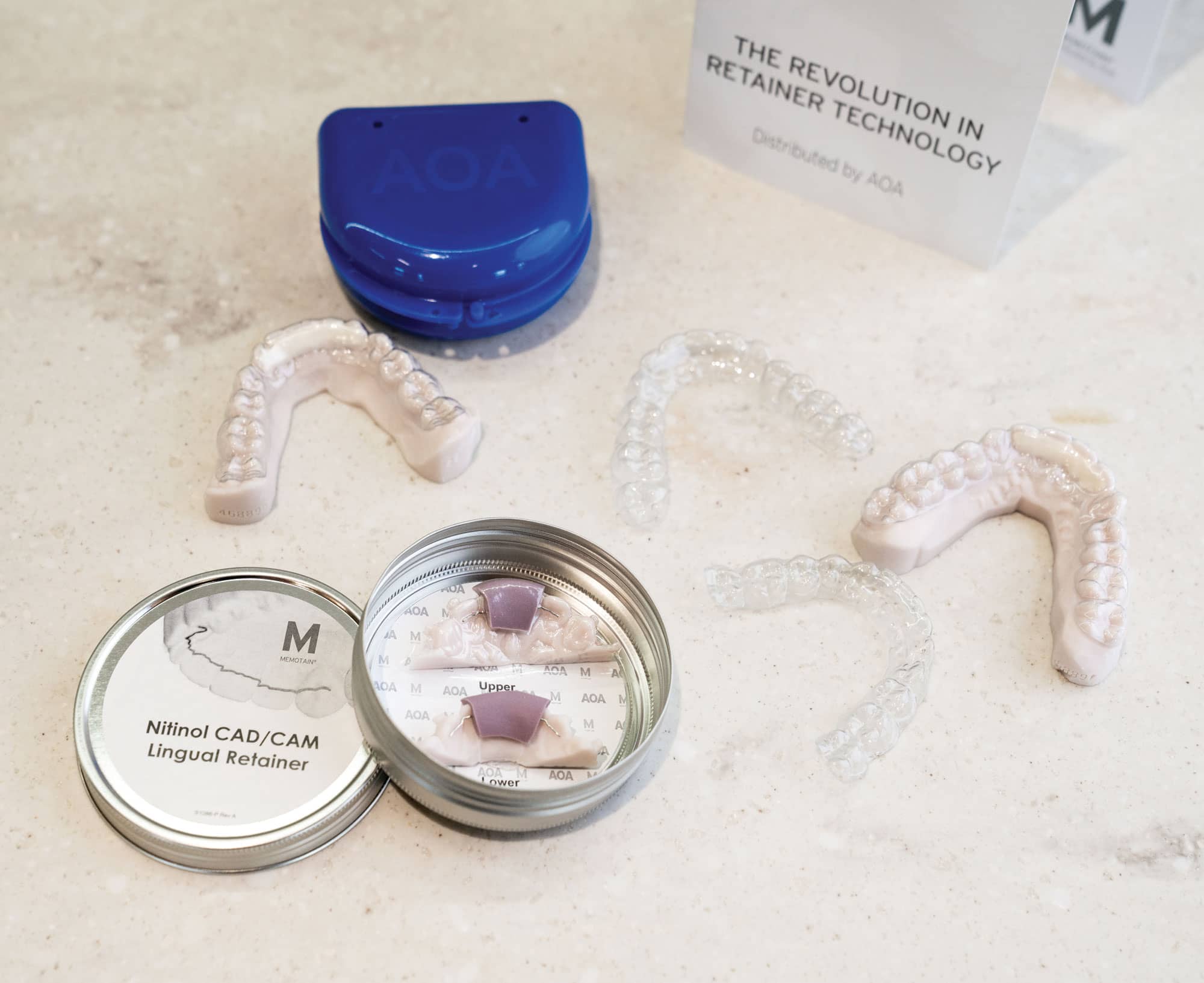 The Memotain workflow uses an intraoral scan as the patient nears completion of treatment. Using CAD/CAM technology, AOA then uses that data to design a custom-cut retainer contoured to the individual patient's arch using a memory-based Nitinol wire. When it comes time to cement this lingual retainer, there are no bends or shaping required and the appointment runs only 10 minutes—not the aforementioned 20 to 30 minutes. Often, the Bentons are able to cement the wire on the same day they deband, using a traditional bonding protocol.
But appointment efficiency is not the only benefit of the customized Memotain lingual retainer. With fewer nooks and crannies for bacteria, plaque, and tartar to build up, patient oral hygiene is improved over the life of the retainer. "We actually had a hygienist compliment us not more than 2 weeks ago about how much easier it was for her as a hygienist to do the semiannual cleaning around the Memotain type retainer than a traditional permanent retainer," says John of the microbe-resistant wire.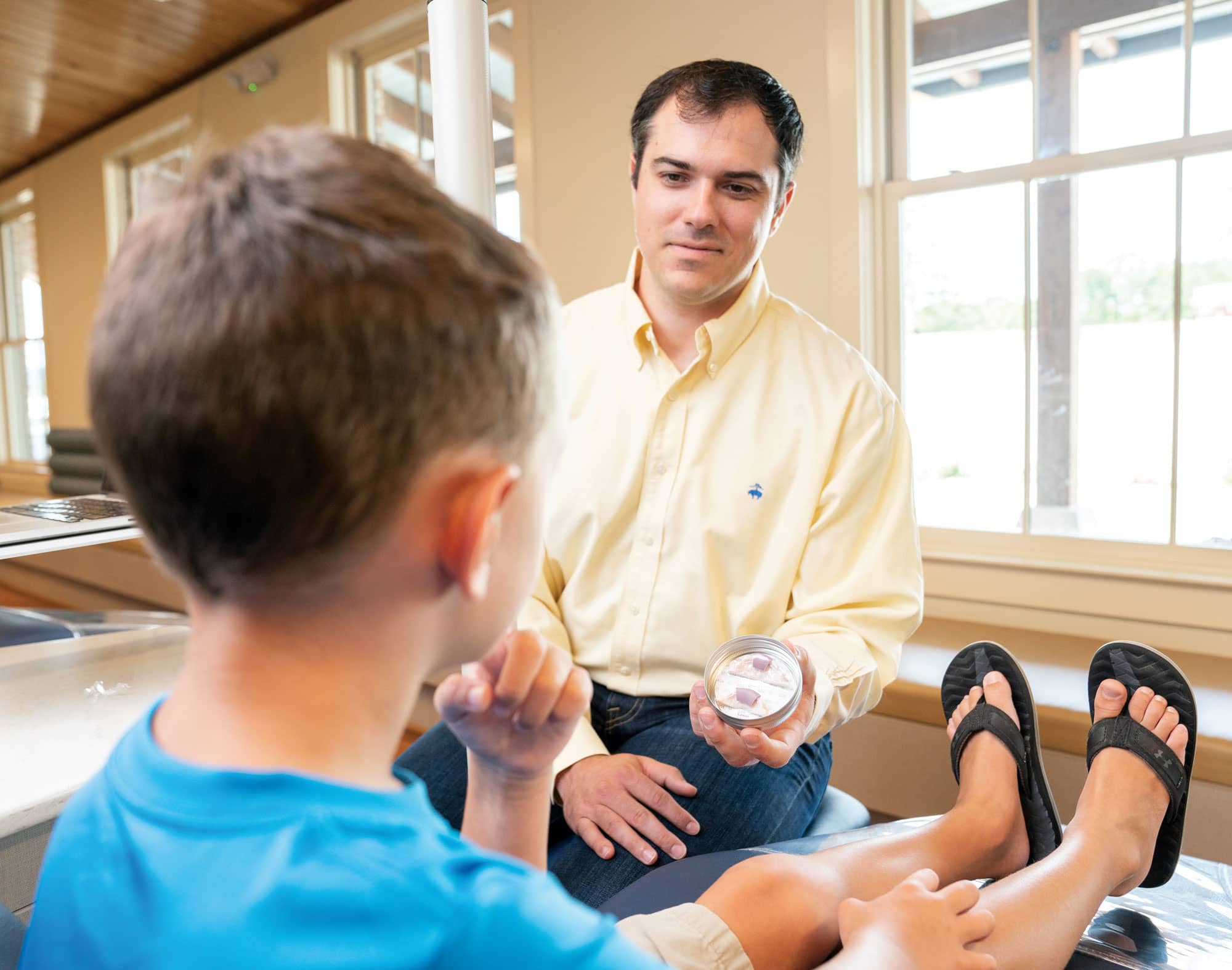 The Bentons have been using Memotain in their practice since spring 2018, and, in that time, they have developed a three-visit protocol. As Barry describes it, the first visit involves agreement between the patient and the doctor that the patient's smile is the best it can be—spaces are closed, teeth are aligned, bite is good, objectives have been met. A month later, an intraoral scan is taken and then sent off to the lab for fabrication of the Memotain wire. As the Memotain manufacturing partner is overseas, turn-around time is about 4 weeks in the Bentons' experience. Given this, they have set up a 4-week recall after the scan, at which time, the patient will have their braces removed and the Memotain lingual retainer installed. At this same appointment, patients also receive their nighttime retainers, in this case, AOA's Prezurv invisible retainers.
As it is, the Bentons have been quite pleased with Memotain and the workflow. "When you look at a Memotain retainer next to a custom bent retainer by an orthodontist—they say a picture's worth a thousand words. If you look at the two side by side, you'll just see a huge difference," says John.
For now, the practice schedules a follow-up appointment for adult patients with the Memotain lingual retainer at both the 6 month and 1 year mark. Adolescent patients, however, require additional follow-up appointments and this period is extended until their wisdom teeth come in. After that, it's the general dentist who is monitoring the wire. Given that Memotain is a relatively unknown product in the Bentons' community, they are setting out to increase awareness among the local general dentists and staff with lunch and learns, focusing on the advantages of Memotain over a traditional permanent retainer.
As a whole, consumers are keyed into the words innovation and customization. When they walk into your practice, they not only want to see a space that speaks to innovation and a customized experience, but they also want to know that the products that will be a part of their orthodontic experience meet the same criteria. With its new office and commitment to pursuing the latest clinical modalities, Designer Smiles by Benton is poised to give their patients the orthodontic experience they seek well into the future. OP