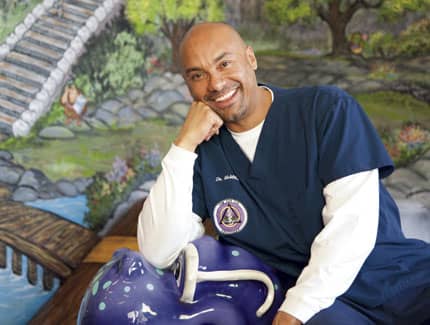 By Greg Thompson | Photgraphy by Kip Malone
The path to a successful orthodontic career can be unpredictable. For Jeffrey McMillan, DDS, the road has led to remote villages on distant Indian reservations, where he treated children in a specially outfitted trailer. A lengthy stint in Las Vegas Medicaid clinics rounded out his initial experiences as a dentist before he decided to study orthodontics.
As the son of the first African-American dentist in Nevada, McMillan initially followed in his father's footsteps, practicing dentistry for a decade before switching. "Our family mission is to help the underserved," says the 39-year-old McMillan. "While treating these children as a general dentist, I noticed that nine out of 10 needed orthodontics. That's when I thought, 'I need to get into orthodontics.' " He did his graduate orthodontic work at the University of Southern Nevada.
He was saddled with heavy educational debt following dental school, so the idea of taking out additional business loans to start a private practice was not appealing. After following his heart to Medicaid clinics and Indian reservations, McMillan entered the more traditional confines of corporate dentistry.
The Adventure Begins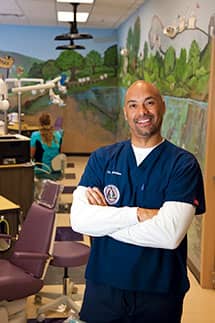 These days, working as an orthodontist at New Mexico-based Adventure Dental, Vision, and Orthodontics, McMillan has found what he sees as an ideal situation. Knowing a good company when he sees it is the result of hard-won experience. "I have seen and worked for a few companies, and I have seen the good and the bad," McMillan laments. "There are some orthodontic and dental companies that I would not send my child to, no matter how inexpensive they were."
A focus on Medicaid (plus New MexiKids and TriCare) patients at Adventure Dental, Vision, and Orthodontics has meant that other families have not had to lower their standards to acquire affordable, quality care. Ultimately, it's the emphasis on quality at Adventure that keeps McMillan content.
His 5-day workweek takes him to Adventure locations in Albuquerque and Santa Fe, and he says he has not felt pressure from the company to see a certain number of patients per day. "It comes down to the orthodontist, and that's where the autonomy comes in," McMillan says. "If you can see 100 patients in a day, and you feel comfortable that you can deliver high-quality care, then there's no problem.
"Quality of care is what we as a profession must aspire to," he continues. "As an employee, you must have a relationship with the company that allows you to do that. Some corporations tell the staff that it's all about production, and if you produce you get some type of bonus. The orthodontist feels pressure. And if you are not producing, it might be time for you to move on. I don't feel that type of pressure with this company. They care about quality first, and that's the type of corporate culture you want."
It depends on the location, but about 70% of Adventure's income is derived from Medicaid. Depending on the state, Medicaid scores the malocclusion to determine if patients qualify. "There must be some type of functional problem for patients to qualify," McMillan explains. "Most of the patients we see are very difficult cases and cases that have need. If they don't qualify, we have the flexibility to offer good payment terms for parents—and they will pay the treatment based on the Medicaid fee."
Corporate Culture and Fewer Headaches
Despite his employment at a corporate chain, McMillan does not hesitate to criticize the drawbacks and excesses of other corporations. He makes the analogy to the pharmacy industry, which not too long ago had multiple independent businesses.
These days, independents are few and far between. "So many pharmacists are working for Walgreens, Walmart, and CVS," McMillan says. "My fear is that this corporate mentality is coming to dentistry and orthodontics. The same transformation could conceivably happen in our profession. Do we really want that?"
McMillan acknowledges the irony in his comments, but he draws distinctions based on philosophy. "Certain corporations take advantage of young grads coming out because of the debt," he says. "They have volumes of patients, and in some ways it can be a disservice to patients and the profession. Fortunately, our company cares about patients, dentists, and orthodontists. They might take a hit in profit to follow through with that philosophy."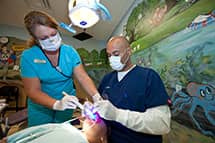 As a self-described "control freak," McMillan may be ideally suited to owning a practice, and he plans on doing just that someday. For now, however, he has learned to let go and appreciate the positive aspects of his situation, of which there are many.
For one, he has had no start-up costs or employee costs, and the company offers excellent benefits. "In any practice, the staffing element can be tumultuous," McMillan says. "I do not have to deal with any of that. If I feel like getting involved, I can. But if there is any problem with staffing, they take care of it. They take care of advertising, as well as purchasing supplies and instruments. It's a turnkey situation. I come in, do my thing, and that's it."
Unfortunately, less responsibility equals less money. McMillan estimates that he earns up to 60% less income than private practice owners. "That's a ball-park figure," McMillan says with a chuckle. "That also depends on how efficiently the practice is running and its overhead costs. Sometimes practitioners want to have Taj Mahals in nice areas, and their overhead is high. Some of the corporations are able to compete precisely because of their efficiency and lower overhead."
Adventure runs a tight ship, but management is not keen to interfere in the treatment preferences of its clinicians. This freedom comes from the top down, with franchise owner Ron Montano, DDS, setting the tone for McMillan and colleagues.
Hiring good people and resisting the urge to micromanage has served the New Mexico branch of Adventure Dental, Vision, and Orthodontics well. All clinicians, including the vision professionals, reside under the same roof, and referrals flow freely between the different specialties. "I love this company's philosophy," McMillan enthuses, "because it allows me total autonomy to follow my treatment preferences."
Slow Acceptance in the Profession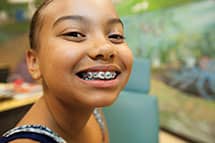 According to McMillan, corporate employment within orthodontics is not a major topic in the seminars and presentations offered by the American Association of Orthodontists (AAO). The relatively new nature of the phenomenon is partly to blame. "This has come on relatively quickly," McMillan says. "I was on the AAO political action committee, and I think they are just starting to become aware. Now they are aware, and they are starting to address these types of situations.
"More times than not, the topic of corporate orthodontic practice is addressed within the lectures as one of the possible practice options," adds Linda Gladden, director of Communications and Marketing at the AAO. "This includes the annual Practice Transition Webinar, and a December 2010 Webinar on practice start-ups presented by John Callahan, DDS."
While the AAO did not have any such seminars in its most recent annual conference, McMillan believes it will continue to make an effort to acknowledge the growing corporate influence in the specialty, and the employment situations of an increasing number of orthodontists.
That said, it will likely be a while before these arrangements are fully embraced by the establishment. "There is no question in my mind that situations like mine are controversial," McMillan stresses. "Orthodontists look at these employment situations negatively. It's competition. Anytime there is a threat of competition, it is looked on negatively—especially with entities that may have questionable motives."
According to McMillan, the trend is not likely to slow down. State boards are allowing corporate dentistry, and those rules are becoming more relaxed. More schools are opening up, the labor pool has expanded, and fewer orthodontists are retiring—either because of the economy or a love of the field.
Aspirations for Ownership
As he chips away at the debt left over from his studies, McMillan increasingly ponders the prospect of practice ownership. It's still not possible at this point, but the chance to run all aspects of the business—headaches and all—is something that he ultimately relishes.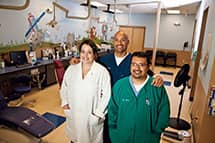 In addition to a healthier economy, McMillan knows that he must find the right situation and market, and then rely on the skills that have carried him to this point. "Maybe I don't have the confidence to go into more debt and start a practice in this economy," he muses. "If I wanted to move to a place with fewer orthodontists, I could pull it off. It's tough, because I'm in a good market helping the underserved. However, I am doing it on somebody else's dime, not mine. Someday that will change."
When it does, buying the latest gadgets will be a pleasure for McMillan, who is an admitted early adapter of technology. Cone beam CT has been a boon to his treatment methods, while a paperless practice that encompasses images, referrals, documentation, and models has led to greater efficiency.
Digital impressions are on the horizon, a technology that McMillan will encourage the owner of his company to purchase. "I can't wait," he says.
In addition to treating the underserved in a future private practice, McMillan would consider Invisalign and lingual orthodontics. "Right now, those modalities are used by the orthodontists who work 3 days a week," McMillan says with a laugh. "Our patients can't afford those things, but it's not that I don't want to use them."
Practice Profile: Adventure Dental, Vision, and Orthodontics
Location: Albuquerque and Santa Fe, NM
Number of chairs: 4 to 8
Years in Practice: 9 years in dentistry, 1 in orthodontics
Education: University of San Francisco (undergraduate), Meharry Medical College (dental), University of Southern Nevada (orthodontic)
Average Patients Per Day: 50 to 80
Starts per year: "I don't have to know that."
Days worked per week: 5
Top five products used: twin brackets, management/imaging software, Ultradent's Opal Seal, cone beam CT, heat-activated wires
Web site: adventurealbuquerque.com
---
Greg Thompson is a contributing writer for Orthodontic Products. For more information, contact [email protected].