by Rich Smith
Robert J. Bray, DDS, MS, teaches his staff and patients the joys of personal responsibility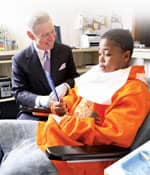 His surname really is Bray. So please discount the rumors that Robert J. Bray, DDS, MS, started life with a different last name and only invented this one for the sake of clever wordplay. The fact that he can call his practice "Brayces" is pure happenstance.
But what is not happenstance are the good fortunes enjoyed by his practice, which he co-owns with colleague E. Gregg Pfund, DDS, MSD, and operates from a quartet of offices in the South Shore region of New Jersey. Bray says, "I attribute our success to the fact that this practice operates with more than one set of eyes on the patient and to the fact that we have in place many efficiency-promoting systems."
Of these systems, few may be more important than Bray's approach to the handling of patient visits.
One Staff Member for Every Patient
"We use a patient-manager system," he says. "This ensures that the focus is on patient care and that there will be someone in the office accountable for making sure that this happens. What we do is assign one staff member to follow a family through treatment, from beginning to end. This ensures consistency, because sometimes the patient might be seen by me and sometimes by Dr Pfund."
Normally, the two orthodontists do not alternate at chairside from one visit to the next. "If the patient needs to come in exclusively on Thursdays, then he or she will be seen by Dr Pfund because Thursday is not one of the days I'm in the office," Bray explains. "If, instead, the patient comes only on Wednesdays, then he or she will be seen by me. But if the patient sometimes comes on Wednesdays and sometimes on Thursdays because that's what's convenient for the patient, then, yes, there will be times when he or she is seen by me and other times by Dr Pfund. The patient manager provides the continuity because the patient will always be seen by that same manager, no matter what day it is."
In Bray's practice, there are four patient managers. These are not the same as clinical assistants, of which there also are four.
The Team Approach
PRACTICE PROFILE
Name: Brayces
Location: Somers Point, NJ; Absecon, NJ; Marmora, NJ; Wildwood, NJ
Owner: Robert J. Bray, DDS, MS, and E. Gregg Pfund, DDS, MSD
Specialty: Orthodontics
Years in practice: 30
Patients per day: 15–20
Starts per year: 110
Days worked per week: Bray, 3; Pfund, 3
Office square footage: 1,000-2,000
Bray's partnership with Pfund has its origins in advice offered to Bray by his mentor, Robert W. Baker, Sr, DDS. "Dr Baker believed orthodontists who team up make practice better all the way around," he says. "For instance, the doctor who works with a partner has someone who can cover for him when he has to be out of the office, and vice versa. Also, it helps with professional development. There's just something about working alongside another doctor that encourages you to learn more, to train more, to grow more. And, of course, there is the advantage of having that extra pair of highly skilled hands to make sure that every patient receives the best possible care."
Bray and Pfund began their partnership in 1982, about 5 years after Brayces debuted in the city of Absecon. He added a second office a short time later in the nearby community of Somers Point. "Like myself, Dr Pfund had a young practice [in nearby Marmora], and we were both members of the local dental society, which is where we became acquainted," Bray recalls, divulging that the two found they had many things in common, including philosophies about practice. "It struck me that Dr Pfund and I could make a really good practice team. I suggested it to him, he thought it was a great idea, and we took the necessary steps to combine his office with my two."
Newly united, the doctors quickly moved to establish an additional site, this one in Wildwood. "We felt this would add to our patients' convenience and give them greater flexibility in choosing an office," says Bray, who notes the presence in Wildwood also drew many new patients that Brayces would not otherwise have attracted because it previously was too far away.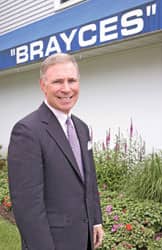 Philadelphia-bred Bray first fell in love with the South Jersey Shore area as a boy. "My family vacationed here every summer," he says. "We'd stay on the island of Brigantine. It was nonstop sailing, swimming, anything to do with fun in the water." However, Bray was not the only one who loved the area: Scores of high-rolling investors found themselves gravitating to the South Jersey Shore's biggest town, Atlantic City, where plans were afoot to build a number of luxury resort casinos. The ensuing construction boom brought many young families to the South Jersey Shore as permanent, year-round residents. Many of them became Brayces patients.
The Learning Never Stops
Brayces is open from 8 am to 5 pm, Monday through Friday; the office also sees patients one Saturday each month, from 8 am to 2 pm. Bray's schedule rotates him through the four offices 3 days per week. The other 2 days are devoted to, among other things, duties as a part-time orthodontics instructor at Temple University in Philadelphia and also as a visiting professor at the University of Rochester, Eastman Dental Center (the same New York school that conferred upon him a certificate in orthodontics in 1975, following his 1973 graduation from dental school at the University of Maryland in Baltimore).
Speaking of school, Bray's original plan was to become a full-time academic. He changed his mind about that in 1977 after completing a tour of duty as an Air Force orthodontist and then envisioning what life might hold for him in a university setting. "I realized I could make a bigger impact in the world as a private-practice orthodontist," he says. "At that time, there were not the opportunities we have today for full-time academics to complement their teaching work with some form of private practice."
Bray talks to his team at one of the conferences that he holds every morning.
Bray gives patients an incentive to succeed academically with his program called Brayces Academy.
Bray says, "The more highly trained the staff, the more evenly spread the ability to provide quality of care. The idea is to have an office where everybody is exceptionally good at their assigned tasks."
Bray says of his 5-15 reports, "It's a great way to ensure that everyone is up to speed on what's going on in the office."
Bray sees 15 to 20 patients per day.
And still on the subject of academics, Bray served as president of the board of education in Brigantine (where his own two children attended schools) for more than a decade. Bray's time on that board inspired him to start a schools-support program called Brayces Academy. "It seemed to me that one way to encourage the development of stronger students was by offering them tips and hints for gaining good study habits," he says. "I felt that what students lacked was knowledge of how to get the most out of their time in school, how to make the most of their educational experience—and that's what we sought to accomplish with Brayces Academy." The program's mission has since expanded to involve providing incentives for youngsters to excel in the classroom and then publicly acclaiming them when they do.
Without question, Bray is a busy orthodontist. However, he is soon to become much busier. In 2009, he is slated to begin serving as president of the AAO. It will be an opportunity for Bray to make a difference, but not by changing the current course of the AAO. "The organization is moving forward along a path set by our board of trustees," he says, himself a member of that board. "As president, my job will be to make sure that the wishes of the board are carried out."
That said, Bray will devote himself to putting a sharper edge on a consumer-awareness campaign begun a while back by the organization. "The program stresses the importance of the 2 to 3 years of additional, high-level training that orthodontists receive after dental school," he says. "Our goal is to help the public understand that orthodontists, because of this training, are the best choice among practitioners when it comes to creating beautiful smiles."
Bray adds that as AAO president he also will aggressively seek to advance the organization's efforts with regard to recruitment and retention of faculty. And he intends to toil diligently at encouraging orthodontists to put their office staff through training so as to promote better quality at all levels. Bray has already sent his employees through the AAO-endorsed Academy of Orthodontic Assisting, which is an Internet-based course for everyone from receptionists to chairside personnel.
5-15 Reporting
Once Bray accepts the presidency of the AAO, the demands on his time will sharply increase (potentially leaving him less time for sailing, biking, snow skiing, travel, and reading—all passions of his). However, Bray is not losing sleep over any of that. He has peace of mind, and it stems from the fact that his practice is smooth-running. "Good systems allow me and the staff to stay right on top of everything that transpires in the office," he says.
An example of an efficiency-oriented system is something Bray calls 5-15 reporting: "It takes 5 minutes to read after 15 minutes of typing it up," he explains. Each employee is obligated to generate a 5-15 at the end of the day. Says Bray, "This is a computer-logged summary of his or her activities, accomplishments, and unresolved issues needing to be addressed. Because of the electronic format, 5-15s can be easily routed around the offices." Bray reads these to get a sense of what transpired outside his view, and he encourages every staffer to do likewise. "It's a great way to ensure that everyone is up to speed on what's going on in the office."
The 5-15s make for enlightened talk during the team conferences held each morning, but they are not the only things discussed. "Everyone has an opportunity to contribute information about their schedule or plans for the day: What will be transpiring in their area of the office and what they hope to accomplish," Bray says. "For example, someone will start the conversation by giving a rundown of who's coming in, who's having a birthday, who's having braces put on or taken off, and so forth. Then someone will discuss a particular technical or clinical matter he or she has studied up on. The idea is that each person will have one or more pieces of important information to contribute, and that means people seated around the table are perhaps going to learn something they did not beforehand know."
Once a staffer declares a plan for the day, that person then becomes accountable for executing it. "They have to report back at the next morning's meeting whether they accomplished their plan and, if not, how they intend to accomplish what they said they were going to," Bray says. "This approach serves to distribute across the organization the responsibilities that ordinarily would belong to an office manager. So, to some extent, it makes every staffer his or her own boss, and they like that." At bottom, meetings conducted chiefly to increase knowledge rather than simply to problem-solve make for a more successful practice, Bray insists. "The more highly trained the staff, the more evenly spread the ability to provide quality of care. The idea is to have an office where everybody is exceptionally good at their assigned tasks."
Rich Smith is a contributing writer for Orthodontic Products. For more information, please contact
Managing the Patient Manager
It was almost 2 decades ago that Robert J. Bray, DDS, MS, hit on the idea of his patient-manager system.
"There was a certain level of accountability that was missing in this office," he confesses. "For example, there would be the treatment plan plus notes on the treatment card for each doctor to follow, but no matter how good the plan and the notes, there was always some information that could not be conveyed adequately on a chart or a form."
Thus, it made good sense to assign a staff member to consecutively and consistently manage each patient. "Let's say a family expresses a certain need or desire," Bray illustrates. "If you work all the time with that family, you'll know what those needs and wishes are and you'll know what you need to do to satisfy or address those. But if you're not consistently working with the family, it's harder to know what needs to be done. That was the position Dr Pfund and I were in. We were not working with each family all the time. That's when it occurred to me that we could remedy this by assigning a staff member to be the consistent presence in the treatment of those families. This added a new dimension to our ability to take care of patients and families."
The system also improved staff satisfaction. Bray says, "The manager feels rewarded by being the primary person responsible for working with the family, for making the appointments, for knowing everything about the family's needs, school schedules, and so on. As a result, the managers develop strong bonds with the patients and the families. Sometimes the managers receive a bouquet of flowers or other inexpensive gift as a token of thanks from the families at the end of treatment—that's how strong the connection between them becomes. That's a very positive thing for a practice."
—RS