By Alison Werner | Photography by George C. Anderson
Benjamin R. Gregg, DDS, MS, a native of Ashland, Ohio, never intended to return to his hometown to practice; then an opportunity—or rather two—came knocking. While Gregg never had orthodontic treatment as a teen, his siblings did. With only two orthodontists in town, his siblings were treated by both doctors. As is often the case in small towns, word got around to the two that Gregg was doing his residency at the State University of New York at Buffalo in the specialty. Both of similar ages and similar stages in their career, they each individually reached out to him with an offer: If you plan to come back to Ashland, we're willing to sell our practices to you.
Gregg recognized the opportunity on offer and returned to Ashland in 2008 to purchase both practices simultaneously. The transition was short; each doctor stayed on for 3 weeks.
"Looking back, it was crazy that that happened," Gregg says of the opportunity and the timing.
This was 2008 after all, when the economy was in a tail spin. Neither office was booming at the time—a fact that Gregg is actually grateful for. "It was good in a way because it gave me a chance to get my feet underneath me, so to speak. I was able to just figure out how to run two practices that were super different, but also up the street from each other," he says.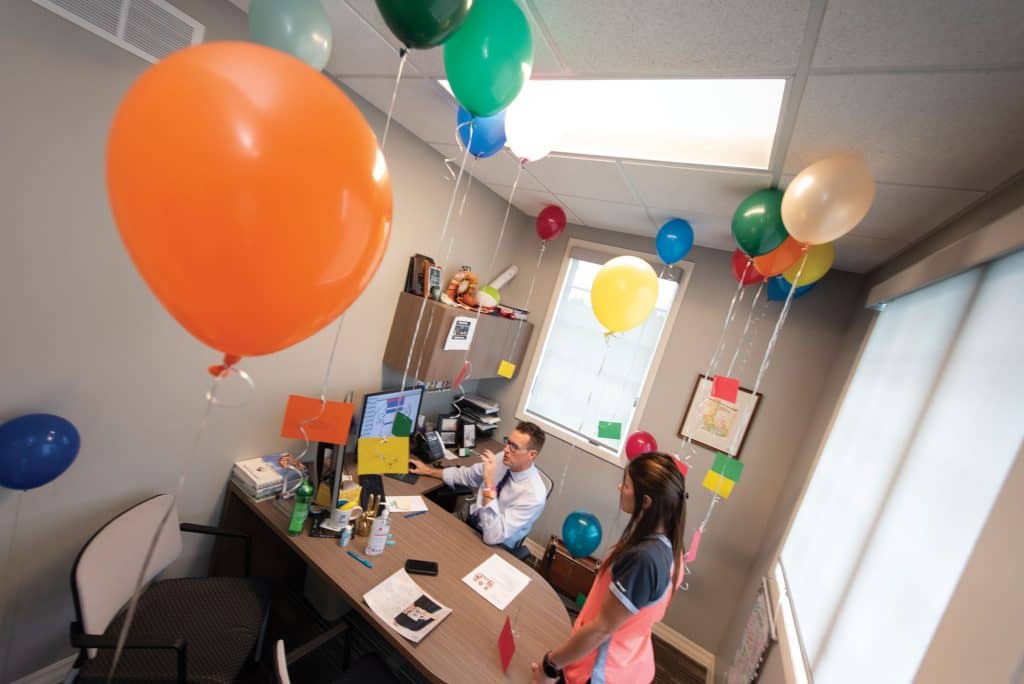 Six months in, Gregg opted to combine the two offices into one location. Neither office he'd purchased was ideal with regard to physical space, but the one he decided to keep was up the street from the high school and an elementary school, allowing him to maximize his patient base. Once the economy rebounded a bit, Gregg chose to expand the 1,300-square-foot space by finishing an included basement space for all admin functions. Gregg had hopes of expanding further by buying up adjoining suites in the building as they became available to make one big suite, but reality set in. The turnover on those leases was going to take too long. After almost a decade in the space, Gregg decided to move on. But keen to stay in the area, with its prime location near the local schools, Gregg lucked out and found a space two doors down in a building that housed a number of dentists—and one podiatrist.
Gregg took over the podiatrist's 2,400-square-foot suite. Located on the main level, in a professional building completed in 2000, the suite included an additional 1,100 square feet of basement space. To maximize the main level, Gregg again located the practice's admin and storage functions to that lower level. That left the main level for all patient and clinical activities. The new clinic allowed Gregg to expand his treatment chairs from four to six and to add an additional TC chair, bringing the total number to two.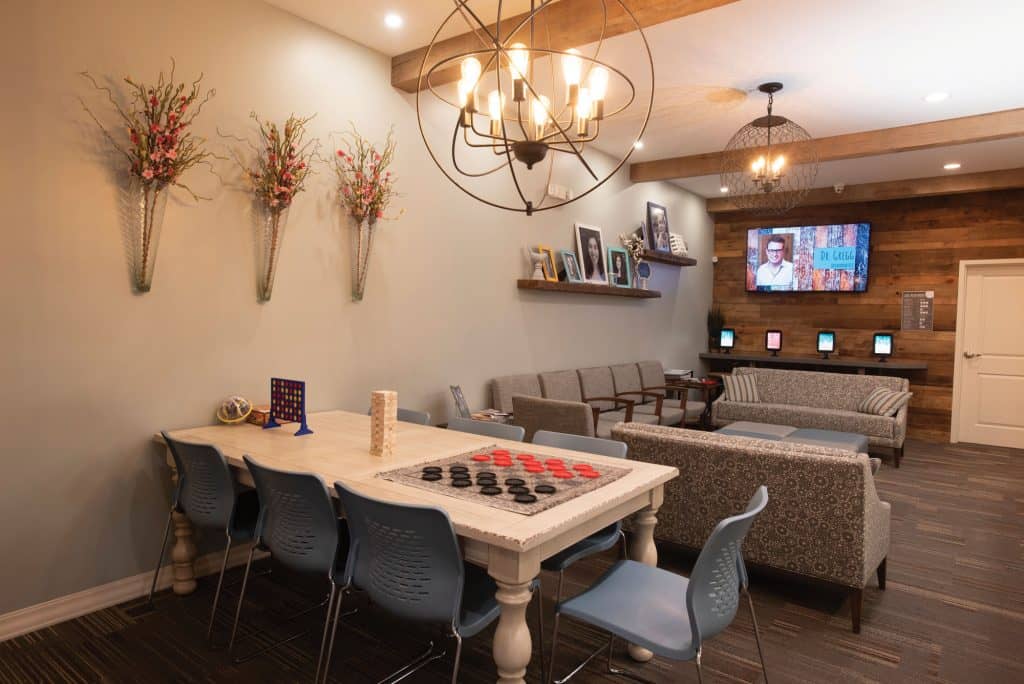 Gregg walked into the design of this new space with a vision: Modern farmhouse meets shabby chic. He wanted a place where patients and their family members would feel comfortable—like they were guests in a home. To that end, Gregg asked for a reception area that felt like a living room, not a doctor's waiting room. Nailing that homey, comfortable vibe was key, but so was office flow. Upgrading the podiatrist's office would require a whole new vision of the space.
Initially, Gregg intended to remodel the office on his own. He'd had a designer to assist with the remodel of his first location, but he was wary of undertaking the expense again. At the time, he'd just finished building a house and, with an eye to economizing, thought, "I can totally do this." Then, he visited a few newer practices in the surrounding area.
"The orthodontist at one was like, 'Ben, who are you using for your designer?' and I said, 'Dude, I'm not doing that. I've got this, man. I can pick out paint colors,'" Gregg recalls. It was that orthodontist's wife, who'd helped her husband with his office, that advised Gregg to reconsider. Through these conversations, Gregg quickly realized that the "biggest challenge with something like this is you may not know what you want" or even need.
"If you build a home, you have to ask, how do you actually live your life? Do you come in and throw your keys down? Throw your bag down? You need a place for that stuff. Same thing when you come into your office. Where do you come into? What do you do when you come in? And then what happens when your guests come in—where do they sit? What do they want to see, to do? And then it's like, how do you really practice? Where do you want to put the chairs? What is going to give you the most efficiency? Where do you put the sterilization lab and how do you design it? When you don't know that information, it's hard," says Gregg, who was also dealing with scaling up his practice with the build.
"The big thing for me," he says, "was moving from a small space to a space that was almost double in size. I didn't know what I was going to need and whether I was going to be able to fill it. And then what if I didn't fill it? All this stuff costs a lot of money and you want to be sure that you're using your money wisely and effectively at the same time." After coming to terms with the scale of the remodel, Gregg decided to seek out a designer.
When it came time to find a designer, Gregg sought the opinion of Mark Foulk, a solutions consultant for MCF Solutions and a regional sales representative for the specialty dental equipment and cabinetry manufacturer, Boyd Industries. Gregg met Foulk years ago while he and his staff were on a team field trip, visiting a local Chick-fil-A. They had met there for lunch to experience and reflect on "great customer service," which is one of the qualities Gregg and his team strive to embody. As they sat eating in their Gregg Orthodontics t-shirts, Foulk noticed them and introduced himself.
While Gregg wasn't in the market for chairs or other equipment at the time, they stayed in touch, and Gregg kept him in mind when approaching the upgrade. Knowing Foulk had years of experience working with orthodontists who were upgrading or building out a new practice, Gregg requested his recommendation for a reliable and experienced designer. The conversation led him to Carmen Costinescu at C2G Design in Columbus, Ohio.
"She was not only awesome, but, from a price perspective, I felt very comfortable. It turned out to be one of the best decisions I've made," says Gregg. "She made my life way easier. Looking back, I'm like: Dude, what was I thinking that I was going to do this by myself. There was no way!"
Having Costinescu on board alleviated some of the decision-making pressure on Gregg, and, more importantly, allowed him to make good decisions. When the builder suggested a cheaper lighting option that Gregg was hesitant on, he turned to Costinescu who advised him to spend the extra money and get both the look and the quality he wanted. And when it came to a suggestion from the builder on an electrical layout that didn't seem ideal, Costinescu was there with guidance. "Who am I to say that's not where I want them," he says of the electrical placement suggested by the builder. "I don't know. But she's done this so many times. She can look and say, 'This is going to make more sense from a functional perspective.' She was worth it."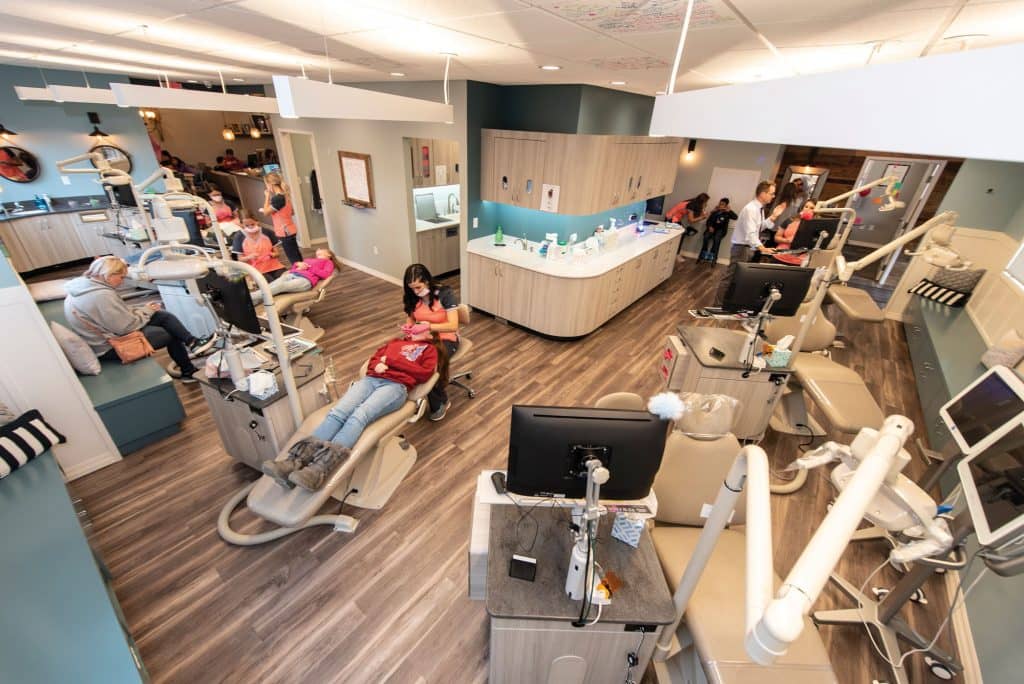 The practice's previous location had one way into and out of the clinic—creating a daily train wreck as staff and patients navigated the corridors. For the new space, Gregg and Costinescu opted for a circular layout, creating separate entrances and exits from the clinic area. In addition, a stand-up consultation area was included near the clinic exit. This allows Gregg and his staff to bring back parents from the reception area without having to bring them all the way back to the chairs.
Gregg appreciated that Costinescu had previous experience designing orthodontic offices. The fact that she was familiar with an orthodontic practice's needs meant Gregg could trust that she was making insightful recommendations. "Looking back, I think the fact that I was going to make these decisions by myself was foolish and just naive. Maybe it would have worked out okay, but I think it probably saved me a lot of money and heartache—and possible future remodels."
While Costinescu managed the overall design and consulted on functional decisions, Gregg and Foulk were in conversation again, this time about another important aspect of the new office: finding the right equipment.
While Gregg had friends who recommended Boyd Industries products, the fact that Foulk had made the time to connect with Gregg really mattered. Gregg ended up selecting all new Boyd Industries chairs, stools, side units, and clinical cabinetry.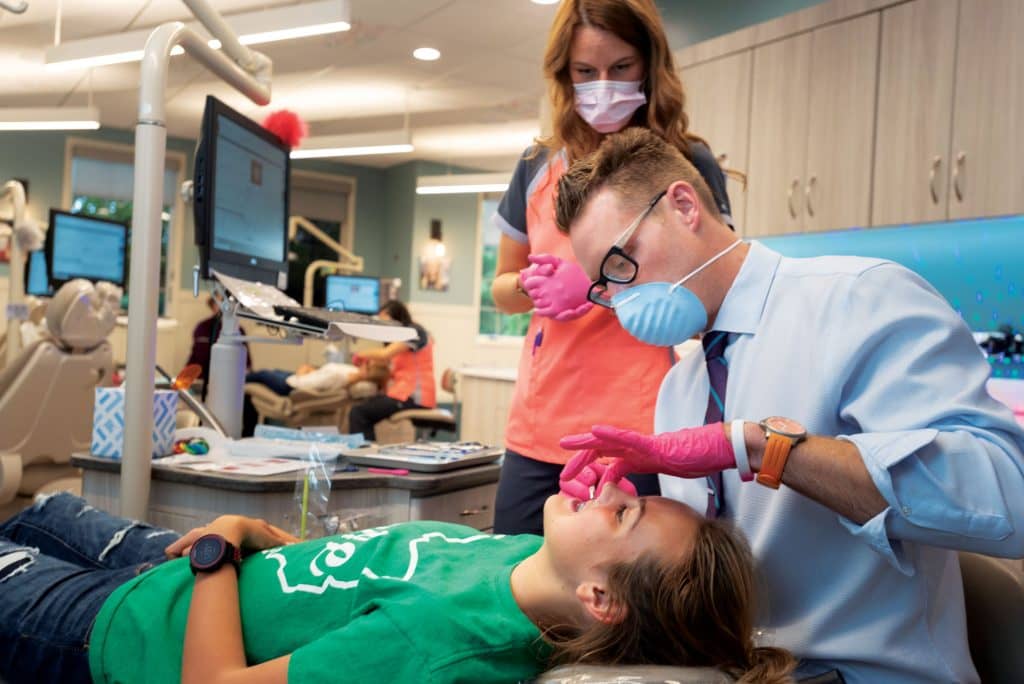 Gregg opted for Boyd's M3000FB Treatment Chairs and CSU356SQ Chairside Units for his new office. He appreciated both the quality and the design of the chairs and side units. For Gregg, the design better suited the functional requirements of an orthodontic workflow than other equipment on the market. For example, he appreciated the fact that he could pick where certain hoses were placed on the side units. "We're working with these things all the time. So, if you're reaching farther for something you use all the time, it just doesn't make sense. Or if you have to have an assistant pass it to you and you just want to grab it, it doesn't make any sense," he says. Regarding the chairs, Gregg appreciated that he had a number of upholstery choices, as well as different patient comfort levels, to choose from.
While the practice's chairs are stationary, their CSU356SQ side units, which feature built-in monitor mounts, have a mobile base that allows their position to be adjusted as needed. The ability to easily move the units comes in handy when accommodating staff members with differing space requirements to work. Gregg opted for Corian solid surface tops, which are scratch resistant and designed to withstand regular sterilization.
In addition to operatory equipment, Gregg opted to work with Boyd Industries to create and install the practice's clinical cabinetry. The work—including a custom sterilization center—was custom-designed by Boyd's Senior Manager of Design and Development, Christina Masengale. During the process, Masengale's main considerations were functionality, aesthetic appeal, and optimal workflow. Gregg appreciated that Masengale, Foulk, and Costinescu maintained a collaborative relationship, and were able to bring together solutions that were designed precisely for the brand-new layout, the team's day-to-day workflow, and Gregg's overall vision.
Amidst this design process, Gregg worked with his lab tech to create the ideal lab for the new office. The design was based on what she was doing at the time. But, Gregg was mindful to not devote too much square footage to the space. A smart decision it seems, as, within a year, the space transitioned to house the practice's three 3D printers.
"Our field is changing so rapidly. I knew I didn't want to build a huge lab—not that it's wasted space, but it's space that from a business perspective doesn't really create production," he says. The practice now uses those 3D printers to make its own retainers, creating a retainer program that is efficient and cost effective.
"I feel like it's changed my practice a ton—not only from the standpoint of financial savings. I feel like you all of a sudden have control. If you're 3D printing, you have control of how your 3D prints look; what size you want them to be. You have control of tooth movement, time, and the money involved," says Gregg who lectures on the topic. "I don't have to wait 2 weeks for a lab to send me something. I can make it tomorrow. I can make it the next day."
Altogether, Gregg's office took 6 months to remodel—and most of that time was spent waiting on permits. While he kept the footprint of the podiatrist office's bathroom to maintain ADA compliance, he tore the rest of the space down to the studs, to, as Gregg jokes, "Clean out all the toenails and foot fungus." The physical work on the inside—demolition to finished design—took only 2 months. And while Gregg is thrilled with the space, he's equally thrilled with the space he and his team have created outdoors.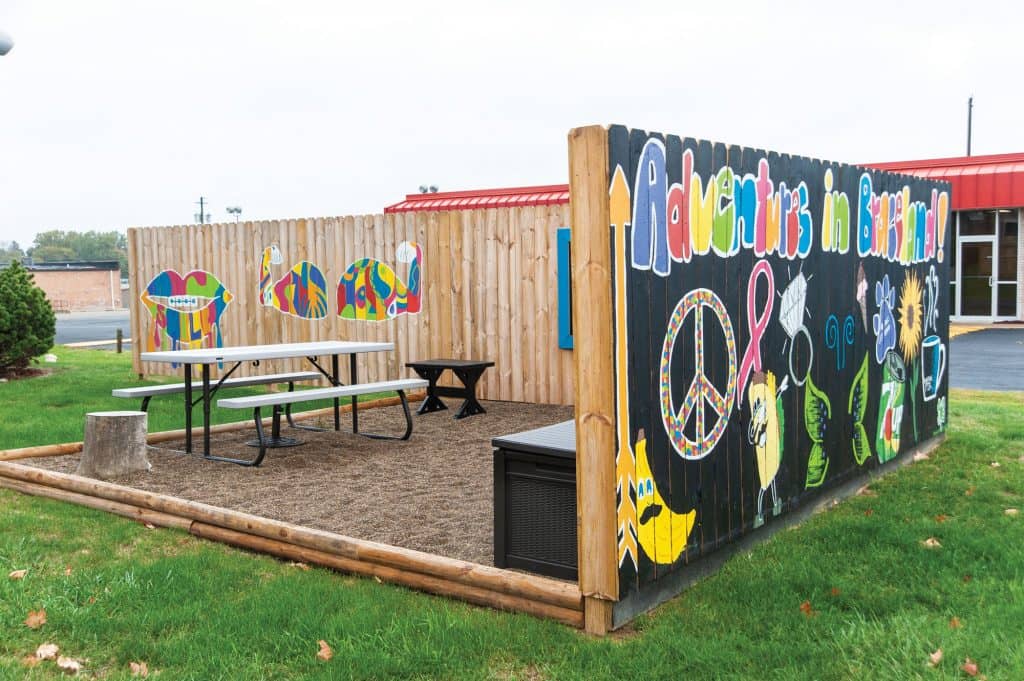 Although northeastern Ohio is quite cold the majority of the year, Gregg and his staff decided to turn a patch of grass that came with their space into an outdoor entertainment area for their own use, but also for patients and their families. The space was enclosed with a wooden fence and the team set about painting a mural with outstretched arms to welcome all visitors to the space. A picnic table, giant Jenga set, jump ropes, bubbles, Nerf guns, and a giant chalkboard fill the space, creating an extension of the practice's living room-like reception area. The additional space comes in handy when patients come in with a large entourage of family and friends in tow.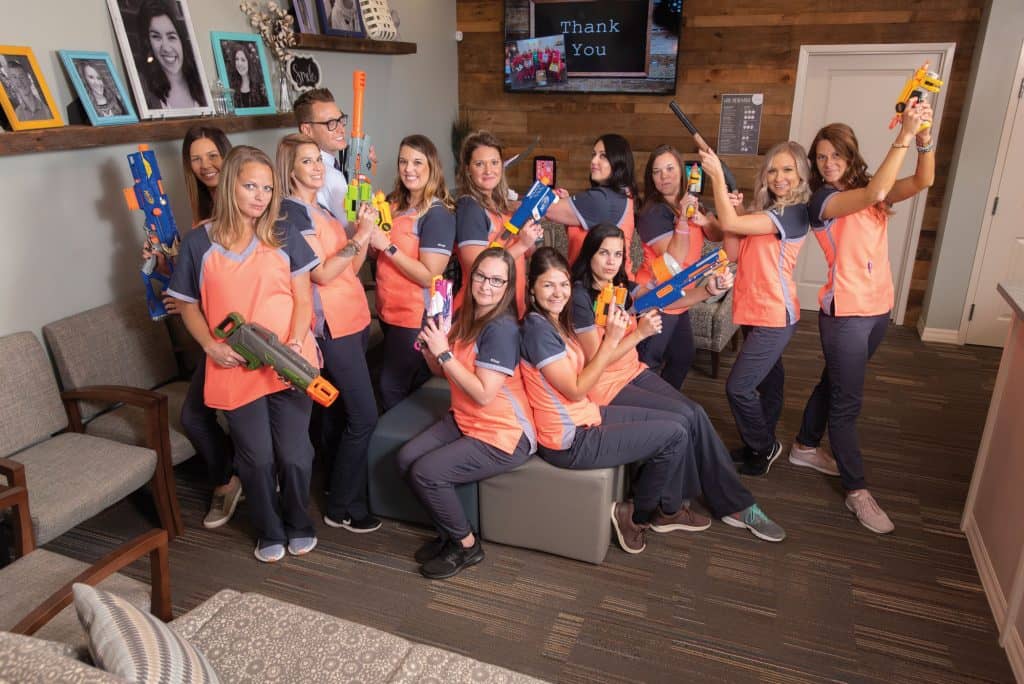 "If we get like six or seven people at one appointment, we don't have enough space. But this outdoor area really helps. We get people outside and they're playing and shooting Nerf guns at each other. Plus, it suits our personality. We want you to have fun when you're at our office," says Gregg, adding with a laugh, "And in fact, if you're not having fun, I probably would recommend you go somewhere else." OP