"Practice happy." Those two words have guided Joseph S. Petrey, MPH, DMD, MS, over the last 7 years as he's grown his Kentucky-based orthodontic practice. They are the words of two of his most influential mentors: Dr Judd Knight, and Ralph D. Petrey, DMD, MS—a man who was both his father and his professional peer and mentor.
"[Dad] lived by that credo—to 'Practice Happy'—meaning do the treatments and aspects of treatment that allow you to be happy and provide the best care possible," Petrey says. To do that, Petrey has strived to incorporate aspects of orthodontic treatment into his practice that challenge and invigorate him, while providing his patients with exceptional treatment; and focused his practice to treat all patients regardless of their socioeconomic status to the highest of quality.
While at the University of Kentucky College of Dentistry, Petrey developed an interest in the use of temporary anchorage devices, or TADs, and soon found himself researching and writing on these devices' appropriate placement technique and insertion aspects. At the time, the University of Kentucky was at the forefront of TAD research in the United States, and Petrey's articles contributed to early guides published on the use of TADs.
For years, he has lectured on the material in those articles. However, the focus then was what this new tool was. Today, the focus is on the new and exciting ways orthodontists can use TADs in treating patients, and Petrey finds himself frequently lecturing on exactly that—what he is doing with these devices in his practice.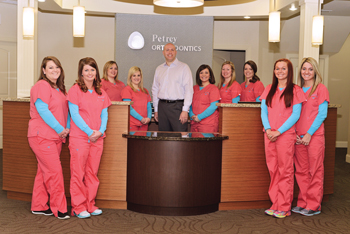 Petrey uses TADs for simple mini-screw procedures, including molar protraction for missing teeth, which saves patients from endosseous implant therapy procedures and the related expense. But it's the cutting-edge uses for TADs that really thrills him.
"We offer anterior open bite closure with posterior intrusion with TADs," Petrey says. "With this procedure we can treat a patient with simple orthodontics by placing TADs in the posterior segments of the maxilla and intruding the posterior teeth to close the bite. Previously, many of these cases would have required orthognathic surgery to close an anterior open bite. We have had great success in closing these bites and they have maintained well, as it relates to relapse."
Petrey has also found success using TADs for severe handicapping malocclusions, which previously required surgery under general anesthesia. Now, these cases can be treated in-office with nothing more than TADs and braces.
But his use of TADs does not end there. The mechanics of TADs have allowed Petrey to treat cases that could not have been treated any other way. These cases include bringing impacted canines into the mouth without the use of braces. "We have treated cases with impacted canines with Invisalign, erupting canines straight from the TAD without brackets," he says.
In addition, he has used TADs to erupt canines where patients have suffered an accident or previous root resorption and cannot now have braces, but need impacted teeth erupted through the tissue. He has done so with TADs and no brackets on the teeth. Petrey has also used TADs to erupt severely impacted teeth protruding into the sinus or resting on the central incisor roots in the middle of the palate or in an area where traditional techniques would have put other teeth at risk. He has been able to successfully apply TADs to these cases to move and bring the impacted teeth in efficiently and with vectors previously unattainable with traditional fixed appliances alone.
However, these days, Petrey frequently is asked to lecture on his use of TADs as pontic teeth in growing patients. Endosseous implants are contraindicated in growing patients because the bone around them is growing and the implants and crowns do not move as the patient grows. As Petrey points out, this can lead to some severely unhealthy and unaesthetic situations. For patients with missing teeth, especially in the anterior segment, this can mean years post-orthodontics waiting on a permanent restoration with a tooth missing at the front of the mouth.
"This is difficult not only for esthetics, but also for retention issues," Petrey says. "For a little over 7 years, we have been placing TADs in these spaces and placing pontic teeth on the TAD to create a temporary tooth for the patient. This temporarily fills the space of the missing tooth, but allows the bone to grow without an impact on the permanent restoration."
Previously, this was treated with a retainer that has a tooth on it. But while Petrey concedes that this was a great option and one he used in his practice, it didn't meet the needs of his patients. "You cannot discount the social impact of asking a teenager to take out their 'teeth' when they eat," he points out. "With our procedure of placing TADs for pontic teeth, patients with missing teeth can have 'teeth' that they do not have to remove when they eat, and their future permanent restoration is not negatively affected. In fact, the TAD helps to maintain bone for a healthy future implant."
Pushing the boundaries of TADs usage is not the only clinical aspect that helps Petrey "practice happy." He has also incorporated lingual orthodontics and other esthetic treatments into his practice. "Lingual orthodontics is quite rare in our area," Petrey says. "We have patients travel from surrounding states to be treated lingually in our practice." For him, the ability to treat lingually "opens the door for a truly esthetic option."[sidebar float="right" width="250″]?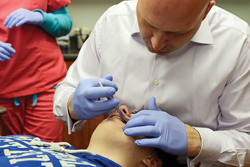 PRACTICE PROFILE
Practice Name: Petrey & Newcomb Orthodontics
Locations: Corbin, Hazard, and Somerset, Ky
Number of chairs per location: 9 (including scanning chairs)
Years in practice: 7
Education: University of Kentucky College of Dentistry: MPH, DMD, MS
Average patients per day: 85 to 100
Days worked per week: 4 1/2
Office square footage: 4,000 to 5,400
Staff size: 20
Top products used: Dentaurum equilibrium® Mini Bracket, iTero® Intraoral Digital Scanner, American Orthodontics Radiance Plus™ Bracket, Dentaurum tomas® Anchorage System, Dolphin Imaging & Management Solutions software, 3M Transbond™ Plus Self Etching Primer
Website: pandnortho.com [/sidebar]
Treating a Community
While Petrey has pursued his interests in the aspects of treatment that allow him to practice happy, he has also held true to another of his father's credos—and possibly the most important one: "If you put your patients first, you will never
make a wrong decision." Petrey began his career working alongside his father 2 days a week in Corbin and Hazard, Ky, while maintaining his own private practice in Somerset, Ky, the other 3 days. The son of a hard-working coal miner, the elder Petrey's orthodontic practice in rural Kentucky served the community for 37 years. And as Petrey puts it, that community is "as rural as rural can be."
In a state where 68% of children are on assistance, more than half of Petrey's patients are enrolled in Medicaid. "Most of the practices I know typically [have a Medicaid patient population of] 18% to 30%. So we definitely serve a larger population than most," he says.
With a master's in Public Health from the University of Kentucky and years spent watching his father practice, Petrey was familiar with the population he would be serving once he became an orthodontist. He was fully prepared for the sometimes daunting red tape that comes with treating this population.
To become a provider, Petrey went through the required credentialing process for clinicians, a process that was similar to that of most insurances, especially after most states—including Kentucky—switched to having managed care organizations (MCOs) run their Medicaid programs. While the process for submitting cases for approval can vary from MCO to MCO, a standard set of orthodontic records and a narrative depicting the handicapping malocclusion is generally all that is required. Then it's a matter of waiting for approval. "The forms are not necessarily the concern [with these cases]. The interpretation of the criteria often is," he says.
While the approval process could take ?6 to 8 weeks in the past, the fact that Petrey's practice is completely digital has helped cut that period down significantly. With digital forms, digital records, and digital models that can be quickly emailed, a patient and the practice can know whether a case has been approved or denied in days. The practice made an investment in an iTero® Intraoral Digital Scanner, from Align Technology Inc, about 4 years ago. Becoming an "impressionless practice," and saving patients from "gooey, goopy, gaggy impressions," has saved Petrey both time and money.
[sidebar float="right" width="150″]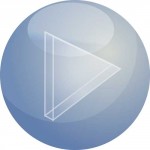 Listen to Joseph S. Petrey, MPH, DMD, MS, tell Orthodontic Products about the best thing he did for his practice.  [/sidebar]"It allows us to maintain digital records for as long as we would ever need them," he says. "This technology is exciting as we continue to push the envelope in technologies for our patient care and comfort. We made the decision to go digital for the patients, and it ended up benefiting both them and the practice."
Petrey estimates that about 45% of the Medicaid cases he submits are denied. However, that number includes cases that he himself feels do not meet the needed criteria for approval, but are submitted at the parent's request. Of the percentage that he feels do meet the criteria, 20% to 25% are overturned on resubmission. The reality is state funds are limited and the criteria for approval has become more restrictive. However, as Petrey points out, proper management and a good understanding of what the reviewers want to see to evaluate a case can keep the process from becoming too taxing for the practice.
"These are the people we go to church with, the people we see in our grocery stores, the people in our community—so we treat them," Petrey says. "My goal is to make sure that every patient is given an opportunity to have the best smile they can, from the best-feeling, best-looking, best-functioning types of products, whether it's braces, Invisalign, or whatever else we use."
Building a Digital Practice
Working beside his father when he started out and as he built his own practice in the town of Somerset, Petrey was able to see a side of his father that few children ever get to see. "I was blessed to work with my dad. Working with a parent exposes you to a completely different side of that person," he says.
Six months before his father passed away, with both his father's and his own practice growing, the two men brought in a partner—John K. Newcomb, DMD. Newcomb was well-known to the family. A close friend rom dental school, he was the best man at Petrey's wedding.
"I don't know anyone who has had the benefit of working first with their father and then with the best man at their wedding," Petrey says. "There is no luckier orthodontist in the country when it comes to partners."
Soon after Newcomb came on board, the two practices were merged. Today, Petrey & Newcomb Orthodontics has three busy offices in Somerset, Corbin, and Hazard, Ky.
The practice full-heartedly utilizes social media and encourages patients to "check in" while in the office. Internet stations are available to patients, and the Corbin and Hazard locations feature "iPad Bars" for patients in the waiting room, as well as gaming systems and refreshments.
To efficiently manage three offices spread over 95 miles of southern and southeastern Kentucky, the practice relies on the entire Dolphin Imaging & Management Solutions software suite, including Management, Imaging, and Aquarium©. Not only are Petrey and Newcomb able to access patient information virtually in any office, the Aquarium software allows the two to integrate video into their treatment planning and case presentation sessions. All together, products like this and the iTero scanner allow the two to streamline their workflow and be a truly digital practice.
"We are a digital practice because it enables us to better serve our patients and see them more efficiently," Petrey says.
Petrey has even embraced a digital orientation for his lectures. Given that he uses videos in case presentations to visually tell a story to his patients and their parents, he saw no reason why he shouldn't be doing the same to teach his peers. Petrey's lecturing style is interactive, using videos, rather than still photos, to teach about the techniques he's using in his practice. "I am still amazed at the impact [of] the video of a TAD being placed in an area most orthodontists are unfamiliar with, and feel confident [that] those I lecture to are more prepared and confident to take techniques to their practice from seeing the videos," Petrey says.
Away from the Office
When Petrey isn't seeing patients in his practice or on the road lecturing, he spends his time with his wife and three young boys, ranging in age from 18 months to 4 years old, and makes time to give back to a number of organizations. He volunteers with Healthy Smiles, Seal Kentucky, and the University of Kentucky Alumni Board.
Petrey is currently the rising president of the Kentucky Association of Orthodontics (KAO)—an honor he doesn't take lightly. "I'm very happy to be going in as the president of the KAO. We work together as a unit and try to improve as a group in both the areas of how we practice and what we as an organization can do for our members," he says.
While still in the early years of his career, Petrey has laid a good foundation for success and happiness. By choosing to take his father's words of wisdom to heart, Petrey has developed a passion for investigating and experimenting with the latest techniques to fulfill both his own intellectual curiosity and his patients' treatment needs. Moreover, he has made a commitment to serving all the patients in his community with the best care possible.
"I strive at every level to do the right, best thing—both in my personal and work life," he says. "It will always be amazing to me that you can pretty much change someone's personality just by giving them the smile they deserve." OP