Blaine Langberg, DMD, MMSC, a Connecticut orthodontist and first-time author, talks about using multiple platforms to sound off on spirituality, mental health, and finding balance.
By Tonya Johnson
What do you call a problem solver, who loves to meet new people, and form one-on-one relationships? An orthodontist.
For Blaine Langberg, DMD, MMSC, a board certified orthodontist in the Ridgefield, Conn, area, choosing a career in orthodontics was the perfect fit because it allows him to utilize his interpersonal skills, plus run his own business.
"It's a really interesting problem, getting teeth to fit together, and in three dimensions. You're also dealing with the dimensions of growth, and forming relationships," he explains. "But most importantly, you're making a difference in people's lives by improving their smile."
When he's not busy at practice, he meditates, reads, and loves to tell a good story. His first award-winning novel, "Journey of a JuBu: How a neurotic Jew found his inner Bu," was published in 2020. Now he's working on a sequel. In the meantime, Orthodontic Products interviewed Langberg about his life as an orthodontist, how he came up with his ideas for the book, and why he's not afraid to talk about mental health. By the way, he also does standup comedy.
Orthodontic Products: Tell me about your orthodontic practice and the patients you serve.
Blaine Langberg, DMD, MMSC: I see approximately 80% children, 20% adults. About 75% of those patients wear braces. I also treat a lot of Class II cases. I'm really familiar with treating surgical cases as well, but I don't get a ton. I also do TADs and Invisalign treatments. As I've become more experienced, I've taken on harder cases that are challenging, but keep me on my toes. I enjoy that. When I sit down to study each case, I like to write each treatment plan by hand, then I type it up. I try to personalize my treatment for each individual patient. It sounds cliché, but I really try to practice that. I see about 40 to 50 patients a day, with up to five chairs total, and three assistants. That's manageable for me because I like to spend time and talk with my patients. I prefer high quality service over quantity, and we're taking the necessary precautions during the pandemic.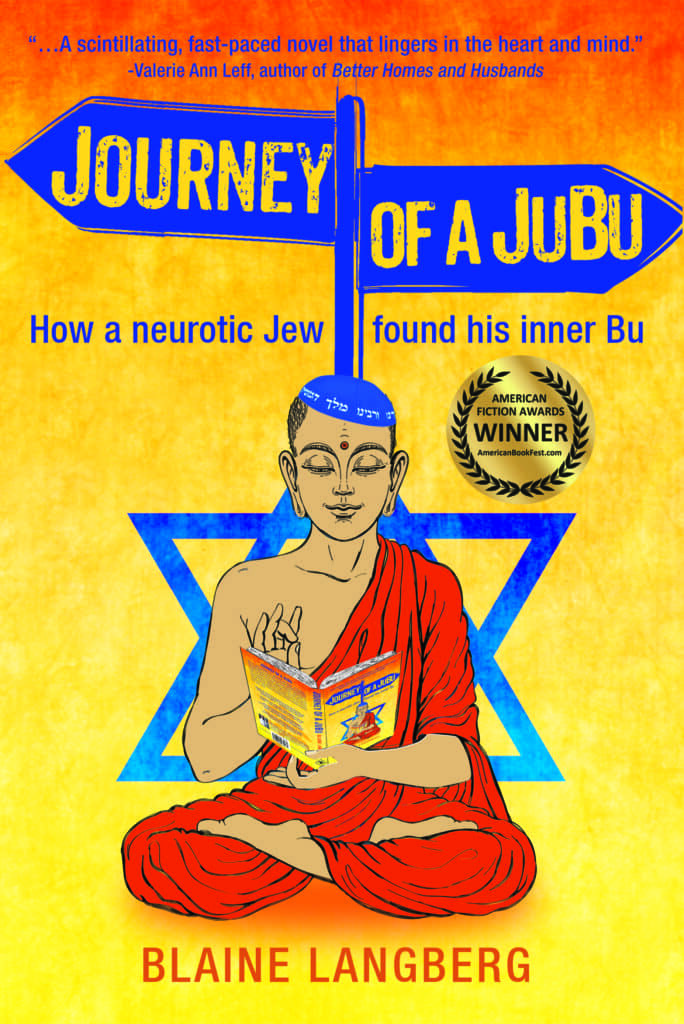 OP: Your novel seems to mirror your own life. Was that the plan?
Langberg: You write what you know. I went through some of the things in the book, but I want to emphasize that it is not an autobiography. "JuBu" stands for Jewish Buddhist. The protagonist, Adam Freeman, is a neurotic Jewish pediatric orthodontist who's writing a book. He's disgruntled and frustrated because he wants to be a writer. He's a jerk as a boss and is not nice to his wife. Then he ends up having a panic attack at the office and a nervous breakdown. That's when he learns about meditation and different types of religions, like Buddhism. Think of the book as Seinfeld meets spirituality. It's meant to be funny and entertaining. But it will also educate you.
Unlike Adam Freeman, I like orthodontics and what I do. And I wouldn't throw my career as an orthodontist out the window to become a full time author, but I definitely have a passion for writing, and I love to captivate an audience. It's a fun thing for me to do on the side.
OP: Why did you want Adam to explore religion, and his own spirituality?
Langberg: These topics are based on a lot of research that I did when I was turning 40, and trying to find my place in the world—searching for happiness and fulfillment. The mind is always wondering about what the next thing is. I've dealt with my own anxiety. So I'm learning about mindfulness and how to be more peaceful. I was drawn to Buddhism because I really love the philosophy of quieting the mind, sitting still, and letting go of things.
OP: There's still a strong stigma attached to mental health illness. Why do you want to shed light on this topic?
Langberg: A lot of people have anxiety, and it comes in different forms. Some people have to clear their throats, others develop a twitch, and other people laugh nervously. And there's a lot of distractions. But we shouldn't be ashamed to talk about it. I want people who read the book to develop another way of thinking, because you have to clear your mind, and that will help your body heal. I wrote the book for myself—and it was like therapy. But I'm putting it out there because if I can help one person then it's totally worth it. And when people can relate to what you're talking about, it becomes therapy for them as well.
OP: How have you applied those principles featured in the book to your real life?
Langberg: In life you have to accept that you will suffer and lose things. The lessons in the book helped me to realize that change is okay. For example, I used to get really frustrated if an assistant left the practice or I had to let somebody go. But I now know that nothing in life is permanent. You have to react to situations through love, then make new decisions. I've had to learn that.
In the beginning it was hard to concentrate on my practice, and then have kids at home. I explore that in the book too—being a dad and not only trying to spend time with the children, but also owning your own private practice. How do you make sure that is successful while you also pay attention to your family. Then there's my hobby of writing. By writing the book, I became a better person. It's taught me how to balance and have patience. I'm very proud of my girls and I love being with them.
OP: When and why did you decide to also become a standup comedian?
Langberg: A few years ago I bid on a local comedy class (and won) through a fundraising auction that my wife was hosting. She raises money for people with blood cancers in honor of her sister who died of multiple myeloma. It took me almost a year to actually sign up, and I really enjoyed it. If you think about it, comedy is another way to tell a story, and it involves a lot of writing. The teacher taught us that every hour and a half of writing equals one minute of material. So you have to write a lot and see what sticks. For the final project, (my classmates and) I perform at the Ridgefield Playhouse in front of friends and family. It was packed and I had a really good time. It was fun making people laugh. So my next step was to see if I could make strangers laugh. Prior to the COVID-19 pandemic, I performed about 10 times at places including Stand Up New York and Broadway Comedy Club. It's kind of cool that people have paid for my comedy.
OP: What's next?
Langberg: I've spent a lot of time promoting the first book, now the characters are speaking to me again. My dream is to make the book into a television show. So I'm currently working on a sequel to pitch a couple of seasons from the book. I took courses at the Westport Writers' Workshop. In addition, I continue to take orthodontic courses, and go to meetings. I also teach practice management to orthodontic residents at Harvard University once a month (currently through Zoom). It's just like writing, you've got to exercise the skill. OP
Tonya Johnson is associate editor for Orthodontic Products.