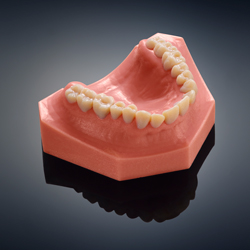 Stratasys Ltd rolled out its Objet260 Dental Selection 3D printer, designed to help mid- to large-sized labs produce realistic models with true-to-life look and feel as part of their digital dentistry workflow, including intraoral scanners. This printer is capable of building diverse models with multiple materials on one tray and in one print job, which can lead to increased productivity and profitability.
According to a release, the Objet260 Dental Selection employs triple-jetting technology to produce ultra-realistic dental models that enable the production of lifelike gum textures for precise functional testing, as well as a wide range of shades for customized color matching. In addition, the printer is designed to create anatomical models that clearly depict bone, nerve, and teeth.
The printer is compatible with all PolyJet dental materials and an array of dental-specific material palettes, which can enable users to serve a broader range of dental applications with a single system. Labs can print surgical guides directly from CBCT scan data, with high-definition tooth, root, and nerve-canal anatomy rendered in contrasting materials.