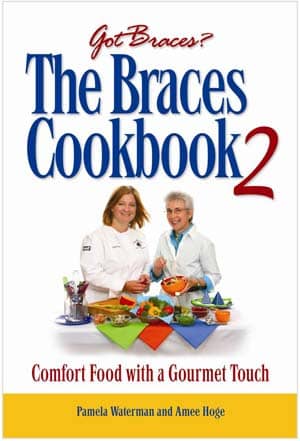 The Braces Cookbook 2: Comfort Food with a Gourmet Touch, by Pamela Waterman and Amee Hoge, offers 50 tender-teeth recipes that are not just tasty alternatives, but real meals with real ingredients. Recipes include Baked Stuffed Mushrooms and Cranberry Glazed Chicken with Almond Buttery Bars.

Waterman explains, "Adults need options that fit their business and family lifestyles. Having braces can seem limiting, but it doesn't have to be that way." Having experienced both teenage and adult braces herself, Waterman notes that the cookbook meets these demands by offering tender yet enticing alternatives illustrated with full-color photography. In addition to braces-friendly meals that include fish, chicken, beef, and vegetarian entrÉes, The Braces Cookbook 2 features soft appetizers and desserts as well as a wide range of easy-eating suggestions and hints on eating out. As a bonus, if a meal needs an upgrade from family dinner to dinner with the boss, Chef Amee's Gourmet Touches take each meal from simple to select. Readers will even find tips on navigating the business world with braces.

Waterman, who wrote The Braces Cookbook: Recipes You (and Your Orthodontist) Will Love, joined Chef Amee Hoge, a graduate of the French Culinary Institute of New York City, to create this grown-up gourmet sequel. The Braces Cookbook 2 retails for $14.95 and will be available in early December at Amazon, the Discovery Box, and other retail outlets.