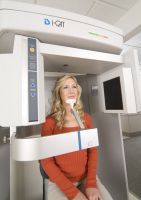 The Pride Institute has recognized the i-CAT™ FLX cone beam 3D imaging system with its "Best of Class" Technology Award for the second consecutive year.
The i-CAT FLX features clinical control over radiation dose and scan size along with comprehensive treatment tools that benefit both general dentists and specialty practices.
i-CAT FLX features QuickScan+, which, according to the company, provides for a full-dentition 3D scan at a dose comparable to a traditional 2D panoramic x-ray. The i-CAT FLX allows for clinical control over scan size, resolution, modality and dose, while the updated Tx STUDIO™ software provides integrated surgical and orthodontic treatment tools.
Lou Shuman, DMD, CAGS, president of Pride Institute and founder of the "Best of Class" Technology Awards program, said, "The i-CAT FLX was chosen for its unique innovations with the most significant being its low-dose options. With radiation dose as a great concern to dentists and patients alike, the panel applauded the ability of this comprehensive system to achieve a full-dentition 3D scan with radiation exposure comparable to a 2D pan. It is apparent that i-CAT has made low dose a priority."