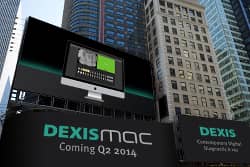 DEXIS, Hatfield, Pa, has unveiled its DEXIS Mac™—an imaging solution that offers dental professionals a unified experience across Mac and iOS products. Once released, the native OS X software will provide clinicians with an efficient digital imaging workflow and seamless integration with Mac-based practice management programs Viive™ and MacPractice®.
According to the company, the new software combines DEXIS image management and enhancement tools with an intuitive user interface with the advanced functionality that Mac users expect. Recognizing the fact that both patient education and case presentation is important to dental professionals, DEXIS Mac will support both Mac OS X full-screen mode and AirPlay® mode for presenting on larger displays.
A tight integration between DEXIS Mac, the award-winning DEXIS go® app for patient communication, and the newly released DEXIS photo™ app for extra-oral image acquisition is in the works, the company adds. The apps collectively operate on iPad®, iPhone®, and iPod touch®.
DEXIS Mac is scheduled to be formally introduced in Q2 of 2014.