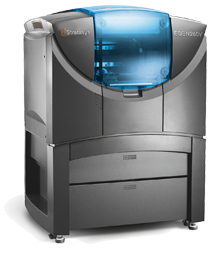 The Objet Eden260V Dental Advantage 3D Printer is now available from Stratasys Ltd, Minneapolis, and Rehovot, Israel. The Objet Eden260V is designed to be easy-to-use and offer affordable access to digital dentistry, the company says.
For dental labs seeking faster treatment and an enhanced profit model, the Objet Eden260V Dental Advantage 3D Printer produces surgical guides and dental models in-house directly from intraoral scanner output. Similarly, orthodontic labs may reduce costs by 3D printing accurate and smooth models for orthodontic appliances.
The new 3D printer features a custom-tailored materials package and a build tray that is, according to the company, 20% to 40% larger than that of alternatives for the dental sector. This allows users to improve workflow and optimize productivity by printing more models in a single build. The 3D printer also features printing speeds up to 33% faster than other dental 3D printing products.
According to Stratasys, the Objet Eden260V Dental Advantage 3D Printer harnesses the company's pedigree of innovation to enable production of ultra-high-resolution 3D models. These 3D printer also features a small copier-sized footprint, which makes it ideal for convenient and unobtrusive operation in any lab or dental practice.