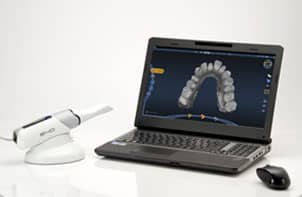 The new E4D® NEVO™ Scanner and Design Center from D4D Technologies LLC, and distributed by Henry Schein Inc, Melville, NY, was unveiled last month at Henry Schein Dental's National Sales Meeting.
The solid-state NEVO Scanner uses powder-free intraoral image capture. It is the first scanner to use E4D's patent-pending blue laser technology, which provides video-rate speed and better ease of use. The scanner allows for fog-free scanning and features an ergonomic design for easier positioning. In addition, the scanner uses removable tips for infection control and has active heat dissipation for full arch scanning, color-coded feedback to operator, and adjustable field of view.
The new E4D NEVO Design Center is a laptop computer that uses high-speed Thunderbolt™ technology with the NEVO Scanner to provide more energy and double the bandwidth of USB 3 connections, resulting in extremely fast processing and alignment scans, according to the company. With plug-and-play, practices can customize their E4D NEVO configuration to suit their needs.
For more information about this and other orthodontic companies, visit our Market Guide.