UV Angel's air and surface treatment systems offer orthodontic practices an additional tool to protect staff and patients
By Alison Werner
Basic hygiene, social distancing, PPE usage, and good disinfection practices are the basic components of an orthodontic practice's COVID-19 transmission prevention strategy. Still, many practices are looking to go a step beyond to protect staff and patients from this airborne pathogen.
One such tool is ultraviolet (UV) light, specifically UV-C. The energy from UV-C light destroys the genetic material inside viruses and other microbes—making it ideal for disinfection. While UV light can damage human skin, UV-C light can be used to sanitize air, surfaces, and equipment. For years, it has been used in a variety of medical settings, including hospital waiting rooms, operating rooms, and patient rooms to reduce the number of healthcare-associated pathogens. And while most UV sanitizers have not been tested against the novel coronavirus, SARS-CoV-2, UV-C light has been shown to destroy related coronaviruses, including the one that causes MERS, according to The National Academies of Sciences. 
Systems for a normal workday
A range of UV sanitizing products from a range of companies are available in the dental space. Michigan-based UV Angel is one of these companies. The pathogen control technology company, which uses years of advanced R&D in ultraviolet light to create safer environments, has received a surge of interest in recent months from the dental community. Offering fully automated, patented UV-C technology to monitor and clean surfaces and the air, the company's primary client has been healthcare settings, although its products have been installed in food service, corporate, and education facilities as well. Both its air and surface systems allow facilities to go about their normal workday, without interruption to workflow.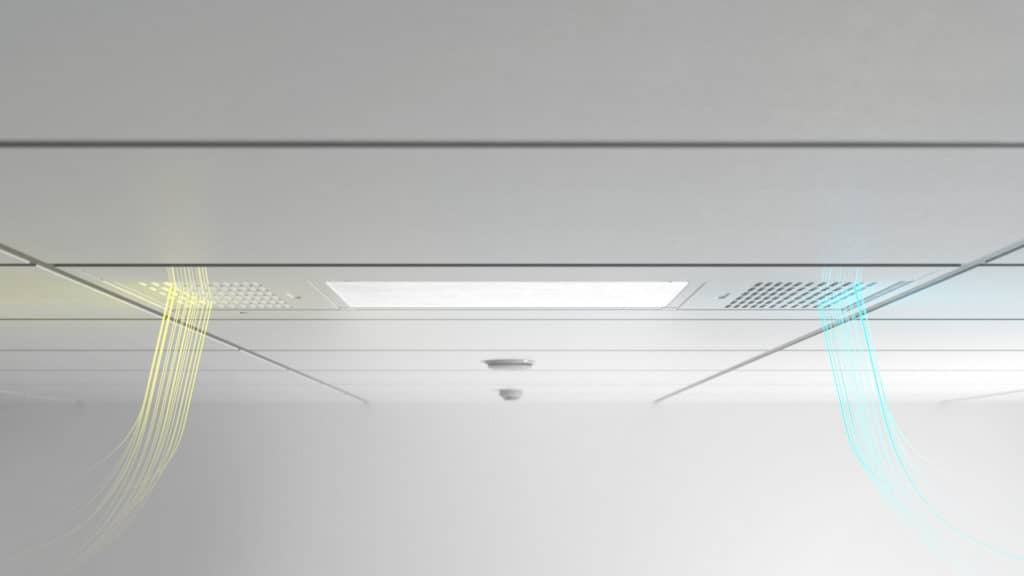 Treating the air
UV Angel Air treats the air in the space where pathogens are being generated—either by staff or by patients. The environmental treatment system combines in-ceiling lighting with a proprietary UV-C air treatment system. The unit continuously draws air containing dental aerosols into the sealed UV-C chamber—some 85,000 times a day, or every 0.7 seconds. There, it is treated with high-intensity UV-C light. The clean, treated air is then returned to the room.
As Linda Lee, DrPH, MBA, the company's chief medical affairs and science officer, puts it, UV Angel Air aims to inactivate pathogens—ie, bacteria, viruses, fungi—that are flowing in the air and reduce staff and patient exposure. Unlike a portable HEPA filter unit, this technology doesn't capture pathogens; it seeks to eliminate them by interrupting the pathogen's DNA or lifecycle so that it cannot reproduce.
While increased disinfection practices and patient screening for COVID-19 can make a visit to the orthodontist safer, they don't treat the air, which is a key issue as COVID-19 is a respiratory pathogen. "You can increase all the cleaning that you want, and I'm not discouraging anyone from doing that, but you're still not treating the air," says Lee. "This [system] is designed really to treat the air in the space where the pathogens are generated."
Where people gather
The UV Angel Unit ideally is installed above each chair in the orthodontic practice. It is intended to work in conjunction with the practice's existing HVAC system. While the company typically focuses on placing the unit where people are exchanging DNA, so to speak, it can be installed in waiting, reception, and staff areas. The idea is to have it where people gather; where the contamination is and where the contact is with the patient or the public.
According to Lee, who is an expert in facilities management and environmental health and safety practices, some clients have installed the unit in restrooms for an added level of comfort, as the technology is effective against diarrheal diseases like rotavirus, which is common among children. And practices have placed the unit in the sterilization room—as aerosols can be generated when staff wash or put instruments in the sterilizers. Given its overhead placement, the UV Angel Air unit does not take up limited floor space in the clinic area and it runs 24/7, 365 days a year. And with regard to maintenance, the unit's bulb and filter should be changed annually as part of the practice's preventative maintenance program.
"It's not in anyone's way," says Lee. "No one has to trip over it, turn it on, or turn it off. It's very quiet. If you need to be concentrating on something, the noise that it's generating will not be above the normal noise levels you would have in the practice."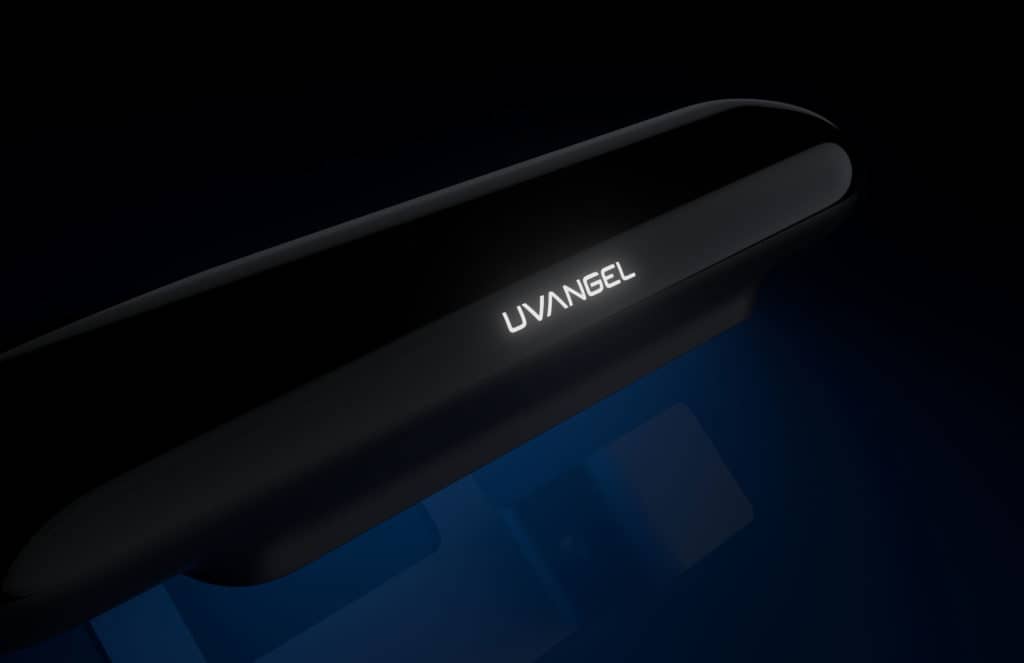 Treating surfaces
The company's second product line focuses on surfaces. The fact is: Frequently touched surfaces are interacted with faster than they can be wiped down. That's where UV Angel Adapt comes in.
UV Angel Adapt uses an intelligent, automated UV-C light treatment platform to continuously monitor and safely treat high-touch surfaces hundreds of times per day. The unit can be attached to keyboards, touch screens, and a wide range of other frequently touched surfaces. UV Angel Adapt breaks down the bacteria at the cellular level and neutralizes it with greater than 99% effectiveness, according to the company.
Like the UV Angel Air, the Adapt system works 24/7, and is intended to work in tandem with existing infection prevention procedures. To eliminate the risk of staff exposure to UV light, the UV Angel Adapt's sensor monitors the device to detect when the user has stepped away before activating its treatment routine. If someone puts their hand in front of the unit during this phase, the sensor detects the movement and automatically shuts off until it detects that it is safe to turn on again.
Working in tandem
Lee and Tim Byrne, the company's CEO, are both adamant that UV-C technology needs to be used in conjunction with infection prevention protocols and basic hygiene. Hand washing is still the best way to minimize disease transmission on surfaces. "We really want to make sure that no one thinks of these technologies as silver bullets. We are extremely effective, but there are cleaning practices that need to happen," Byrne emphasizes.
All UV Angel products have IoT integration, connecting them directly to the UV Angel Cloud. The cloud-based data platform connects every device and provides users the ability to track key performance indicators, access data, and make well-informed decisions about pathogen and infection control. In addition, the Angel Analytics portal gives facilities, like hospitals, the ability to translate data from connected infection control systems—UV Angel branded or otherwise—and process that data to show users a combined view of their infection prevention efforts. Angel Analytics allows larger facilities to determine how different areas within the facility are operating. Currently, the Angel Analytics functionality is only available with the UV Angel Adapt.
According to Byrne, dental practitioners have reached out to the company to ask about using UV Angel Adapt on additional devices and surfaces in the practice. The company is actively developing more systems within this platform. In the meantime, the company's engineering team works with clients to determine each product's usage—whether it be how the UV Angel Adapt needs to be angled or a particular application.
Public reassurance
As Lee puts it, products like UV Angel Air give the public—ie, patients—a level of comfort knowing that businesses are treating the air for an airborne virus. "We know that [COVID-19] is going to go on at least 18 to 24 months because it will take at least that long for 70% of the population to have some level of immunity. This isn't going to go away anytime soon."
For that reason, Lee says efforts to educate the public about all the science-based systems being implemented in the practice will go a long way to providing peace of mind.
The reality is no one can offer 100% certainty that someone won't get infected. But, as Lee says, "The more you do, the more people feel safe." OP
Alison Werner is chief editor of Orthodontic Products.