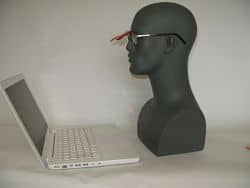 Vision USA, Cherry Hill, NJ, offers Relief Tint clip-on reading glasses. The glasses, which can be attached to prescription glasses, are available with Plano, +1.00, +1.50, +2.00, +2.50, +3.00, +3.50, +4.00, and +5.00 magnification.
The glasses feature a tint designed to control computer vision syndrome (CVS), as well as eyestrain and blurred vision. The glasses have UV protection, filtering out UV380 and helping reduce the amount of high-energy light. In addition, the glasses feature aspheric lenses, anti-reflective coating, and are scratch-resistant.
For more information about this and other orthodontic companies, visit our [removed]Buyer's Guide[/removed].