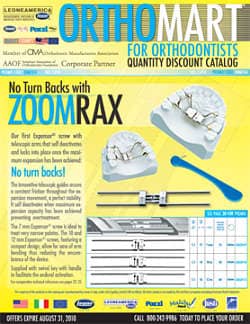 LeoneAmerica, Oxnard, Calif, has released its latest Orthomart (Volume 3, #14). This issue features an analytical evaluation of the leading fixed-expansion screws on the market. The evaluation includes the positive aspects as well as the shortcomings of each model.
In addition, the latest Orthomart features the new Pozzi Malibu line of Silver and Brazing Solder. The solder is available in both a standard size and a larger bulk laboratory size.
For your free copy of Orthomart call (800) 242-9986 e-mail or [email protected].
For more information on this and other orthodontic companies, visit our Buyer's Guide.