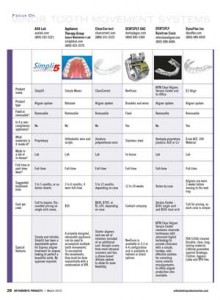 The 2015 Focus on Minor Tooth Movement Systems comparison guide is now available as a downloadable PDF.
It features products from:
AOA Lab
Appliance Therapy Group
ClearCorrect
DENTSPLY GAC
DENTSPLY Raintree Essix
DynaFlex Inc
Forestadent USA
Gestenco International AB
Great Lakes Orthodontics Ltd
LeoneAmerica
Orchestrate 3D
Ormco Corp
PAR Orthodontic Lab
RMO Inc
Specialty Appliances
Tortorici Orthodontic Lab Inc
TP Orthodontics
Tru-Tain Orthodontic Supply
You will need Adobe Acrobat reader to view this. If you do not have Adobe Acrobat on your computer, you can download it for free from adobe.com.