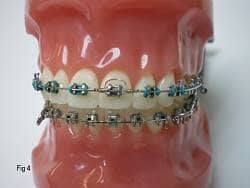 Phillip M. Goodman, DDS, MSc, PhD, Dayton, Ohio, has developed the Excellent Torquing Spring (ETS), a device designed to allow orthodontists to torque roots at the end of treatment to improve patients' physiological comfort under the crowns.
According to Goodman, the ETS fits various rectangular wire sizes in stainless, tma, and nitinol. It creates either labial root torque or lingual root torque on any tooth anterior to the molars.
The ETS kit comes with small and large springs and a crimping plier.
For more information on this and other orthodontic companies, visit our Buyer's Guide.