Masel
Masel offers the Beta III, an archwire that provides the strength and versatility of stainless steel and the resiliency of nickel titanium. Beta III offers a smooth surface for sliding mechanics and provides twice the bend and deflection of stainless steel—without permanent deformation. The wire features long legs to accommodate loops and bends and makes first- and second-order bends. It is available in natural archforms in round, square, and rectangular sizes. It is also available with t-loop, mushroom, and 14-inch straight lengths in round, rectangular, and heavy lab sizes.
For more information, contact Masel, 2701 Bartram Rd, Bristol, PA 19007-6892; (800) 423-8227; www.maselortho.com.
---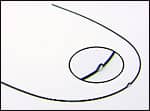 Ortho Organizers
Ortho Organizers introduces Black-Ti dimpled archwire, available in .012, .014, .016, .018, and .020 sizes. The archwire feature an ultrasmooth, hard oxide surface that will not chip, wear, or peel. The black oxide treatment provides increased archwire integrity and improved resiliency, while reducing sliding friction by more than 30%. A center dimple on each archwire ensures accurate placement at the midline in upper and lower arches and helps prevent rotation out of buccal tubes. Black-Ti archwires are available in a pack of 10.
For more information, contact Ortho Organizers, 1822 Aston Ave, Carlsbad, CA 92008-7306; (800) 547-2000; www.OrthoOrganizers.com.
---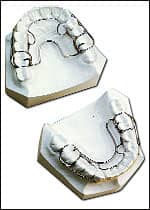 LeoneAmerica
LeoneAmerica offers a wire for the Crozat method. The wire is available in various gauge sizes ranging from 15 to 23 and is prepared on a coiled spool approximately 22 feet long. Made with a cobalt alloy specifically for surgical and orthodontic appliances, the wire can be soldered in an open flame.
For more information, contact LeoneAmerica, 1200 Stellar Dr, Oxnard, CA 93033; (800) 242-9986; www.americantooth.com.
---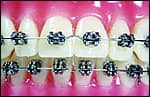 3M Unitek
3M Unitek introduces two archwire product lines. SmartClip™ Hybrid archwires are rectangular archwires with rounded corners that blend the power of a rectangular wire with the reduced binding of a round wire. The hybrid archwire's design enhances archwire sliding mechanics by reducing binding and notching without compromising archwire integrity. The SmartClip™ Dimpled archwires feature a dimple at the midline to reduce the opportunity for archwire "walking" and reduce or eliminate the need to cinch the archwire behind the buccal tubes. SmartClip Dimpled and Hybrid Rectangular archwires are available in tapered, square, and ovoid archforms to match patient needs and also meet MBT™ Appliance System requirements.
For more information, contact 3M Unitek, 3M Center, St Paul, MN 55144-1000; (800) 423-4588; www.3MUnitek.com.
---
DynaFlex
DynaFlex offers the CNA™ Beta Titanium Alloy, an alternative to TMA™. CNA improves bending and has a smooth surface for sliding mechanics. CNA is a nickel-free alloy that takes intricate bends and is half as stiff as stainless steel. It is available in a proform shape with extended ends for extra detailing, and it comes in a pack of 10 wires. CNA wires feature a low force-deflection rate and low modules of elasticity, and can be welded and deflected.
For more information, contact DynaFlex, 10246 Bach Blvd, St Louis, MO 63304; (866) 345-5665; www.dynaflex.com.
---

G&H Wire
G&H Wire introduces two archwires: the G4 Nickel Titanium archwires and the XR1 Ball Post archwires (pictured). G4 Nickel Titanium archwires undergo 14 separate tests during the manufacturing process, plus a 28-point final inspection before packaging. The archwires are available with preloaded, crimpable stops for use with self-ligating bracket systems. The XR1 stainless-steel archwires feature bendable brass ball end posts for more comfortable retention. A G&H brazing technique provides clean, strong, and consistent joints without annealing the archwire. The wire is stress-relieved by a process, developed by G&H, that increases the resiliency of the wire. The XR1 Ball Post archwires are available in Damon- and MBT-compatible archforms and in 22-mm to 44-mm sizes.
For more information, contact G&H Wire Co, PO Box 248, Greenwood, IN 46142; (800) 526-1026; www.ghwire.com.
---

ClassOne Orthodontics
ClassOne Orthodontics offers NomadTM archwires for self-ligating brackets. The Black DiamondTM, for early-stage treatment, is a smooth, round, NiTi wire with a black oxide surface that offers 30% less friction. The Ultra ThermTM NiTi is a wire designed for low biologic forces. It is used during most rectangular-wire treatment stages. The Ribbon Rectangular is a stainless steel and NiTi archwire that provides the missing link in a seamless archwire progression from round wires to edgewise. It is available in .018 x .014 and .022 x .016 sizes. The FreedomTM (titanium molybdenum alloy) rectangular finishing archwire is used to fine-tune the occlusion. The bendable wire adds and reduces torque as needed.
For more information, contact ClassOne Orthodontics, 5064 50th St, Lubbock, TX 79414; (877) 797-1199; www.classoneortho.com.
---

Modern Arch
Modern Arch introduces a pretorqued version of its Tri-Sectional Closing/Retraction arches. The Tri-Sectional concept uses three separate segments combined into an arch, featuring small elastic hooks. The anterior segment is rectangular (or square for Speed users) and allows anterior retraction while maintaining anterior axial inclination to any degree desired. The posterior segments are reduced square in cross-section to accommodate both .018 and .022 bracket-slot users. Posterior friction is eliminated by the reduction in the posterior arch segments. The pretorqued versions employ anterior segments of .016 x .025 or .019 x .025, both with 20° of supplemental torque added to the segments. They allow retraction free of dishing-in in cases with substantial protrusion but little or no angulation. The posterior segments are .016 x .016 or .018 x .018, depending on the slot size in which they are employed. The Tri-Sectional arches, torqued or nontorqued, can be used with any appliance system and any type of bracket, conventional tie or self-ligating.
For more information, contact Modern Arch, 1402 Penn Ave, Wyomissing, PA 19610; (866) MOD-ARCH; www.modern-arches.com.
---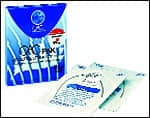 GAC International
GAC International offers the BioForce® wire, a single-strand, superelastic, body-heat-activated wire that starts with biologically correct, gentle forces for the anteriors, and then automatically increases in force at the posterior, where it plateaus in the molar region. At any one point on the wire, the force is near constant. The BioForce torques, levels, and aligns simultaneously. It features the Ionguard process, which makes nickel reactions virtually impossible and dramatically reduces friction and breakage.
For more information, contact GAC International Inc, 355 Knickerbocker Ave, Bohemia, NY 11716; (800) 645-5530; www.gacbioforce.com.
---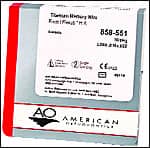 American Orthodontics
American Orthodontics offers the Flexus heat-activated wire, a high-force thermal wire that uses shape and memory to provide a consistent force for longer treatment intervals. Flexus archwires are made from nickel titanium and are resistant to permanent deformation. The Flexus may be used as an initial treatment wire in the round dimensions and as a secondary treatment wire in the rectangular dimensions. It is available in the Natural and International archforms, and it comes in a complete variety of cross-sections. It is available individually wrapped and in 10-packs.
For additional information, contact American Orthodontics, 1714 Cambridge Ave, Sheboygan, WI 53082; (800) 558-7687; www.americanortho.com.
---

Great Lakes Orthodontics
Great Lakes Orthodontics introduces the Duraloy Chrome-Cobalt wire, an alloy wire with many features. The Duraloy functions as a resilient spring wire without distortion or fatigue, it is soldered easily without annealing, and it can be heat-treated to enhance its physical properties. During the soldering process, the wire hardens when heated, optimizing its strength and durability. The wire is available in two tempers. Blue Duraloy is the softer of the two, and it can be welded with low heat and soldered without embrittling. Yellow Duraloy is flexible and harder than the Blue. It can be heat-treated if greater resiliency or spring performance is required. Duraloy is nonmagnetic through all temperature ranges. The wires are available in round, square, and rectangular shapes.
For more information, contact Great Lakes Orthodontics, 200 Cooper Ave, Tonawanda, NY 14151-5111; (800) 828-7626; www.greatlakesortho.com.
---

Ortho-Byte
Ortho-Byte introduces the Smarch™ ThermIQ™ heat-activated nickel-titanium archwire. The Smarch ThermIQ is very soft at room temperature, so it is easy to manipulate, bend, and engage—even in severe malocclusions. The elastic modulus increases to show austenitic characteristics once placed in the mouth. The wire is austenitic at 98.6°F (37°C). With its shape-memory and resiliency, the archwire provides gentle but continuous unloading force for tooth movement. It offers rectangular-wire engagement to achieve gentle torque forces in the early stages of treatment. Since it is already soft at room temperature, there is no need to cool the wire. The archwire is available from .012 round to .021 x .025 rectangular sizes.
For more information, contact Ortho-Byte, PO Box 9627, Wilmington, DE 19809; (866) 641-2128; www.ortho-byte.com.
---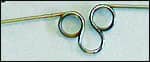 Highland Metals
Highland Metals offers a shorter Nikodem Spring. The Nikodem Spring is now offered with one loop for applications with limited space. The 5-mm spring is useful when moving teeth a short distance, and it is capable of producing gentle forces with little activation. The double helix at each end can be terminated onto a hook or post, ligated onto a bracket, threaded onto an archwire, or bonded directly onto a tooth. When direct-bonded, the Nikodem Spring offers some plainer control. Each helix has an extension that can be removed with a wire cutter after it is placed, which helps eliminate dropping springs and assists in accurate placement. It also allows the clinician to unwind the spring-loaded helix to create a bigger loop to place around lingual buttons or brackets.
For more information, contact Highland Metals Inc, 419 Perrymont Ave, San Jose, CA 95051; (800) 368-NiTi; www.highlandmetals.com.
---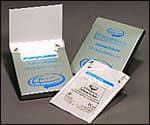 TP Orthodontics
TP Orthodontics introduces TiMolium®, a titanium alloy archwire that accelerates patient treatment time. TiMolium has a smooth surface and is twice as flexible as stainless steel, which reduces friction. It can be used in all stages of orthodontic treatment—particularly the intermediate stage—resulting in a faster transition to rectangular wires. TiMolium is useful for bite-opening, alignment, leveling, and space closure. It provides total control during detailing and offers improved torque control due to its elasticity. Intricate loops and bends can be made easily to accommodate a variety of treatment options without breakage. The nickel-free wire is available in standard and straight archforms. It is available in a Convenience-Pak™, which contains 10 archwires individually wrapped in their own see-through envelopes. They are autoclaved prior to being packaged and remain sterile until used.
For more information, contact TP Orthodontics Inc, 100 Center Plaza, La Porte, IN 46350; (800) 348-8856; www.tportho.com.
---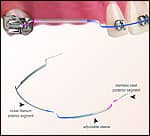 Ortho Specialties
Ortho Specialties offers an adjustable utility archwire that reduces treatment time by allowing specialized treatment in the anterior and posterior segments simultaneously. The adjustable utility archwire has an anterior segment fabricated from nickel titanium, allowing for initial leveling, aligning, and rotating; while the posterior segment, fabricated from stainless steel, allows for intrusion, extrusion, and rotation of the molars. Inconel tubing joins the anterior and posterior segments and is adjustable to accommodate arch length. Adjustable utility archwires are available in .016, .018, and .016 inches x .016 inches with anterior segment lengths of 24 mm, 28 mm, 34 mm, and 38 mm.
For more information, contact Ortho Specialties, 7707 W 99th St, Hickory Hills, IL 60457; (800) 637-1237; www.orthospecialties.com.
---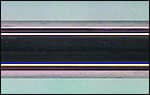 Forestadent
Forestadent introduces the BioStarter® archwire, to be used as the first wire in any course of treatment. According to the company, the surface treatment of the BioStarter reduces friction between wire and bracket up to 30% and helps reduce treatment time in the levelling phase of treatment. The wire is made from nickel titanium and is programmed to have martensitic characteristics during levelling. The forces of the archwire vary depending on the surrounding temperature, which may be influenced by food and drink. Forces are at their maximum at 37°C and drop with a decreasing temperature. The BioStarter reduces the number of archwires necessary during orthodontic treatment and can be used with all types of brackets regardless of slot size.
For more information, contact Forestadent, 2307 Weldon Pkwy, St Louis, MO 63146; (800) 721-4940; www.forestadentusa.com.
---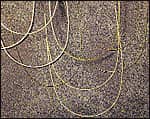 Gold'n Braces
Gold'n Braces® Inc offers gold-plated wires that ensure a consistent plated surface for sliding mechanics. Plated to a thickness that maintains a golden appearance for an extended period of time, the wires enhance the Midas™ bracket and the appearance of ceramic brackets.
For more information, contact Gold'n Braces Inc, 2595 Tampa Rd, Suite I, Palm Harbor, FL 34684; (800) 785-1970; www.goldnbraces.com.
---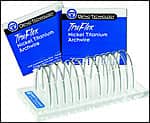 Ortho Technology
Ortho Technology Inc introduces TruFlex™ Nickel Titanium Archwire, which provides the comfort of light force levels during the initial treatment phase. TruFlex archwires are available in Nickel Titanium (Nitinol), Thermal (Heat Activated), TruGold™ 24K Gold Plated, and Tooth Tone™ Plastic Coated.
For more information, contact Ortho Technology Inc, 17401 Commerce Park Blvd, Tampa, FL 33647; (800) 999-3161; www.orthotechnology.com.
---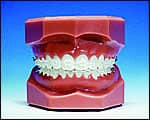 Dentaurum
Dentaurum Inc offers White Wire, which provides an aesthetic orthodontic solution for patients demanding the least-visible technology. The wires are coated with an FDA-approved organic polymer. The coating is applied only to the labial surface to ensure sliding mechanics without any effect on friction values. A new high-tech manufacturing process guarantees optimal durability, strength, superior adhesion, and stain resistance. White Wire is available in a wide range of sizes in stainless steel, NiTi, and heat-activated NiTi. Dentaurum also introduces the White Wire "Rematitan® Special" in beta titanium.
For more information, contact Dentaurum Inc, 10 Pheasant Run, Newtown, PA 18940; (800) 523-3946; www.dentaurum.com.