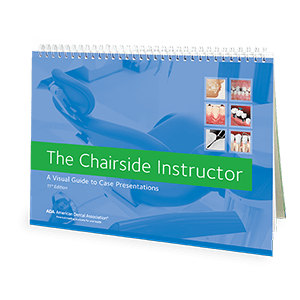 The American Dental Association (ADA) announced the release of its updated Chairside Instructor book. The 11th edition of the book is designed to allow dental professionals to better educate patients and staff on oral health topics with over 250 photos and illustrations, 51 of which are new or revised from the previous version.
The Chairside Instructor book contains new and expanded content on topics like the effects of sugar and tobacco on oral health, gum recession, and tooth erosion. As in previous editions, the book is designed to help patients and staff understand topics such as anatomy, temporomandibular disorders (TMD), and x-rays.
The book is also available as an e-book or app. These versions of the book can be viewed in both English and Spanish.
The Chairside Instructor can be purchased at adacatalog.org or by calling (800) 947-4746. It is available to members for $69.95 or at the retail price of $104.95 for other customers. All ADA Catalog customers can use the promo code 17156 until November 24, 2017, to save 15% percent on all products.
Save