by Barry Glassman, DMD
Choosing an appliance for patients with TMD should depend on a specific diagnosis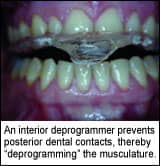 Despite great advances in the understanding of dentistry's potential role in the treatment of patients with upper-quarter chronic pain patterns and temporomandibular joint dysfunction, there remains much controversy over the role of occlusion and its effect on mandibular position in these disorders. The generalized diagnosis of TMD and TMJ has led to equally unspecific treatment professed by some to treat everything from headache to internal derangements with associated otalgia. Anecdotal reports of "successful" treatment with a specific oral appliance, a joint-position concept therapy, or some form of occlusal therapy have led to cookbook treatments and much distrust of such reports in the general dental and medical communities.
Dentistry can play a major role in many upper-quarter pain patterns, and as a result it can be instrumental in improving the quality of many of our patients' lives. It would behoove those of us who are practicing dentistry, therefore, to be more aware of the type of symptoms that are often associated with craniomandibular dysfunctions, so that those in the practice of general dentistry, as well as specialists, can treat basic cases of dysfunction. Equally important for the general dentist and the specialist is to be able to recognize more involved cases that may well benefit from treatment in an office designed to make the more complicated diagnosis and treat accordingly.
The key to therapy, therefore, is a specific diagnosis. Making the determination as to whether the symptoms are the result of a primary intracapsular disorder or an extra-capsular disorder is the first critical step in diagnosis. While it is certainly true that intracapsular disorders will have extracapsular components, and extracapsular disorders will have intracapsular components, the real key is to make that differential diagnosis. If the goal is to treat as conservatively and yet as effectively as possible, zeroing in on the primary component will then lead to a specific diagnosis and plan that can be initiated with those procedures most likely to be helpful as quickly as possible. Splint choice is, of course, included in this plan of treatment.
Despite the fact that repositioning appliances may have an effect on mandibular posture and may result in symptomatic reduction, it does not necessarily mean that some type of Phase II therapy will necessarily be required. The purpose of this article is to outline some of the appliances that are commonly prescribed for TMD, and to describe their potential mode of action.
Types of Appliances
Splints fall into one of two categories: permissive appliances or demand appliances. Permissive appliances are also known a nondemand appliances, and demand appliances are also known as repositioning appliances.
Permissive appliances are so named because they allow the associated musculature of the mandible to function irrespective of any potential nociception created by dental occlusal contacts. Demand appliances, by contrast, provide new, directed, specific occlusal schemes that encourage mandibular repositioning.
Mandibular repositioning is indicated not only in some primary intracapsular cases, but also in primary extracapsular cases. In 1934, Costen, an otolaryngologist, published a paper containing several case reports of significant ear symptoms being affected by alteration of mandibular posture and increased vertical dimension of occlusion. The purpose of the repositioning appliance in primary extracapular cases is to not only restore potentially lost vertical dimension, but also to act as an orthotic and provide structural balance, therefore increasing neuromuscular efficiency.
Permissive Splints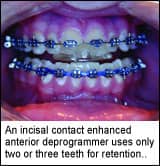 It has long been recognized that patients seemed to do well with the use of an anterior deprogrammer appliance at night. It has been called a "deprogrammer" because prevention of posterior dental contacts tends to eliminate that stimulation as a determinant in mandibular position, thereby "deprogramming" the musculature.
An incisal contact enhanced anterior deprogrammer makes a major addition to the concepts of an anterior deprogrammer by eliminating any canine contact. It has been demonstrated by daily use of electromyography (EMG) that canine contact tends to cause hyperactivity in the elevator musculature. The incisal contact enhanced anterior deprogrammer has been approved by the Food and Drug Administration for the treatment of migraine headaches. It has been shown to affect sympathetic tone, which has been implicated as a major cause of migraines. It can be made on either arch, and it uses only two or three teeth for retention.
A maxillary passive appliance has a soft, clear shell that is nearly undetectable. It fits on the maxillary arch and covers the teeth to the second bicuspids. Discluding small acrylic tables are added in the canine area, preventing any other contact. The appliance can be worn during the day without aesthetic or speech difficulties.
Soft bruxism appliances can be made on either arch. The concept is to protect teeth and provide no specific mandibular posture. Soft appliances tend to insert readily and comfortably. However, an unpublished study that I did with William Pistone, MD, at St. Luke's Hospital Sleep Center in Allentown, Penn, has demonstrated increased nocturnal EMG activity.
A pivot splint utilizes two bilateral, simultaneous, single-point posterior contacts. There is a school of thought that suggests that a pivot splint can be used to help recapture an anteriorly displaced disk.
Similar to the mandibular appliance, a maxillary hard acrylic flat-planed bruxism appliance is used to protect the teeth in parafunction. Balanced contact is usually provided, as well as some type of anterior guidance to prevent balancing interferences during parafunction.
The hydrostatic splint permits the patient's own musculature to quickly establish a more physiologic occlusion and mandibular placement. It can be used as a treatment appliance for those with acute muscle and/or joint pain, as well as an adjunct to occlusal therapy.
Demand Appliances
As stated above, demand appliances provide an occlusal scheme that encourages a specific mandibular posture. Mandibular orthopedic repositioning appliances vary in their design depending upon the patient's needs and the practitioner's philosophy. There is some debate as to whether mandibular anterior coverage is required to prevent supraeruption of the mandibular anterior teeth. There are some claims that mandibular repositioning appliances tend to intrude posterior teeth. It is often suggested that if a mandibular-repositioning appliance is going to be used, it is critical that both the patient and the practicing dentist understand the possible long-term commitment to mandibular repositioning that may ensue.
That commitment may be minimized in some cases by having the patient remove the appliance during mastication and/or limit the time frame that the appliance is worn. It is not unusual to combine demand-appliance wear during the day with nondemand appliance wear at night. If successful treatment can be achieved under the conditions of appliance wear less than 3–4 months, or longer wear time with removal of the appliance during eating, it is possible that long-term follow-up therapy will not be required. In some cases, however, it becomes necessary to utilize the appliance full-time. This often results in some Phase II decision-making, which may therefore require the use of a more permanent overlay appliance.
Mandibular and maxillary orthopedic repositioning appliances cover the mandibular or maxillary posterior teeth and may or may not cover the incisors. They are built with a definitive occlusal table, encouraging anterior repositioning of the mandible or maxilla through proprioception.
Rather than encouraging repositioning, the centric relation splint is constructed from a bite registration in centric relation. In this case, centric relation is defined as the most anterior superior position of the condyle with the condyle/disk/fossae relationship being normal.
A centric occlusion splint is an appliance that increases vertical dimension but makes no intentional AP shift of posture.
An overlay mandibular-repositioning appliance is a more permanent version of a repositioning splint. It is made with a cast framework and is more stable and often used for mastication. It is often employed when attempts to eliminate a treatment splint result in symptomatic return and the patient would prefer a more permanent appliance rather than either a fixed prosthetic or orthodontic solution.
Summary
The purpose of this brief review was to outline the two major types of appliances used for patients with chronic pain and/or temporomandibular joint dysfunction, and to discuss their designs and uses. It is essential that a specific diagnosis be made for each patient and that the appliance chosen for that patient has a specific purpose directed by the diagnosis.
Barry Glassman, DMD, is a clinical instructor teaching craniomandibular concepts, risk management, and dental sleep medicine to the general dental residents of three hospitals. In addition, he conducts seminars from his office, the Allentown (Penn) Pain Center. He can be reached at (610) 435-6724 or [email protected].