An aligner patient walks into your office expecting trays customized to their unique bite and tooth morphology. But can the patient who opts for treatment with brackets expect the same of the brackets you place? Not until now.
LightForce Orthodontics debuted at this year's American Association of Orthodontists Annual Meeting in Los Angeles. There, in the center of the exhibition hall floor, the Cambridge, Mass-based company unveiled its innovative concept to the orthodontic industry: A fully customized 3D printed bracket system—the brainchild of Massachusetts-based orthodontist Alfred Griffin III, DMD, PhD.
Griffin, the son of two orthodontists, went to Harvard for his residency with the expectation of doing research in skeletal biology—a field he first explored before dental school with an internship at the National Institute of Dental and Craniofacial Research, and continued in with his dual DMD/PhD in craniofacial biology from the Medical University of South Carolina. But as often happens in research, the lab he was set to work in failed to get funding. The timing was fortuitous; Griffin already had a Plan B in mind, and the funding issue gave him the permission he needed to switch focus.
"I had already put some thoughts and ideas together on making brackets more dynamic," he recalls. What set Griffin's bracket innovation apart from the others in the industry was he not only wanted to print brackets with 3D printing technology, but he also wanted to print customized brackets.
A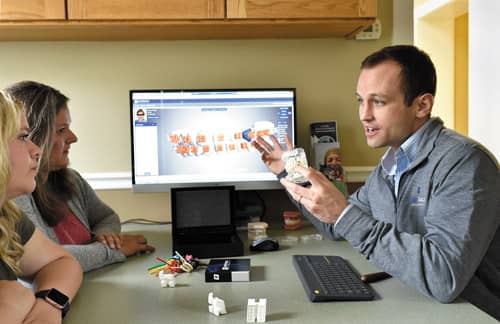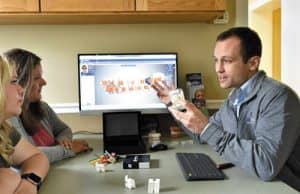 s Griffin puts it, up until now, standard orthodontic bracket prescriptions have asked the orthodontist and the patient to compromise from the outset—with an "all-patients equal" assumption. "You go to orthodontic conferences where orthodontists argue about what is the ideal prescription. But the problem is that one prescription misses the mark for certain occlusions or tooth movements no matter what"—whether it's Roth, Andrews, or MBT.
"No two patients have exactly the same tooth morphology or exactly the same bite," says Griffin. What customization there is comes with wire bending, which is today done by hand. "In part, [wire bending] is an attempt to overcome the limitations of standard brackets and both a fluctuating placement and one-size-fits-all prescriptions," he says.
With LightForce, Griffin set out to develop a system that is about both recognizing the orthodontist's expertise and giving them the control to provide a customized and unique treatment experience to the patient—while giving them a prescription that is patient-specific.
"As an orthodontist, you want to have more customization in every aspect of your treatment. The concept of a fully customized bracket: that's been the holy grail for orthodontists for decades," says Griffin. "But it just hasn't been possible due to limitations in technology, with both CAD software and hardware. And from a business point of view, it has to make sense economically."
Before LightForce, a fully customized treatment experience was really only available to aligner patients. But aligner patients only account for 15% of the orthodontic case starts each year. With this bracket system, LightForce is trying to reach the other 85% treated with brackets.
As LightForce co-founder Lou Shuman, DMD, CAGS, puts it, "This is the first true innovation for the other 85% of the market."
Griffin has created a system for 3D printing brackets for orthodontic treatment. The technology uses FDA approved materials that are virtually identical to standard injection molded ceramic brackets, but that is specifically formulated for 3D printing. This material allows the company to produce brackets with the precision and strength required of orthodontic appliances.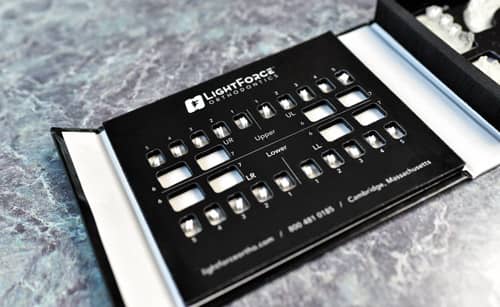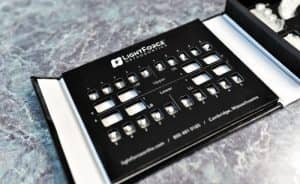 The difference with LightForce Orthodontics is in how the brackets are manufactured. The company is doing mass customization at scale—a challenge in any field; but as Griffin sees it, orthodontics is the perfect industry for this.
"You could argue that, out of any industry, orthodontics has been ahead of all of healthcare in that regard. A lot of credit goes to Invisalign; they paved the way," says Griffin.
Invisalign was one of the first companies to incorporate 3D printing into a manufacturing process at scale. However, it's the aligner trays, not the end-use product—the aligners—that are 3D printed. What's unique about LightForce, not only within the dental or orthodontic space but also within the 3D printing industry, is that they are 3D printing the end-use product—a medical device, or bracket.
"From an engineering point-of-view, there's a lot of interest from the 3D printing industry in our company. In general healthcare, you have customized hearing aids and some 3D printed orthotics. But a lot of people in the 3D printing industry are looking for a champion for end use—3D printed products as medical devices—because the industry hasn't lived up to the hype in that regard. A lot of people are betting on us as that next true end-use 3D printed application," says Griffin.
The LightForce bracket system is fully customized based on the patient's anatomy and tooth morphology. 3D technology allows the company to manufacture its low profile, polycrystalline brackets with precise slot dimensions and smooth contoured edges and tie-wings. The customized base means brackets can be bonded with a uniform, consistent cement layer. And as the brackets are designed around the orthodontist's desired occlusion, this is a true straight-wire appliance, according to Griffin, adding that a practice's wire inventory remains the same since the vertical slot sizes remain the same as conventional braces.
Using the company's online treatment planning software, orthodontists can prepare the case in real-time, with the interactive 3D platform using an STL file from any of the intraoral scanners currently on the market. One of the standout features of the software is its ability to dynamically compensate to modify the bracket programming, thus maintaining the straight wire goal while positioning to avoid occlusal interference. Once the case is submitted, the orthodontist uses the cloud-based review and approval platform and can expect delivery in 7 to 10 days of the customized brackets and indirect bonding trays, plus a backup set of brackets, which are all manufactured at LightForce's in-house lab in Cambridge.
The LightForce system took about 5 years to develop. The initial focus was on hardware, and whether or not clinically viable ceramic brackets could be manufactured with 3D printing technology. Phase two shifted to software and scalability, sorting out how to design and manufacture the brackets at scale through a tracked and controlled process.
Throughout the growth, Griffin was fortunate to be in the Boston area, and specifically at Harvard University. The region is a hub for the CAD technology that would be vital to the development of LightForce; and as a student at Harvard University, Griffin had access to a whole slew of resources that gave his idea the momentum needed to bring it to market.
At the bracket design stage, Griffin found help through a Harvard Applied Engineering Lab happy hour. There he met Kelsey Peterson Fafara, an engineer in the program who helped him design the first ever 3D printed ceramic bracket. That file was the start.
With his concept taking shape and an initial patent in hand, Griffin was accepted into Harvard Innovation Labs in 2015, a program designed to support Harvard students and alumni as they undertake "game-changing entrepreneurship." The program sets up "Venturers in Residence" with advisors and mentors, as well as resource and programming support to help develop their business idea.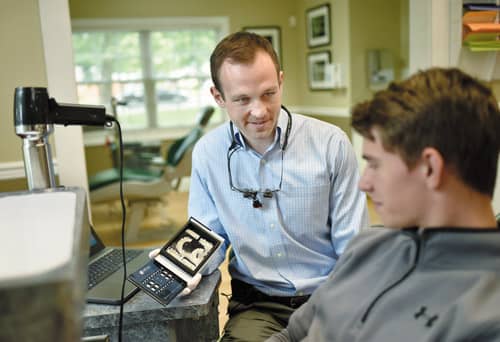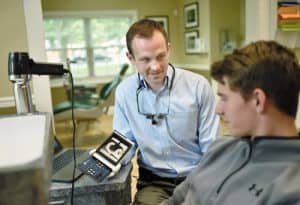 In addition, as a student at the university, Griffin was able to take classes in the business school with second-year MBA students. In a "Commercializing Science" class, where the MBA students are assigned to work with  MIT and Harvard patent holders to develop a business plan, Griffin petitioned the professor to let him pitch his concept. She said yes, and Griffin's idea was picked. Four second-year MBA students were assigned to help him develop a business plan around his idea.
With the ball rolling, Griffin took the next step and in 2016 partnered with orthodontic industry veteran Lou Shuman, DMD, CAGS. Shuman started his career as an orthodontist in private practice and then in 2002 joined Align Technology in the early days of Invisalign as the company's vice president of strategic relations. Later, he founded Cellerant Consulting Group, a dental industry corporate incubator and accelerator.    
"Lou understood the mission instantly, and there was a level of excitement and understanding that I didn't expect to get," says Griffin of their first call. "I needed someone with Lou's experience, business savvy, and industry knowledge to make this company successful."
"When I heard about what Alfred was doing, I thought, 'This is a once in a lifetime opportunity.' I loved his vision and I was impressed with his capabilities; and I had a very clear view of what he was looking for," says Shuman. "My passions are technology and orthodontics; and did I ever think I would get a second chance to be involved in an innovation that would have a significant impact in my profession? The answer now is yes."
That same year, LightForce, which started under the name Signature Orthodontics, applied, along with 2,800 other startups, to the MassChallenge—an accelerator program targeting high-potential startups across all industries. Among the competition: a company looking to mine asteroids for water; another developing a brainwave controlled robotic prosthesis. LightForce was one of 128 applicants accepted to "incubate," giving the company access to testing equipment and general startup support. From there, the company advanced to a round of 26 finalists. That October, LightForce was one of 15 companies to win, receiving $50,000 in equity-free financing—its first funding and as Griffin puts it, "Our first sign of success."
From there, Griffin and Shuman were able to secure venture capital funding. The first was AM Ventures, an independent, strategic investor focused on funding and developing start-ups focusing on industrial 3D printing related hardware, software, materials, or applications. In 2018, LightForce secured additional venture capital funding from Matrix Partners Venture Capital Group, who offered LightForce connections to Boston's software tech scene. As Griffin and Shuman put it, they wanted strategic investors, who had expertise in the fundamental technology of the system LightForce was developing, not just money.
As Griffin sees it, the interest from venture capital firms isn't a surprise. They've watched the success of clear aligners—and that success was within just 15% of the orthodontic market. There is opportunity to be found in that other 85% of the market that is treated with brackets and wires. "VCs love changing industries. When they see an industry or process that hasn't changed for 60 years, they see an opportunity. And that's what we bring to this field," says Griffin, adding that VCs also appreciate investing in people with insight and genuine care for a specific space—in this case, orthodontists who are in the thick of it.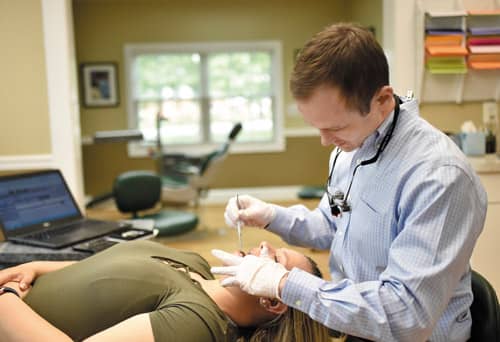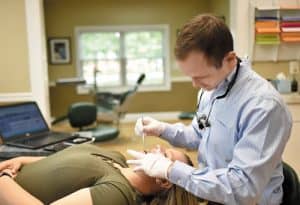 In 2017, Griffin, who maintains a private practice, treated his first patient with the LightForce system—a skeletal Class II patient with about 4 mm of overjet and anterior teeth that never touched. The treatment plan included interproximal reduction upper 3-to-3 and Class II elastics. According to Griffin, the value in the LightForce system was the prescription. "We added labial crown torque on the lower incisors, and lingual crown torque on the upper incisors. That helped us achieve anterior coupling by reducing the overjet, allowing us to finish treatment in 6 months," he says. "It was nice because we got into a fully slotted wire, which in this case was a .017″ x .025″ steel wire. There was no finishing required; there were no bracket repositions; and we had an ABO quality finish in 6 months."
Griffin adds that the company is in the early stages of validation in terms of efficiency. An IRB approved clinical trial began at the Harvard School of Dental Medicine earlier this year to look at this aspect. But treatment time isn't the only potential efficiency with this bracket system; shorter bonding appointments are possible. With the indirect bonding trays, the brackets can be perfectly positioned more quickly, and the customized base means that adhering the bracket to the tooth surface may be more precise and consistent.
"We expect that consistency to translate into [improved] bracket accuracy and bond strengths," as the bracket can be bonded anywhere on the labial surface of the tooth, while still allowing for the slot to be in the perfect "straight-wire" position. "The value there is that you can bond further medially or distally on the tooth without having any rotation issues," says Griffin.
The system allows orthodontists to use their existing wire inventory, while helping reduce the practice's bracket inventory. "From a practice economics point-of-view, instead of having to buy 300 cases of brackets a year, these brackets are on demand," says Griffin.
With its AAO debut, LightForce is finally available commercially to orthodontists. As Griffin sees it, the LightForce system is a technology that will be heavily influenced by its users and early adopters. This is not only about hardware—ie, brackets—but also software and the overall experience. "We're inviting these first few people to be involved and to help direct where [the system] goes. The thing I'm most excited about is the conversations we're having with our peers."
Shuman adds, "One of the things that's unique here is that you have a company that's co-founded by two orthodontists and that is actually looking to our orthodontic community to help us and to give us feedback so that we can maximize the process for them."
Griffin sums it up this way: "This company is a journey; the whole process of customized brackets is a journey—and we're at the very beginning. It's an evolution that will be driven by our peers—the orthodontists." OP