Light forces over time move teeth—that is the orthodontic mantra of my generation. We have dumbed it down to make it simple, but the truth is a little more complicated. We use the least common denominator principle, or no tooth left behind. While the lower incisors are being instructed to move, the molars may not be getting any significant forces applied to them. In this case the molars are left behind while we work on the incisors.
Not since the transformative introduction of Copper NiTi wires 25 years ago have there been any significant advancements in orthodontic archwire technology. The next revolution is upon us with the introduction of SmartArch Laser Engineered Copper NiTi from Ormco Corp. SmartArch allows us to use a wire that places optimal forces on the molars and the incisors at the same time (See image above). This allows for earlier posterior broadening and leveling than we are used to seeing in these early archwire stages.
If I designed the perfect archwire, it would be a bigger wire that fills up the slot more but has the unloading forces of a lighter archwire. This wire would provide ideal force for each individual tooth and would be a more comfortable wire for my patients. Patients are busy and want to come in to the office as few times as possible, so a wire that is efficient and long lasting is best to increase the intervals between appointments.
SmartArch technology takes a standard CuNiTi archwire and laser treats the wire to provide the ideal force for each tooth based on finite element analysis, interbracket distance, root size, and root to crown relationship.
I have started using this wire in almost all of my cases. I have highlighted a few here where it proved to have major advantages and will explain why I enjoy these wires.
Let's start with simple cases, such as retreats and minor tooth movement cases. We treat many busy adults that fit this description. The first thing I'm asked by these patients is "How long is this going to take?" and "How often am I going to have to come in for adjustments?" This wire allows me to give them an answer that makes them happy, and helps me and my staff with easier and fewer overall appointments.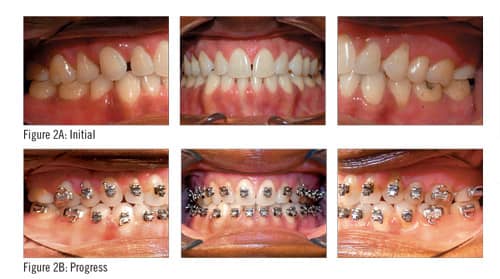 Retreat Case
The patient in Figure 2A came in as a retreat from another office and did not want aligners, but wanted the least intrusive plan due to her busy schedule. Her basic needs were some minor leveling, space closure and detailing. If using a different wire system, her treatment plan would have consisted of more appointments, increased number of wires and increased discomfort.
With SmartArch, we were able to bond her and place a .018″ x .025″ SmartArch wire on the same day. At her second appointment, 3 months later, she was ready for steel wires and space closure. After only 12 weeks, we were able to go to our final size steel archwire upper and lower. We are now in the detailing stage and will be able to debond soon (Figure 2B).
We were able to achieve all of the initial movement necessary, with one archwire, and with minimal to no discomfort for my adult patient.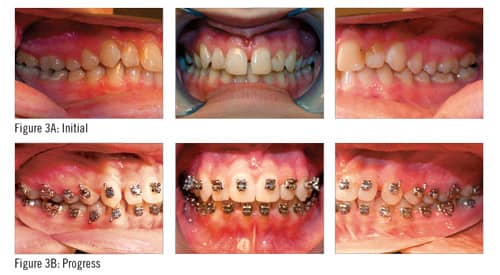 Minor Tooth Movement Case
In Figure 3A, you see another patient and the progression from the day of bonding and 10 weeks after bonding. We bonded with anterior turbos and .016″ SmartArch wires. We had significant leveling and aligning in less than 3 months and successfully expanded the arches and closed spaces with one archwire (Figure 3B).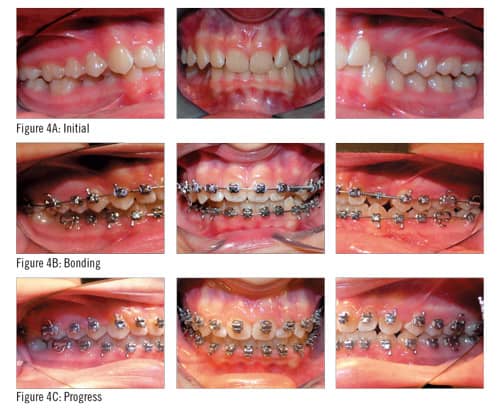 Meanwhile, when the patient in Figure 4A and 4B first came in, she presented with bucco-version crossbite, severe overbite, blocked out upper cuspid, anterior crossbite, and narrow arches. Four months after bonding, she came back for her third appointment (Figure 4C). Her bite was leveled, arches were developed and broadened, space was opened to make room for the blocked out cuspid and buccal and anterior crossbites were corrected—all with only two sets of wires and two appointments.
This not only creates more efficiency for my practice, but also less discomfort for my patient because the force values are ideal for each tooth. Think about that: less discomfort with faster movement.
Overall, I would say this brings orthodontic archwire technology to an exciting point. We have a busy practice with increasing capacity always on our mind, so we are always looking for ways to make all areas of our office more efficient.
Patient treatment planning can now be built on leveling at the same time we are aligning, which has always been a challenge. This has decreased the overall number of archwires used, positively affecting my staff's workload per patient. Additionally, patients' modern-day demands are being met by our ability to increase the intervals between appointments while improving overall patient experience due to decreased discomfort upon wire changes.
When you start adding up these perks over hundreds of patients, the benefits for the office as a whole are exponential. To me, one of the most exciting aspects of SmartArch is the realization that there is nothing additive to treatment that we need to build in—it's all in the wire, and we've been using wires since day one. OP
Chris Cosse, DDS, graduated from Louisiana State University-Baton Rouge and from the dental program at Louisiana State University School of New Orleans where he was awarded the Pierre Fauchard Award for Academic Achievement. He received his certification in orthodontics and dentofacial orthopedics from Oregon Health Sciences University in Portland, Ore. He studied the differences in orthodontics and prosthodontics between the United States and Europe for a term at the University of Freiberg, Germany, in 1997. He has several orthodontic patents and apps to his name and is a frequent lecturer on both the business and clinical aspects of orthodontics.