Ortho Classic
Ortho Classic, McMinnville, Ore, offers the TenBrook T1 passive self-ligating system, an anatomically contoured, ultrahygienic, low-profile bracket with smooth, rounded edges. The cap rotates and locks into both open and closed positions, and gently seats the wire. The passive chamfered archwire slot eliminates ligating forces. The base has been designed for optimum pad-to-tooth fit and uses a Pad-Lok 80-mesh base. Each bracket is color-coded for identification and is available with or without hooks on the 3's, 4's, and 5's.
Ortho Classic
(866) 752-0065
orthoclassic.com
---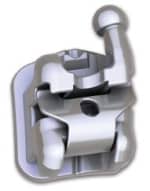 American Orthodontics
American Orthodontics, Sheboygan, Wis, offers the Empower self-ligating bracket system, featuring both passive and interactive self-ligating clips. Interactive clips offer low friction early in treatment and more control toward the end of treatment. Empower's Dual Activation system combines interactive anteriors with low-friction, passive posteriors to maximize sliding mechanics without sacrificing control of anteriors. The brackets also feature two opening methods, Maximum Retention™ bonding pads, rounded contours, and rounded slot entrances designed to eliminate wire notching and binding.
American Orthodontics,
(800) 558-7687
americanortho.com
<hrstyle="clear: right;" />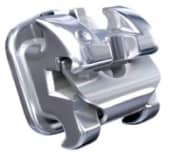 Dentsply GAC International
Dentsply GAC International, Bohemia, NY, offers the In-Ovation® R mini twin, self-ligating bracket system. It features a true straightwire design, a compound contoured base, and a Palmer notated base for identification. A chamfered archwire slot is designed to facilitate wire engagement and reduce wire binding. The system uses Interactive™ clip technology for "free sliding" movement in early phases and expressive control in later phases of treatment.
Dentsply GAC International
(800) 645-5530
gacintl.com
---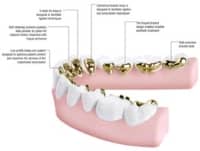 3M Unitek
3M Unitek, Monrovia, Calif, offers the fixed-bracket Incognito™ Appliance System, which features fully customized brackets, archwires, and bonding trays. 3M Unitek also offers a 2-day Certification Course designed to teach orthodontists how to use the Incognito System. A combination of clinical lectures and hands-on training, the program introduces attendees to the materials used, the components of the system, treatment mechanics, and chairside techniques. Participants receive a certificate upon course completion.
3M Unitek,
(800) 423-4588
3MUnitek.com/Incognito
---
WildSmiles

WildSmiles, Omaha, Neb, offers WildSmiles Braces™ featuring six designer shapes that can be mixed and matched with any bracket system. The MIM, low-profile braces are made with designer-shaped bonding bases. Fabricated for the maxillary anterior teeth only, they are also available as an aesthetic option for orthodontists using self-ligating brackets.
WildSmiles
(402) 334-7171
wildsmiles4you.com
---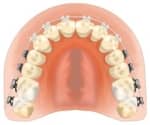 Opal Orthodontics
Opal Orthodontics, South Jordan, Utah, offers the Avex™ Suite straight-wire™ appliance system, which includes both metal and ceramic appliances. Each appliance in the Avex Suite works interchangeably and includes universal in/out dimensions, which are designed to reduce the need for bends to the archwire.
Opal Orthodontics,
(888) 863-5883
opalorthodontics.com
---

Modern Arch
Modern Arch, Wyomissing, Pa, offers a metal mold-injected Siamese-type bracket with an 84-mesh base. It is available in Roth, MBT, and Edgewise prescriptions, in standard, regular, or mini sizes. The aesthetic mini size is 1/3 smaller than the standard size. All prescriptions are available with either .018 or .022 slots.
Modern Arch
(866) 663-2724
modern-arches.com
---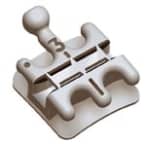 RMO Inc
RMO Inc, Denver, offers its SWLF Synergy® R™ bracket system, which features passive, minimal friction and complete control when needed. The system incorporates a MIM convertible cap on the cuspid and bicuspid brackets that allows the ease of a self-ligating bracket with the flexibility of Synergy's Friction Selection Control (FSC) modes. The SWLF Synergy R system has no clips or doors. Cuspid and bicuspid brackets can be converted into traditional Synergy-style brackets at any time during treatment. Once converted, Synergy's FSC modes allow clinicians to ligate the bracket in different ways to achieve different degrees of friction and rotational control.
RMO Inc,
(800) 766-6784
rmortho.com
---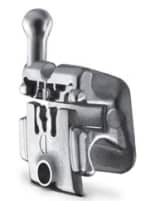 ClassOne
ClassOne™, Carlsbad, Calif, offers the Carriere® nickel-free self-ligating bracket. It features a locking mechanism that opens with an explorer and closes with the touch of a finger; a low profile; and a wide bracket width to help with rotational control. The bracket is intended for use in low-friction, low-force orthodontics.
ClassOne
(888) 851-0533
Carriere.com
---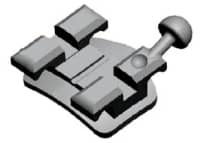 Space Maintainers
Space Maintainers Laboratory, part of the Appliance Therapy Group, Chatsworth, Calif, offers A.T. Sapphire Brackets, which combine 3D computer-aided design with metal injection molding and CNC milling. Available in both Roth and MBT prescriptions, they are made of a 17-4 low-nickel alloy and feature a Zero F ultra low friction slot, beveled tie wings, rounded tie wings, a center scribe line, an 80-gage mesh pad, exact in-out dimensions, SecureLok Hooks, Palladium alloy braze, permanent ID marks, and high gingival tie wings on the bicuspids.
Success Essentials
(800) 453-3271
appliancetherapy.com
---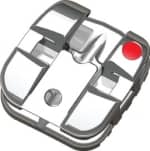 ODP Inc
ODP (Orthodontic Design and Production) Inc, Vista, Calif, introduces the Agility® self-ligating passive bracket system. Based on ODP's Comfort Zone™ bracket system and manufactured using MIM technology, Agility features a dual-locking nickel titanium sliding clip designed to virtually eliminate friction. The clips span the entire mesial/distal width of every bracket, without deflection for rotational control, which allows the wire to utilize the full width of the true twin design without the need for auxiliaries. The tolerances of the sliding mechanism are engineered to block food debris from entering. The clips are removable so the bracket can be used as a traditional twin design. Agility brackets also feature an under-tie-wing area to allow the option of engaging elastomeric ligatures or power chain.
ODP Inc
(800) 383-5301
odpinc.com
---

Ortho Essentials
Ortho Essentials, Southampton, Pa, offers the Esteem II second-generation ceramic bracket, which appears fully transparent against the tooth and is designed for easy ligation. Mechanical grid retention is built into the base.
Ortho Essentials
(866) 517-3257
orthoessentials.com
---
Ortho-byte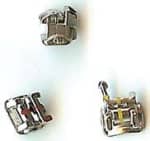 Ortho-byte, Wilmington, Del, offers Autonomy Mini Self-Ligating Brackets, which open with an explorer and close with the touch of a finger. The smooth clip remains passive when used with an archwire with dimensions of up to .018 x .022 inches. When more force is necessary, the passive system can be activated by increasing the archwire dimension. Autonomy Self-Ligating Brackets have a four-point contact slot with rounded edges and a horizontal auxiliary slot for sectionals, uprighting, and rotation springs. The true twin, four-tie-wing design permits increased rotational control and the use of chain elastics. The brackets feature ball hooks on the cuspids and bicuspids, contoured edges and smooth labial surfaces, a base designed to increase bond strength, accurate in and out dimensions, and a compound contoured base with built-in torque and angulations. The brackets have a vertical scribe line to help with accurate placement and are color-coded for easy identification. Autonomy brackets are made of nickel-free steel and are available in Roth and MBT prescriptions with an .018 or .022 slot.
Ortho-byte,
(302) 798-1234
ortho-byte.com
---

TP Orthodontics
TP Orthodontics, Scottsdale, Ariz, offers InVu® Aesthetic Brackets with personalized color-matching technology™. According to the company, the brackets absorb certain wavelengths of light, allowing only the patient's natural tooth color to show through. The brackets are available with Readi-Base® Pre-Applied Adhesive. Each precoated bracket is also preoriented. A long-axis indicator acts as a guide for correct placement, and the adhesive allows for movement without bracket drift.
TP Orthodontics
(800) 456-INVU
tportho.com
---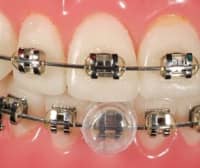 Comfort Solutions
Comfort Solutions Inc, Langley, BC, Canada, offers Comfort Caps, which are made from mouthguard material and designed to fit over Herbst screws. Orthodontists can use them to cover ceramic or metal brackets, Class II correcting springs, HTH appliances, TP flip locks, transpalatal arches, and TAD anchoring devices. The coverings protect intraoral ulcers caused by impinging appliances. According to the company, they can also provide comfort to patients who play musical instruments and protection to incisal edges that occlude against ceramic brackets.
Comfort Solutions Inc
(604) 532-2078
comfortsolutions.ca
---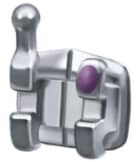 Ortho Organizers
Ortho Organizers®, Carlsbad, Calif, introduces the Maestro™ Low-Profile Bracket System, featuring buccal tubes designed for metal aesthetics and comfort as well as for precision and control. According to the company, the design can help achieve predictable, efficient treatment and discerning finishes.
Ortho Organizers,
(888) 851-0533
OrthoOrganizers.com
---
MASEL
MASEL®, Carlsbad, Calif, offers its Bravo Excel Roth Bracket, a low-profile, stainless-steel bracket manufactured using MIM technology. Bravo Excel features a color-coded identification system, a through-the-base vertical scribe line, and a 100-count mesh base. It comes packaged in trays, wheels, bags, or in a dispensing system called the Patient Pack, which contains a complete set of brackets arranged tweezer-ready on a built-in setup tray. Once open, bracket covers convert to holding wells for the primer and etch.
MASEL
(888) 851-0533
OrthoOrganizers.com
---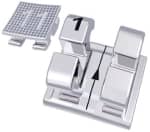 Dentaurum USA
Dentaurum USA, Newtown, Pa, offers the Equilibrium mini low-profile twin bracket. Its interbracket distance is designed to aid patient hygiene around the bracket. A bonding study has shown that Dentaurum's laser-etched bracket base technology provides 90% better bond retention versus similar brackets with a mesh base. For a limited time, Dentaurum is offering 10 free sample cases to any new bracket customers who buy a minimum of five cases.
Dentaurum USA,
(800) 523-3946
dentaurum.com
---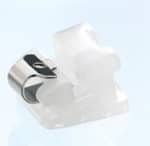 Forestadent USA
Forestadent USA, St Louis, offers the QuicKlear Bracket, a self-ligating, translucent, ceramic bracket that complements the BioQuick System as an aesthetic alternative. It was designed with an inverse hook-style base to increase bond strength, which allows the adhesive to remain on the tooth after debonding. The revised clip has a brushed finish designed to make the bracket blend in with the natural aesthetics of the patient's smile.
Forestadent USA
(800) 721-4940
forestadentusa.com
---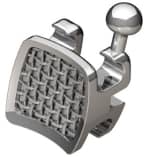 DynaFlex
DynaFlex, St Ann, Mo, offers the Stability™ bracket, which has a "pocket" built into the integral bracket design that accommodates the shape of the base and, once secured, eliminates the possibility of prescription errors. According to the company, the Stability Perma-Lock bracket base combines the benefits of one- and two-piece brackets while eliminating their respective disadvantages.
DynaFlex
(800) 489-4020
dynaflex.com
---
LeoneAmerica
LeoneAmerica, a division of American Tooth Industries, Avondale, Ariz, offers the F1000 Self-Ligating Direct Bond Bracket, which is centered around the sliding cover's appendix, made of superelastic nickel titanium with a locking channel that allows the cover to slide under the twin tie wing slots with gentle pressure. Orthodontists can use a scaler or dental probe and light pressure on the hole or top of the cap. Once an archwire is placed, they can use the same instruments or a special bracket holder that holds the wire in the slot, and then push the cap back through the slots into the closed position.
LeoneAmerica
(800) 242-9986
/b>
---
Ortho Technology Inc
Ortho Technology Inc, Tampa, Fla, offers the Lotus Plus Passive Self-Ligating Bracket System, which can be converted at any time during treatment by removing the clip. This allows ligation of archwires with metal or elastomeric ligatures. The bracket is designed to provide passive engagement while reducing friction and improving sliding mechanics. It also features an ultra low profile mini-twin design, rhomboid shape, and contoured tie wings. The 80-gauge foil mesh contoured base is to designed to aid bond strength and accurate placement.
Ortho Technology Inc
(800) 999-3161
orthotechnology.com