On the Market
Colored Brackets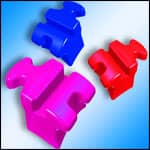 Dentaurum Group Inc introduces Jewels, which are fun, colored brackets that motivate children and teenagers to undergo orthodontic treatment. Jewels are available in azure, pink, and grenadine, and they glow under UV light. The colors are biocompatible and can be used without any risk. They are available in Roth .018 and .022, upper 3×3 assortments.
For more information, contact Dentaurum Group Inc, 10 Pheasant Run, Newtown, PA 18940; (800) 523-3946; www.dentaurum.com.
Soft Caps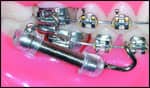 Comfort Solutions Inc offers soft caps designed from mouthguard material that fits over Herbst screws that cover ceramic or metal brackets, Class II correcting springs, HTH appliances, TP Flip Lock appliances, and transpalatal arches. These protective coverings bring instant relief and quick healing to intraoral ulcers caused by impinging appliances. They also provide comfort to patients who play musical instruments, and provide protection to incisal edges that occlude against ceramic brackets.
For more information, contact Comfort Solutions Inc, 305-20897 57th Ave, Langley, British Columbia, Canada, V3A-8L5; (604) 532-2078; www.comfortsolutions.ca.
Orthodontic Kit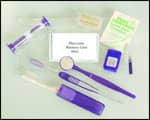 Plak Smacker offers an orthodontic zip kit, which features supplies to help patients maintain a healthy-looking smile while undergoing orthodontic care. The patient-friendly zip pouch includes mint relief wax; dental floss; and a rubber grip, v-trim, dual-head toothbrush. Available in four assorted colors, the kits can be customized for any dental practice.
For more information, contact Plak Smacker, 755 Trademark Circle, Corona, CA 92879; (800) 558-6684; www.plaksmacker.com.
Intraoral Camera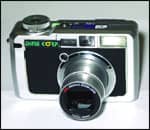 Lester A Dine Corp offers the Dine Digital Solution 7 Mega Pixel Camera, which photographs off of intraoral mirrors to obtain full arch and lingual images. The Dine Digital Solution weighs less than 1 pound. The camera's rotatable video screen allows users to customize the angle of the camera's video screen. Pict-Bridge Technology, built into the camera's firmware, allows direct access to many of today's most popular color printers. In addition to the camera, a full array of accessories are included in the Dine Digital Solution package, including a carrying case, cheek retractors, an intraoral mirror, 128 MB and 32 MB memory cards, a memory card reader, and a rechargeable battery and charger. Pixelease imaging software is also available to manage images in patient files, record and cross-reference case data, run slide presentations, and provide cosmetic simulations and image layouts for printing.
For more information, contact Lester A Dine Corp, 351 Hiatt Dr, Palm Beach Gardens, FL 33418; (800) 624-9103; www.dinecorp.com.
Digital Imaging Unit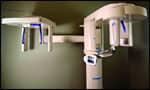 Sirona Dental Systems offers the Orthophos XG, a direct-digital panoramic/cephalometric imaging unit that has eight basic panoramic programs and full digital cephalometric capabilities. With direct-digital imaging, the need for film and developing materials, scanning films/plates, and assigning images to patient files is eliminated. In addition, Sidexis XG software provides faster appointments for the office and for the patient.
For more information, contact Sirona Dental Systems, 4835 Sirona Dr, Suite 100, Charlotte, NC 28273; (800) 659-5977; www.sirona.com.
Dry Heat Sterilizer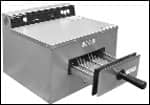 Alfa Medical offers the Cox Rapid Dry Heat Sterilizer, which completes the sterilization process in 6 minutes. The Cox is simple to use and inexpensive to run. Unlike with steam sterilization, no dulling or corrosion occurs and no water or chemicals are necessary. The Cox unit may be used with stainless steel cassettes, or instruments may be bagged to meet all state requirements.
For more information, contact Alfa Medical, 59 Madison Ave, Hempstead, NY 11550; (800) 762-1586; www.sterilizers.com/cox-sterilizer.asp.
Dental Pliers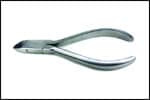 National Precision Instruments Inc introduces its premier M plier line, which features the same 420 series stainless-steel box-joint forgings as their original tool-steel plier. The insert of the M plier is high-corrosion-resistant steel, which has the strength and durability to stand up to the many different wires and appliances used in the orthodontic field. The plier can withstand repeated cuts of stainless steel and nickel titanium wires, and all types of sterilization. A lifetime guarantee against forging breakage and bond failure is available, along with a 3-year unconditional guarantee.
For more information, contact National Precision Instruments Inc, 1621 Loretta Ave, Unit 4, Feasterville, PA 19053; (215) 355-7525; www.npiinc.net.
LED Curing Light

Class One Orthodontics offers the Astra Mini LED Ortho Curing Light, which is a an orthodontic booster tip (5.5-mm) light guide for fast and powerful curing. Astra is cordless, noiseless, lightweight, and heatless. It bonds metal brackets in only 4 seconds and clear brackets in 2-3 seconds. Astra features the latest generation Li-lon battery that can run for 650 successive 4-second cycles before it needs to be recharged.
For more information, contact Class One Orthodontics, 5064 50th St, Lubbock, TX 79414; (800) 343-5291; www.classoneortho.com.
RPE System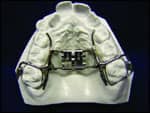 Accutech Orthodontic Lab Inc introduces the Freedom-Lock RPE Appliance SystemTM, which can be integrated into multiple types of appliances. A hinge mechanism on one side, combined with the custom-designed "flat" locking clasp on the opposite side, provides a snap-tight lock for insertion and easy-release flexibility for quick and clean removal. The Freedom-Lock RPE delivers expansion by pushing from the lingual and pulling from the buccal simultaneously. The appliance comes out so that adjustments and modifications can be made easily out of the mouth. A larger screw can be added with no relapse or new bands. Sore spots can be relieved before they are a problem, and hygiene is greatly improved. Once expansion is complete, the appliance is removed and bands can stay in for continued treatment, reducing chairtime and band usage.
For more information, contact Accutech Orthodontic Lab Inc, 4012 Raintree Rd, Suite 120-B, Chesapeake, VA 23321; (800) 734-7855; www.accutechortho.com.
Software

Dolphin Imaging and Management Solutions provides a complete line of top-quality software solutions for orthodontics. The products, which include imaging, diagnostic, and practice-management applications, are all designed based on an open platform.
For more information, contact Dolphin Imaging and Management Solutions, 9200 Eton Ave, Chattsworth, CA 91311-5807; (800) 548-7241; www.dolphinimaging.com.
Digital Camera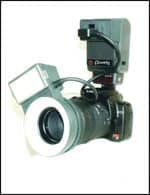 CliniPix Inc introduces the Canon Rebel XT Digital SLR Camera, which is compatible with all Canon EFS Lenses. The camera features three levels of resolution, with a maximum of 3456 x 2304. It also features a true SLR-functioning viewfinder and a Canon-format body that accepts standard Canon mount lenses for recreational use. The camera is compatible with Windows and Mac operating systems. The rear 1.8-in LCD screen can be used for immediate viewing, reviewing, and enlarging of images to a maximum of 10x. The camera uses compact flash memory cards, and is powered by a Lithium-Ion battery supplied with an external recharger, which charges the battery in 90 minutes. Included in the package is a 256 MB CF card as well as a NiMH recharger kit, a stainless steel mirror, retractors, a fitted hard case, and imaging and printing software.
For more information, contact CliniPix Inc, 11924 W Forest Hill Blvd, Suite 22 PMB 228, Wellington, FL 33414; (866) 254-6749; www.clinipix-on-line.com.
Technology Preview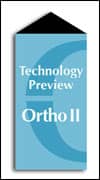 Ortho II Computer Systems Inc offers a New Technology Preview area at its booth #708 at the AAO Annual Session in San Francisco. The Technology Preview will have demos of new technologies that Ortho II is evaluating for future use by orthodontists, and will allow orthodontists to view and offer their opinions on future technologies that Ortho II is exploring as ways to help orthodontists become more successful. Some of the technologies to be previewed are interesting and fun; others are futuristic ideas that could have practical application to orthodontics. This preview area gives orthodontists a direct way to provide input and feedback on new technology. New technologies from Ortho II that have been adopted within ViewPoint 4.0, such as biometric fingerprint recognition, digital signature, and credit card readers, will be operational at each of the practice-management demonstration stations during the AAO.
For more information, call Ortho Computer Systems Inc, 1107 Buckeye Ave, Ames, IA 50010; (800) 678-4644; www.orthoii.com.