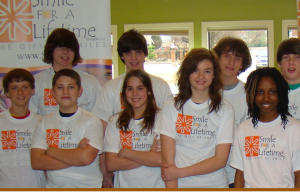 Smile for a Lifetime Foundation (S4L), Colorado Springs, Colo, reports that more than $275,000 has been raised throughout the last 4 years at the annual Damon™ Forum events sponsored by Ormco™ Corporation, Orange, Calif. The funds have helped S4L in its mission to provide free quality orthodontic care to young patients who could not afford treatment otherwise.
Recently, the organization publicly thanked Ormco for its support of S4L's initiative and fund-raising efforts. According to S4L, Ormco is a primary sponsor of the organization, and provides free brackets to orthodontists who treat scholarship recipients.
"It is with deep appreciation that we acknowledge the continued support of Ormco Corporation. In addition to financial support, Ormco also provides hundreds of man-hours in forwarding our mission: To create self-confidence, inspire hope, and change the lives of children in our communities through the gift of a smile," said Dr Ron Redmond, president of S4L. "We are delighted to work with Ormco and its wonderful spirit of giving back."
Ormco recently hosted S4L's "Smilent Auction" fund-raising initiative at its annual Damon Forum in Phoenix, where more than 1,000 orthodontists gathered to learn about the latest advancements in orthodontic treatment.
Additional event sponsors at the 2014 Damon Forum included i-CAT and TeleVox, as well as three new national sponsors: McGill & Hill Group, Ormco|AOA Lab, and OrthoBanc.
S4L also notes that it has received donations of cash, services, and products from more than 20 other orthodontic businesses and organizations. And, throughout the last 5 years, S4L chapters have donated more than $1.8 million in orthodontic services to awarded scholars in North America. Because of this support, the organization said it will provide orthodontic scholarships to as many as 1,500 children this year.
For more information on how to support S4L, or to find a local chapter, visit www.s4l.org