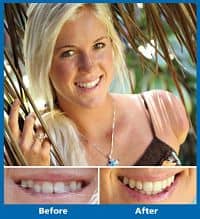 Bethany Hamilton has signed on as an official endorser of the the Damon System, made by Ormco, Orange, Calif. Hamilton, who lost an arm in a shark attack but later returned to professional surfing, relied on the Damon System to improve the health and beauty of her smile.
"Smiles are a blessing and an infectious tool for spreading happiness and bringing joy to others," said Hamilton, whose autobiography Soul Surfer has also been made into a movie. "The Damon System transformed my smile, allowing me to confidently share my story of perseverance and encourage others undergoing adversity. I'm glad to be a part of the Damon System team, and I look forward to sharing the positive changes and incredible results that I experienced with this unique orthodontic treatment."
According to a release from Ormco, Hamilton began orthodontic treatment at age 14 for a severe underbite with significant crowding and a narrow arch. She also had an open bite. Her orthodontist used the Damon System, which uses self-ligating brackets and memory-shaped wires and, according to the company, typically delivers results up to 25% faster than traditional braces.
The company is using social media to spread the word. In honor of National Orthodontic Health Month, Ormco will donate $1 to the Smile for a Lifetime Foundation for each new "like" of the Damon System Braces Facebook page (limited to the first 5,000 people who participate through the month of October).
For more information on this and other orthodontic companies, visit our Buyer's Guide.