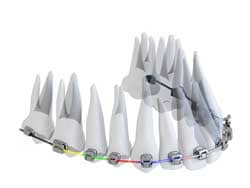 Smarter Alloys, Waterloo, Ontario, Canada, a smart-materials engineering company, has been awarded patents for its Multiple Memory Material (MMM) technology by the United States and Chinese patent offices. The patents cover Smarter Alloys' method for programming more than one memory into shape memory alloys.
Shape memory alloys are special metals that can remember their original profile. If they become deformed, heating them will prompt them to spring back into shape. However, these alloys had previously been limited to one memory.
While Smarter Alloys' Multiple Memory Material is expected to have applications in a range of dental and medical devices, including stents and catheter guidewires, the first commercial application of the technology is the orthodontic archwires used for braces. According to the company, SmartArch archwires are programmed to provide biomechanically optimized forces to match the needs of individual teeth, resulting in more efficient treatment and fewer office visits.
"For us, it's about pushing the boundaries of shape memory alloys to develop the devices of tomorrow," said Dr Ibraheem Khan, CEO of Smarter Alloys and co-inventor of Multiple Memory Material. "We're unlocking the true potential of these smart materials to function as machines. Our technology opens a new paradigm for devices with enhanced functionality enabled by this additional element of control."