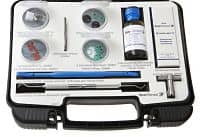 DentalEZ® Group, Malvern, Pa, has introduce the StarDental® Handpiece Maintenance Kit.
Designed to extend the life of all StarDental handpieces, the kit contains tools for maintenance and minor repairs on the entire line of StarDental products.
Housed in a hardcover toolbox-style case, each Handpiece Maintenance Kit includes DentaLube® II handpiece lubricant, Junk-Out™ chuck cleaner, a variety of o-rings and seals, and an assortment of tools for chairside handpiece maintenance. According to the company, buying the StarDental Handpiece Maintenance Kit saves the buyer more than 15% over buying the maintenance and spare components separately.
For more information on this and other orthodontic companies, visit our Buyer's Guide.