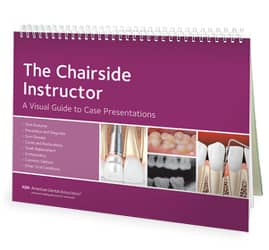 An effective tool for dental professionals to educate their patients, or for auxiliaries-in-training, the American Dental Association's (ADA) best-selling book The Chairside Instructor has been revised to include 49 new photos and illustrations. The ADA also has changed the shape of the book to a horizontal format, which enables it be more easily shared with patients.
The 44-page book covers a wide range of prevention and treatment topics, including oral hygiene, anatomy, x-rays, gum disease, tooth decay, dental crowns and bridges, dentures, root canals, as well as orthodontics and cosmetic dental procedures. The guide now includes easy-to-use tabs, which help users quickly locate each area of interest.
In addition to the traditional print format, The Chairside Instructor also is available for the first time as an app for iOS.
For more information, visit adacatalog.org