How custom treatment and teledentistry are poised to bring a new Golden Age of orthodontics
By Brandon Owen, DDS, MS
In the 1980s—the Golden Age of Orthodontics—we saw one of the most significant confluences of technologies to ever hit the orthodontic space. The synergies brought forth by the bracket prescription, NiTi wires, and composite bonding for bracket delivery allowed orthodontists to both enhance clinical excellence and increase throughput. Normally we have to give up one to get the other.
Now we are seeing a similar confluence of technologies in the orthodontic field. Two technologies that show real promise to meet patient demand, enhance efficiencies and clinical outcomes are remote monitoring (such as Grin, Dental Monitoring, Rhinogram, and SmileSnap) and custom orthodontic appliances (such as Invisalign, InBrace, LightForce, and KLOwen). Alone, these technologies offer phenomenal value to orthodontists and their patients. Together, they unlock immense opportunity.
Remote monitoring offers convenience to patients, and it allows orthodontic practices to eliminate appointments. Although, when used with conventional one-size-fits-all braces, orthodontists still need to see the patient numerous times in the chair to advance through wires, reposition, and do a series of detailing bends to make the one-size-fits-all appliance actually fit the patient.
Custom treatment options, however, can significantly reduce doctor time and potentially eliminate many of the repositioning and detailing appointments, but patients may still need an office appointment for practitioners to determine if they are ready to progress to the next wire or to see if elastic compliance is getting the bite to its desired position.
Combining custom treatment solutions with remote monitoring allows us to check in on our patients monthly (or even weekly if desired) to evaluate hygiene and optimal timing for the next appointment with an appliance that is designed to take teeth straight to their ideal position. Essentially, it is now possible to see patients only when we are ready to advance the archwires, do a refinement scan, or to fix loose brackets/attachments. Most other activities can be monitored easily with a patient self-scan with today's remote monitoring technologies.
Consumer Demand
Just prior to the pandemic, I and my colleague Adam Schulhof, DMD, launched products aimed at providing clinical excellence and patient efficiencies: KLOwen Braces, a custom bracket solution, and Grin, a remote monitoring platform, respectively. Each of us has nearly two decades of practice experience. We have always leaned into custom treatment products that offer superior treatment outcomes while streamlining the patient experience, such as Insignia, SureSmile, and Incognito. Now, with our own ventures, I know Adam and I see ourselves as digital entrepreneurs who want to meet consumer demand while emphasizing the significant value of our specialty to patients.
This is all the more important as direct-to-consumer (DTC) aligner companies continue to attract consumer attention.
The fact that we are even referencing patients as consumers here is important. It's an imperative mindset that underscores our specialty's value and our efforts to understand and meet patient needs.
During a recent conversation I had with Dr Schulhof, he confirmed this core belief, by stating: "We look at patients as consumers out of respect—for them, our teams and for the very continuation of our specialty. This spurs us to provide the best clinical care while implementing significant workflow efficiencies. These efficiencies—and enhanced technique—combine to meet patient, staff, and overall practice needs. This is how our profession will stay vital."
Pain Point
The thing that shocked me the most about the studies¹ coming out in the last year on consumers who opt for DTC aligners is how much convenience (vs price alone) influenced their decision. Time is a pain point for those seeking orthodontic treatment, and convenience created through workflow efficiency is part of the solution. Offering patients phenomenal results with more oversight, while minimizing their time in the office, is a win-win scenario.
Even knowing what consumers want, I think it was the pandemic lockdown that brought home that we actually could give consumers what they want. If you were working with a digital workflow prior to the pandemic, you saw how that very platform allowed your cases to continue and patients not to fall behind in their treatment plans. I know in talking to KLOwen-certified providers post-lockdown, their KLOwen patients were able to stay on track. In addition, we, and our patients, saw that with remote monitoring tools we could engage with them and provide the continuity of care they expect.
The bottom line: I believe the benefits of teledentistry and complete digital workflows to treat patients practice-wide were cemented during the lockdown and are here to stay.
Case in Point: 6 Months, Four In-Person Visits, Zero Bends/Zero Repos
Here, I want to share a clinical case² that demonstrates the synergy between a custom orthodontic appliance system and remote monitoring technology. This case from Dr Schulhof exemplifies what I see as the power of using custom digital workflows with remote monitoring to net excellent clinical results that meet patient needs, including shorter treatment time, fewer office visits, and 100% custom 7-7 reach. In essence, less is more.
---
The KLOwen custom digital workflow starts at the first office visit, with an intraoral scan. The orthodontist then proceeds to smile design using DIBS software for bracket prescription and positioning for each tooth, followed by the creation of 3D printed IDB trays. The patient returns within a few weeks to have the brackets bonded. Some practices are working toward same-day starts by mastering in-office 3D printing of the IDB trays.
---
---
Once bonded, the patient is monitored using the Grin teledentistry platform, which combines the Grin App and Grin Scope, an intraoral smartphone adapter that provides the orthodontist with a self-scan video from the patient. This tool allows the number of office visits to be cut while allowing practitioners and staff to communicate with the patient about everything from hygiene, appointment scheduling, mishaps, and treatment starts. OP
References
Olson Jeffrey C., Shroff Bhavna, Carrico Caroline, Boyle Joseph, Lindauer Steven J. Comparison of patient factors influencing the selection of an orthodontist, general dentist, or direct-to-consumer aligners. AJO-DO: Vol.157; Issue 4; P526-532; April 01, 2020.
Schulhof, Adam. Case Study: Custom treatment combined with teledentistry. June 15, 2020 – December 28, 2020.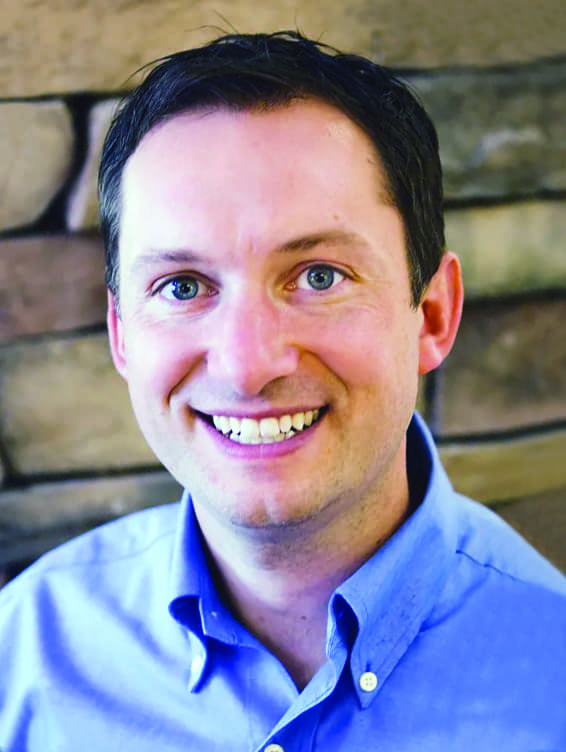 Brandon Owen, DDS, MS, is an ABO-certified orthodontist and AAO Ortho Innovator Award winner (2019). He recently moved his practice from northern Colorado to the greater Austin, Tex, area. He has served in consultancy roles for OrthoSelect, InBrace, SprintRay, Specialty Appliances, and Asiga. CEO and founder of KLOwen Braces, he holds more than 20 orthodontic patents. He is passionate about digital workflow to meet patient needs, and achieve clinical excellence, practice efficiency, and growth.