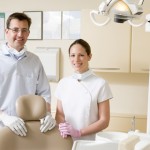 The American Dental Association, the American Dental Assistants Association (ADAA), the Canadian Dental Association, and the Canadian Dental Assistants Association will sponsor Dental Assistants Recognition Week (DARW), held from March 1 to 7, 2015.
This year's theme, "Dental Assisting: Embracing the Changes of the Profession," acknowledges the importance of dentistry's role in healthcare and the many ways that the field of dental assisting continues to diversify and expand. Whether working chairside with the dentist or helping to manage the office, dental assistants are vital to the success of the practice.
Suggestions for honoring your assistants and participating in this year's event are available in the DARW idea kit. The kit also includes information about awards and scholarships, products to demonstrate pride in the profession, and ways to share DARW news through social and traditional media outlets. Dental assistants are also invited to submit a description of their celebratory activities to the ADAA journal, The Dental Assistant. Selected submissions will be published in a 2015 issue.
If you'd like to know more, you can download the information kit.