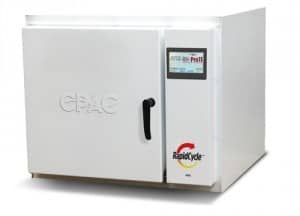 CPAC Equipment Inc, Leicester, NY, has rolled out its new RapidHeat Pro11 High-Capacity Table-Top Sterilizer.
According to the company, the Pro11 offers 50% more capacity than the industry's other popular table-top steam sterilizers. The Pro11 uses the company's FDA-cleared "High-Velocity Hot Air" RapidHeat technology to perform a complete cycle in as little as 6 minutes. As the Pro11 uses no water or steam, it has no drying cycle.
The Pro11 comes with a standard 3-year parts and labor warranty.