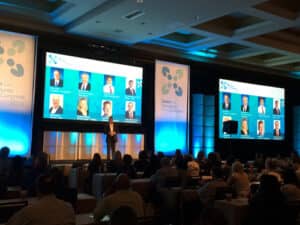 DENTSPLY GAC, Islandia, NY, recently wrapped its second annual Orthodontic World Congress (OWC), held January 27 to 29, 2016, in Hollywood, Fla.
This year's roster of speakers included keynote addresses from entrepreneur and author, John DiJulius; stockbroker turned author and consultant, Mark Jeffries; and former Major League Baseball player, Jim Abbott. DiJulius, who has worked with Starbucks, Lexus, Nordstrom, and the Ritz-Carlton, discussed how to craft a world-class customer experience, while Jeffries talked about how to improve conversation and communication within the orthodontic settings. Meanwhile, Abbott talked about his own life story and how the lessons he's collected over the course of his life can be embraced by anyone.
The business panels of the sold-out 3-day conference focused on "how to" bulletproof personal and professional assets, protecting your practice's online reputation, and the keys to successfully managing multiple locations. The clinical panels touched on a variety of subjects, including managing compliance with Class II cases, embracing clinical advancements in treatment mechanics and transverse dimension and long-term stability.
"The Orthodontic World Congress continues to bring together today's top business leaders, industry advisers, and clinical experts to create a one-of-a-kind experience that provides practical insights designed to challenge the way we look at our business, our customers, and our lives," said Brad Clatt, vice president commercial operations DENTSPLY GAC.
Plans for the 2017 Orthodontic World Congress are in the works.