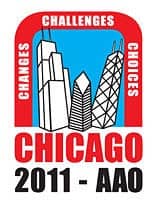 The AAO reports that tickets are still available for events at the upcoming Annual Session in Chicago. A limited number of tickets are available for the opening ceremonies (May 14), featuring the band Chicago, and the Excellence in Orthodontics Awards Ceremony (May 15), featuring an address by Doris Kearns Goodwin.
Additionally, tickets are available for the AAO Gala at the Museum of Science and Industry on May 16, and the ticketed Wine and Cheese Reception (May 15) for orthodontic staff that precedes the Orthodontic Fashion Show.
The AAO has also arranged discounted airport shuttle service for Annual Session attendees. Shuttlefare is offering a $4 per trip discount to Annual Session attendees traveling from the Chicago airports to the convention center hotels. Attendees should use the coupon code 2L6H3 when making their reservation.