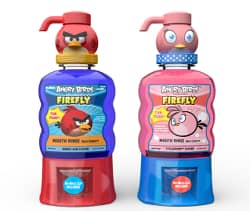 The new Angry Birds™ anti-cavity mouth rinse from Dr Fresh LLC, Buena Park, Calif, is the most recent addition to the company's Firefly line of products. The company notes that the rinse tastes great and is fun to use. It also provides long-lasting, anti-cavity protection with its ability to access hard-to-reach areas a toothbrush might have missed, making it ideal for children who wear braces.
The rinse features the characters Bubbly Stella or Red Bird, and is available in bubble gum or berry flavors. The containers also feature a convenient no-mess cup that's attached to the bottom of the bottle for proper usage and convenient storage.
According to Dr Fresh, the colorful molded characters create a friendly presence at the sink that turns duty into delight. The wash is recommended for kids ages 6 and up, and should be used under parental supervision after brushing with a fluoride toothpaste.