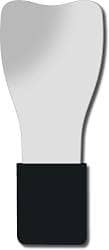 Great Lakes Orthodontics,Tonawanda, NY, introduces the doctoreyes Ultrabright Dental Mirror. Thevaporized glass surface coating is designed to prevent ghost imagereflections, and is resistant to most acids, alkalines, and chemicals,according to the company.
The mirror features rounded edges and removable silicone grip handles.Both the grip handles and glass are autoclavable up to 390°F. Thedoctoreyes Ultrabright Dental Mirror is available in lingual, buccal,and various occlusal sizes.
For more information on this and other orthodontic companies, visit our Buyer's Guide.