with Daryl Mathias

Daryl Mathias is the chief marketing officer for Accutech Orthodontic Lab Inc, Chesapeake, Va.
Orthodontic Products: Accutech has frozen prices for 2010. How much do customers save as a result?
DM: We always try to hold down product price increases to a minimum and keep up with inflation at the same time. Our goal is always the same: Continue to provide our clients the very best service and products at a reasonable price. Our average increase in the past has been anywhere from 3% to 5%. Our clients can expect to save around this amount in 2010 since we are not raising fees from 2009.
OP: What kind of savings can customers expect from Accutech's 2010 wall calendar?
DM: Our wall calendar is not just your typical wall calendar. It is a case-scheduling calendar with weekends and holiday closings already excluded. It includes team member introductions and a monthly feature product with a 30% off coupon for that product any time throughout the year. If a clinician were to use each of the coupons in the calendar, they could save up to $500 for the year.
OP:How can they take advantage of that savings?
DM: It's easy! We mailed one to all our clients in December. If for some reason they did not receive one, we have plenty to send out to them and anyone else who is interested. They may call our 800 number and request one. They simply need to cut the coupon off the calendar and attach it to the Rx of the case they are sending to Accutech. The 30% is applied to that invoice for that case.
OP:What other money-saving tactics is Accutech putting in place for 2010?
DM: Accutech will continue to offer its free second-day shipping both ways to all clients. This service alone can potentially save clients thousands of dollars per year. Many labs charge for shipping at least one way and have a minimum per-box requirement.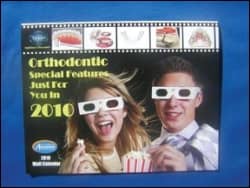 Another cost-saving feature that will remain intact is Accutech's "on time—every time" guarantee for all appliances, regardless of where the client is located in the United States. If it's not in their office on time, it is free. No questions!
We will also continue to offer our special credit card discount program to all of our clients. Once enrolled, the client receives a 1.5% discount on all appliances ordered.
Invisible retainers seem to be growing in popularity, but one of the problems with them is that because they are invisible, patients do lose them. Accutech offers a free replacement set with every set that a client orders. We offer two uppers and two lowers for only $60.
Trimmed to the client's preferences, they snap into place over the teeth and prevent teeth from rotating and migrating. Accutech also offers a 1-day in-lab Express Service at no extra charge on our invisible retainers.
OP:Tell us about your recently revamped Web site.
DM: Our newly designed Web site, accutechortho.com, now offers expanded product information through a rotating window on the home page and enhanced interactive features for site users. We are introducing virtual representatives designed to save visitors time. Visitors will no longer have to search for what's new, special features, or updates. There will be a special guest each month to help guide them directly to places of interest. Visitors are encouraged to check back frequently and play the video to learn what's new and different. There is also a place to sign up for monthly discounts from Accutech.