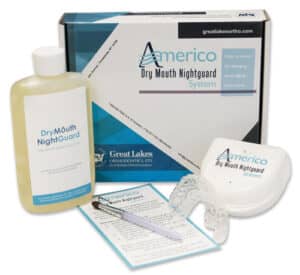 Great Lakes Orthodontics, Tonawanda, NY, now offers the Americo Dry Mouth Nightguard System. The nightguard is designed to protect teeth from the effects of abnormal dry mouth, and prevent periodontal damage during sleep.
The Americo Dry Mouth Nightguard System features custom-made upper and lower appliance trays, which are fabricated to hold a specially formulated gel that increases salivary flow to protect tooth enamel. The Dry Mouth Nightguard Gel contains xylitol, an anti-cariogenic agent that maintains moisture around the teeth and gums throughout the night; reduces dental decay, plaque formation, and bacteria growth; and decreases the risk of oral infection.
The Americo System, invented by Dr Americo Fernandes, of Winnipeg, Canada, includes an upper and lower appliance tray, Dry Mouth Nightguard Gel, appliance case, and application brush.