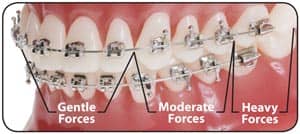 MASEL, Bristol, Pa, introduces Tri-Force Thermal™, a new heat-activated, nickel-titanium archwire that has three preprogrammed forces. Gentle forces are programmed into the wire for moving light-rooted anterior teeth, moderate forces are provided for moving the heavier-rooted bicuspid region, and the heaviest forces are provided to move the strongest-rooted posterior/molar region.
According to the company, Tri-Force Thermal is capable of torquing, leveling, and aligning simultaneously. It meets the demands that each section of the arch requires in order to move teeth in the most effective manner.
Tri-Force Thermal is available in natural arch shape and round, square, and rectangular wire sizes with an etched center mark on uppers and lowers.
For more information contact MASEL at (800) 423-8227 or [email protected].