On the Market
Bite Appliance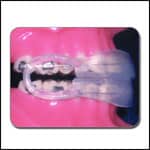 Masel offers the Lombardi Bionator Bite Appliance™ (LBB), which minimizes the negative effects of bruxing, clenching, and grinding that might interfere with orthodontic treatment. LBB also opens the bite in deep bite cases, protects occlusion, reduces breakage, and helps treat TMJ disorders and bruxism to facilitate tooth movement. The one-piece, patent-pending appliance features a flexible channel design that fits loosely over anterior sextants; a flexible hinge that applies gentle pressure in opposite, bite-opening directions; and an anterior occlusal plane that provides protection for upper and lower anterior teeth. A protective case and patient instructions are included.
For more information, contact Masel, 2701 Bartram Rd, Bristol, PA 19007; (800) 423-8227; www.maselortho.com.
Microanchorage System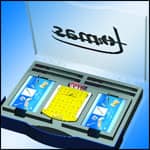 Dentaurum Inc, in collaboration with Axel Bumann, DDS, Berlin, Germany, introduces the Tomas® Concept, which creates an effective, temporary anchorage point and replaces headgear. The Tomas Concept features the Tomas pin, a 22-cross slot design that functions similarly to a traditional bracket slot and is placed into the bone. Tomas pins are made of pure titanium, are available in 8- and 10-mm lengths, and have a diameter of only 1.2 mm. The pins can be loaded immediately after insertion, do not osseointegrate, and are easy to unscrew at the end of treatment. They come in sterile packaging, allowing for immediate use.
For more information, contact Dentaurum Inc, 10 Pheasant Run, Newtown, PA 18940; (800) 523-3946; www.dentaurum.com.