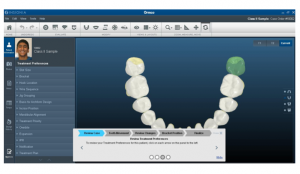 Ormco Corp, Orange, Calif, announced that its Insignia™ Ai—the new software interface that debuted at the 2014 Damon™ Forum earlier this year—is now available for download. The enhanced Insignia Advanced Smile Design™ Approver Interface features an updated visual display with step-by-step guides and Damon System integration. In support of the software update, Ormco has developed an interactive online tutorial for doctors interested in previewing the new tools and learning more.
Insignia Ai's new tools are designed to support increased treatment customization and efficiency. Top features include approver redesign, clearer visual of the smile transformation, Damon archform integration, and advanced case support.
In conjunction with the release, Ormco is offering a limited-time discount of $100 off of three individual Insignia cases that are submitted before March 28, 2014.
"Insignia Ai is top-of-the-line and features a dramatically updated interface that is both user-friendly and visually appealing," said Patrik Eriksson, president of Ormco. "As we continue to strengthen our digital footprint, we encourage doctors to take advantage of our $100 discount and explore the comprehensive, interactive tutorial to help seamlessly integrate Insignia Ai into their practices."