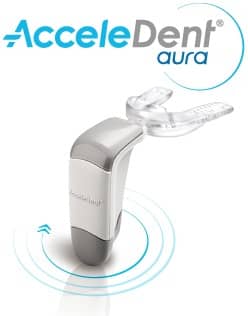 OrthoAccel® Technologies, Houston, has introduced their newest product, AcceleDent Aura, to orthodontic practices in the United States and Canada.
AcceleDent Aura's features SoftPulse Technology™, which generates gentle micropulses that accelerate bone remodeling shown to accelerate tooth movement by up to 50%, according to the company. Orthodontists report that AcceleDent Aura's micropulses may also help reduce patients' discomfort and make treatment more comfortable.
Patients use the lightweight, hands-free AcceleDent Aura for 20 minutes each day, during which time they can engage in daily activities such as reading, texting, or watching television.
The Acceledent Aura features a USB connection for charging the device, as well as providing access to the FastTrac patient usage report via a computer connection.
For more information about this and other orthodontic companies, visit our Market Guide.