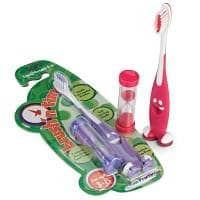 Practicon Inc, Greenville, NC, offers the Brush'n Time Toothbrush Kit. The kit includes a toothbrush designed especially for children ages 3 to 8, and also comes with a 3-minute brushing timer.
The toothbrush has a soft handle and a suction cup base, and features an oval-shaped head with 22 tufts of end-rounded bristles.
The color-coordinating timer is 2 ¼inches tall.
For more information on this and other orthodontic companies, visit our Buyer's Guide.