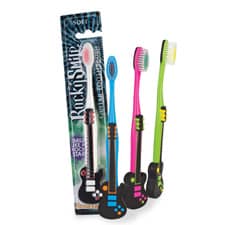 Practicon, Greenville, NC, has released its SmileGoods Y333 Rock'n Smile Guitar Toothbrush.
The SmileGoods toothbrush has a non-slip, guitar-shaped handle and 33 tufts of soft, end-rounded Dupont Tynex bristles. It also includes a built-in cheek and tongue cleaner on the head. The toothbrush is easy to handle and soft on the gums, according to Practicon.
The brushes are blister packed 72 per box in four assorted color combinations. They are manufactured under strict ISO 9002 guidelines.
For more information on this company or others, please visit our Market Guide.