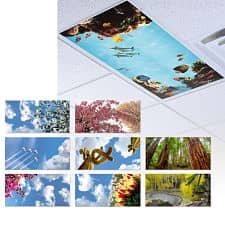 Practicon, Greenville, NC, has released new designs for its Durastrong Sky-Scapes light panels. The decorative fluorescent light covers can be installed into standard 2′ x 4′ frames or can be trimmed with a utility knife to fit smaller existing light frames.
The light covers are frequently used in reception areas, operatories, and offices, and eliminate the harsh glare of ceiling lights.
For more information on this company or others, visit our Market Guide.