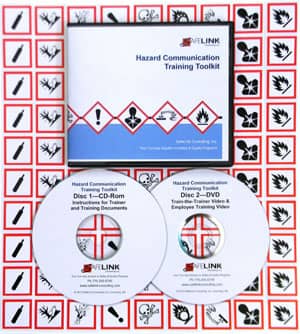 SafeLink Consulting's new hazard communication (HazCom) training toolkit allows easy, cost-effective, and timely compliance with OSHA's revised Hazard Communication Standard. It also clarifies the new chemical classification and labeling requirements, provides OSHA-required employee training, and reduces the risk of certain types of OSHA visits and/or fines.
OSHA's revision is based on its March 2012 adoption of certain components of The Globally Harmonized System of Classification and Labeling of Chemicals (GHS). By the December 1, 2013 deadline, employers will be required to train employees to recognize and understand all new classifications, labelings, universal pictograms (symbols), and standardized safety data sheets. In addition, under future deadlines, businesses will be required to add global pictograms identifying hazardous products, and be required to use standardized Safety Data Sheets.
Included in SafeLink's HazCom toolkit is a CD for step-by-step employer instructions and guides, OSHA's Revised Hazard Communication Standard, an employee training DVD, a training test, certificate of completion and training register, as well as instructions for developing a customized HazCom program.
For more information about this and other orthodontic companies, visit our Market Guide.